In many countries of the African continent young people have few prospects and life is precarious. In Foya, in a remote corner of Liberia, the situation is no different. "The environment is difficult, there are few job opportunities, but there are many generous and willing young people", according to Father Lorenzo Snider, an Italian SMA priest in a letter to FIDES, the Vatican News Agency for the Congregation for the Evangelization of Peoples.
Fr Lorenzo has been in Foya for a year and a half, after 8 years in Ivory Coast and then 7 at home in Italy in mission and vocations work. He defines himself as a "missionary apprentice" and says that it was not easy to start over with a new language, to try to learn some Kissi expressions, the local language spoken throughout the district and in neighbouring countries: Guinea and Sierra Leone, for a total of about one million people.
"I found myself entering a culture, a new history, a local church that is taking its first steps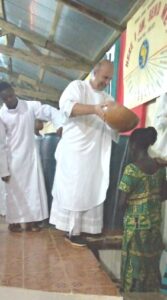 and, as a missionary apprentice and foreign parish apprentice, I am discovering that it is possible to make up for one's limitations and lack of experience, simply asking for help,working together, in community, with the people", he told Fides.
Father Lorenzo explains that the parish is equipped with solid structures where everyone is involved in the parish. The "laity are used to not only participating in the decision-making process, but also to carrying out the task of communion and evangelization responsibly. And it is nice to see brave young people ready to make sacrifices to contribute to the development of their land and to do it with joy".  "Many of the children get up at five every morning to do housework, clean the house, look for water and wood, etc., before going to school at 8, and stay there until 1 pm. After school they go to the fields to help the family. And they consider themselves lucky because they can go to school.
In the numerous Pentecostal churches, of which there are about twenty in Foya, who first carried out the evangelization of this territory, witch hunts are often preached, accusing, creating divisions within families, fear, suspicion, in a climate that leads to seeing more of the presence of the devil and his emissaries than the great works of God, more to seek God's protection against occult forces, than to seek together the ways to grow in his love". "Furthermore", concludes Fr Lorenzo, "with the first rains, many people are busy in the fields, to start sowing rice, the region's real wealth. The unskilled worker gets two dollars a day and a teacher can be considered lucky if he earns sixty dollars a month. Some of them get just 15 or 20 dollars". (LS/AP) (Agenzia Fides, 22/6/2021)
With thanks to FIDES