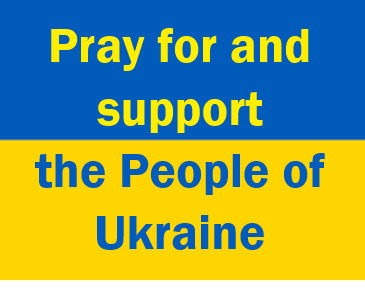 Today, Ash Wednesday Pope Francis has called on all to pray for Peace in Ukraine. "I encourage believers in a special way to dedicate themselves intensely to prayer and fasting. May the Queen of Peace preserve the world from the madness of war," (Pope Francis).  Our prayers are needed especially as it seems likely that the level of violence and destruction will increase in the coming days.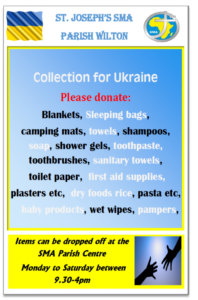 As a practical response and to offer direct support to the people of Ukraine, St Joseph's SMA parish, Wilton, Cork are inviting  parishioners and local people to donate needed items. Posters like that here are on display in the Church and the collection of the nominated aid items has been announced in the Church and the Parish Newsletter. 
Items collected will be added to those collected in other places and sent to Ukraine.  We hope this website article will extend the reach and the response to this Parish effort. 
Donated items may be left in the Parish Centre.   Please note carefully what they are collecting and please ensure that whatever you donate are in good condition. Thank You!