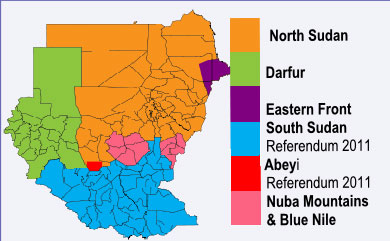 Sudan : real fears of new attacks reports FIDES
Sudan is at a crossroads. The "interim period" that helped to end the twenty two year civil-war in 2005 is coming to an end and in January 2011 the people of southern Sudan are due to vote in a Referendum to decide whether they remain part of Sudan or succeed and become an independent state.
There are fears that efforts will be made to prevent the voting or that the results will not be respected. If this happened it is likely that war will erupt again. The last time over two million people died and millions more were made homeless.
There are also fears that a renewed war could spread to surrounding countries drawing much of East Africa into the conflict. The Catholic Bishops Conference of Southern Sudan has requested your prayers for peace. For more information on the situation click on this link
http://www.coistine.ie/images/stories/briefings/briefing_10_sudan-unite-or-divide.pdf
The Vatican News Agency FIDES has just carried the following news item:
Khartoum – "There are at least four villages in Western Equatoria where people live in real fear of new attacks by the Lord's Resistance Army (LRA)," Bishop Edward Hiiboro Kussala of Tombura-Yambo, southern Sudan, tells Fides. Several aid agencies have issued warnings in recent days about possible attacks by the Ugandan guerilla group which controls a vast area stretching from south Sudan to the south-eastern Central African Republic, passing through the north-east of the Democratic Republic of Congo.
"We fear attacks both during the Christmas period and in early January, when a referendum on the independence of southern Sudan is to be held," said Bishop Kussala. "Right now the population is increasingly concerned about possible violence by the LRA. So-called "Arrow Boys" have been set up as self-defense militias, armed only, however, with bows and arrows."
Bishop Julian Andavo Mbia of Isiro-Niangara, Equatoria province, in north-east DRC, tells Fides that in his region, "the alarm is issued in the face of possible attacks by the LRA as a form of prevention. At the moment we have no concrete evidence of actual attacks by the Ugandan guerrillas in our diocese." At Christmas time in 2008, in a series of attacks in some villages in the province of Equatoria, LRA guerrillas killed about 900 people and abducted another 700. (Agenzia Fides 21 DEcember 2010)
Lord Jesus, you said to us; "I leave you peace. My peace I give you." Look upon us your sisters and brothers in Sudan as we face this moment of referendum. Send us your Spirit to guide us. Give us the wisdom we need to choose our future where we will know your true peace. You call us out of slavery, oppression, and persecution so that we may have life in abundance. Grant us peace with one another. Give peace among ethnic groups. Help us to work together for the good of all. We ask this in your name, Jesus our Lord. Amen.
Prayer for Peace in Sudan approved by the Sudan Catholic Bishops Conference, 2010