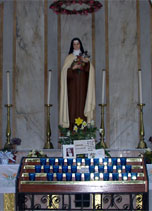 National Novena in honour of Saint Thérèse
Patroness of the Missions

The National Shrine of St Thérèse in Ireland is located in
St Joseph's SMA Parish, Blackrock Road, Cork
St Thérèse of Lisieux deepened her missionary commitment through her life of contemplative prayer. Most of us are called to live our commitment in the world through witnessing to Christian values in all that we do. But we can call on the intercessions of Thérèse to help us in this task. We do that once agin this year through our Novena in honour of St Thérèse. Through the intercession of St Thérèse, may God continue to bless and protect you.
Please join us in prayer, and send your prayers and petitions to

Fr Fachtna O'Driscoll SMA, Provincial Leader, African Missions, Blackrock Road, Cork.
If you want to make an offering for our SMA missions please click on line here.
1 October is the Feast of the "Little Flower" another name for St Thérèse of the Child Jesus (1873-1897). The Little Flower is a favourite saint for many people and she is especially held dear by missionaries everywhere. Her life was short, just 24 years old when she died. She is renowned for the simplicity of her life – she never did anything extraordinary, did not found a religious order, never went on the missions. Her life was a hidden life in the Carmelite convent in Liseaux. But all her yearning was to live in God's service and everything she did was for love of God, to advance his Kingdom.
For all of her short life the work of the missions was special for her. So she has been proclaimed Patroness of the Missions.
Preachers for the 2010 Novena
Thursday – 23 September : Fr Damian Bresnahan SMA
Friday – 24 September : Fr Malachy Flanagan SMA
Saturday – 25 September : Fr Tommy Faherty SMA
Sunday – 26 September : Sr Assumpta Cahill SMA
Monday – 27 September : Fr Des Smith SMA
Tuesday – 28 September : Fr A J Butler SMA
Wednesday – 29 September : Fr A J Butler SMA
Thursday – 30 September : Fr Eddie O'Connor SMA
Friday – 1 October : Fr Fachtna O'Driscoll SMA
You are invited to join with us – SMA priests, brothers, seminarians and our supporters throughout Ireland and beyond – in reciting the prayers on each of the nine days of the Novena. And remember: prayer does not change God, it changes us.