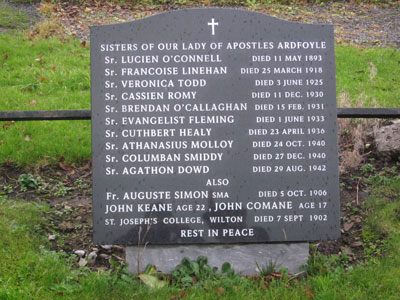 St Joseph's Cemetery
The Capuchins acquired the cemetery from the City Corporation to use it as a burial ground for those who died from cholera in the 1850's. The Society purchased it from the Capuchins with money given by Mr Hinsworth. It is on Tory Top Road, Ballyphehane, Cork.
The Cemetery Chapel, built during Fr Devecoux's time, is modelled on the Wilton and Blackrock Road churches, with steep roofs so that snow would not lie on them. Fr Devecoux did not realise that Ireland did not have the same snowfall as his beloved homeland! John Sisk was responsible for the Church and original House in Blackrock as well as the cemetery Church. The total cost for the three buildings, in 1882, was £3,706-3-3.
The first SMA students and priests and several OLA Sisters are buried in a common plot in St Joseph's cemetery.
Fr John Baptist Barrett (+ 27 June 1910) is also buried there, though in a separate grave from the others. According to Society records he was born near Westport on 27 December 1844. But Census records indicate he was born in Yorkshire, England in 1837. The latter may be true as he had a sister living there and one of the earliest Society benefactors was a Mr Hinsworth from Yorkshire. In an article Fr Barrett wrote he speaks of the late Mr Thomas Hinsworth as being "truly the founder of our Society of African Missions in Cork" (The African Missionary, July 1908).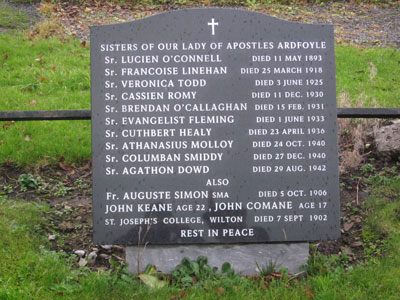 Our headstone shows the names of OLA Sisters, Fr Simon SMA and two seminarians who are buried there. SMA members are now buried at the SMA Community cemetery at Wilton.