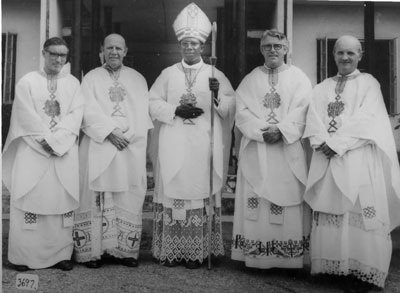 Anniversary Mass in Ibadan for Fr Sheehan
Fr Fintan Daly SMA reports on an Anniversary Mass for the late Fr William (Bill) Sheehan SMA:
I write to let you know that there was a very prayerful and nice celebration on Friday, 11 May to remember Fr. William Sheehan who died at the family home in Whitechurch on 11 May 1990. The celebration was at Our Lady of Fatima, Eleta, the parish where Fr. Sheehan worked until 17 April 1990, when he went home in poor health and died less than a month later.
Fr Sheehan was ordained in 1953 and spent all his missionary life in Ibadan, nearly 37 years, in education and pastoral ministries. He served as Rector from 1953 – 1960 at St Theresa's Minor seminary, Oke-Are. Many of his students became priests, ten were ordained as bishops and two of them are Cardinals (H E Anthony Cardinal Okogie of Lagos [Nigeria] and H E Christian Wiyghan Tumi of Douala [Cameroon]).
Fr Sheehan was forced to return to Ireland due to ill health. In 1965 he insisted on returning to 'the Tropics' though his doctor told him the climate would probably kill him in 5 years. His reply: "what is the difference between going in the first or the last bus?". For the next 25 years he ministered at St Cyprian's (Oke-Offa), St Anthony's (Iwo), St Mary's Cathedral, St Gabriel's (Mokola) and Our Lady of Fatima (Eleta).
This celebration was organized chiefly by two young men (Festus and Joseph) whose education Fr Bill sponsored. Three Ibadan Priests who were altar servers in different parishes where Fr. Sheehan worked and who said their vocations were very much encouraged by Fr. Sheehan, also played a part in organizing the celebration. The priests are V Rev Fr. Peter Odetoyinbo (Vicar General of the Archdiocese of Ibadan and PP of the Church of the Ascension, Bodija), Fr. Felix Etapemi (PP of St Rita's, Arometa) and Fr. Joseph Akanbi (PP of St Michael's, Yemetu), all in the Archdiocese of Ibadan.
During the Mass, Fr. Etapemi, who preached the homily, sang the praises of Fr. Sheehan and stressed that even though he was a strict disciplinarian, he was loved by the youth because of his concern for them. He also stressed that he was a truly dedicated priest.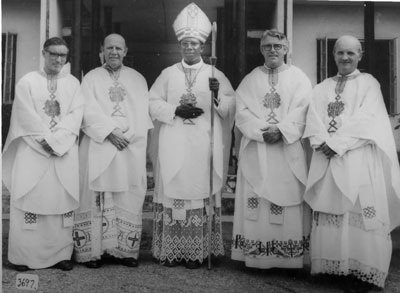 After the Mass there was a nice reception in the hall. About 100 people were present and many of them had happy memories of Fr. Sheehan. Fr. Bill was a shy man who dodged celebrations when ever he could, but it is interesting that there was a nice celebration for him on the 22nd. anniversary of his death.
Our picture shows the Rt Rev Felix Alaba Job (now Archbishop of Ibadan) with the two SMA Silver Jubilarians after a Mass in Ss Peter & Paul Major seminary. From left to right: Daniel J O'Connor (RIP), Edward Casey, Anthony O'Donnell (RIP) and William Sheehan (RIP). There is an interesting story recounted to the the author concerning this photo: Both Jubilarians, Fr O'Connor and Fr Sheehan wanted to avoid any fuss. So Fr Sheehan said he'd be on holidays on the chosen date. But Bishop Job was not to be outdone and eventually it was agreed that the celebration would coincide with the Holy Thursday Chrism Mass. And after the Mass all enjoyed a pounded Yam and Pepper soup lunch. They were ok with that but had succeeded in their stated aim: to avoid too much 'Jubilee' talk! Ar dheis Dé go raibh siad.