Since 24 February, 2022 we have witnessed a level of aggression, death, violence, suffering and destruction not seen in Europe since World War II. The Russian invasion of Ukraine has caused a mass exodus of women, children and the elderly to neighbouring countries. Within just four weeks over 3.5 million people have fled beyond Ukraine's borders, with Poland receiving the largest portion of these.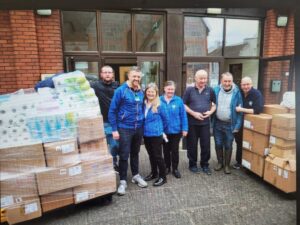 People in the SMA Parish in Wilton, Cork, like people elsewhere, experienced initial reactions of revulsion, shock and disbelief at the war.  But in Wilton they have responded in a practical way. After checking out how to get goods to Poland, they organized an Appeal for goods and donations. Posters were distributed locally; the Appeal was advertised through the Parish Church, local shops and radio stations. After an overwhelming response, a week later Container and four Van loads of material had been gathered, sorted, packed by volunteers and were on their way to Poland. Cash received was used to purchase medical supplies.
The SMA Polish Provincial Superior, Fr Grzegorz Kucharski, appealed to the SMA worldwide for support. He told us that the Polish SMA's have opened their two SMA Houses (in Piwniczna Zdroj, southern Poland and Borzecin Duzy, Warsaw) to accommodate war refugees. In his letter, Fr Grzegorz wrote that "this allows us to accommodate 110 people for the moment, but if the needs were to rise, we will increase our capacity to accommodate to the maximum number of people".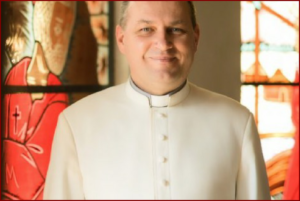 In response, the SMA Provincial Council and our communities around Ireland organized and contributed to collections. The proceeds are going to the Red Cross and the SMA Polish Province. Our lay staff also contributed generously to these appeals.
The aim of the Polish SMA is to provide Refugees with shelter for as long as necessary and a place where they feel safe and welcome. Food, clothes and personal items will also be provided to replace what was lost in fleeing from their homes. Places in schools will be organized for children and help given to women to find employment so that they may return to their country, one day after the war, with some savings.
In his appeal letter Fr Grzegorz invites us to show solidarity with the people of Ukraine and with the SMA's work to support refugees. He tells us that local Polish people have donated material goods to equip and furnish the accommodation and to make the new residents feel welcome. 
"However, we need even greater solidarity to pay for food, gas, water, heating and electricity, the prices of which have doubled in recent months because of the war." 
The money which will be sent from Ireland will be an important help in covering some of these costs. And we hope to continue contributing what we can which will be sent to the SMA in Poland.
If you wish to donate to this very practical and necessary work in Poland you can do so via the Reception in the SMA House, Blackrock Road or through the Office in the Wilton Parish Centre.