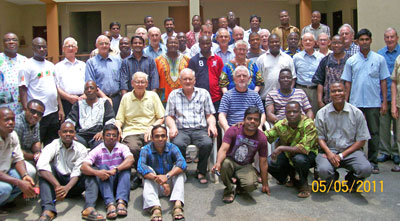 SMA Regional Assembly in Nigeria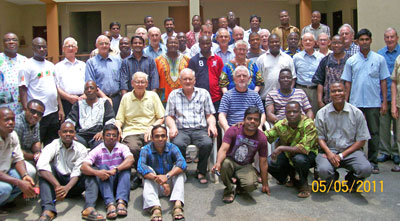 The 2011 SMA Regional Assembly has just concluded at SMA House, Abuja. It began on Tuesday, 3rd May and ended on Friday, 6th May. It was the first Assembly since the two former Regions of Nigeria North and Nigeria South were amalgamated as an integrated unit on 1st October, 2010 under the stewardship of our Regional Superior, Fr. Maurice Henry SMA. The Assembly involved 50 SMA's who work in a variety of ministries throughout the country. The aim of the Assembly is to look at various aspects of our ministry, review the work we do and formulate some resolutions which are intended to improve the quality of our ministry during the coming year.
The Assembly also provides a great opportunity for the participants who are scattered far and wide (some several hundred miles apart) to meet and interact in the congenial atmosphere of our recently-opened new SMA House in Abuja. The Assembly concluded this year with tributes to Fr John O'Hea, SMA who celebrated 50 years of priesthood last December and Fr. Noel O'Leary, SMA who will celebrate 25 years of priesthood on 2nd June this year. We congratulate both of them on reaching this significant milestone in their lives.
Our picture shows Fr Michael Waters SMA (Cork City) works in Kontagora Vicariate and Fr Julius Temuyi SMA (Badagry, Nigeria) who is due to leave for the SMA mission in Egypt. Badagry and its environs has been 'home' for Fr Eddie Hartnett SMA (Ballinlough, Cork) for more than 25 of his 45 years in the Archdiocese of Lagos. Fr Hartnett is on the extreme right of the group photo above.
In the centre of the main picture is Fr Maurice Henry SMA (Clara, Co Offaly). On his right is Fr John O'Hea SMA (Cork) and on his left is Fr Noel O'Leary SMA (Bantry, Co Cork). Seated next to Fr O'Hea is the Deputy Regional Superior, Fr Narcisse Seka Ogou (from Ivory Coast) and beside Fr O'Leary is Fr Amos Ngaizoure SMA (Central African Republic).