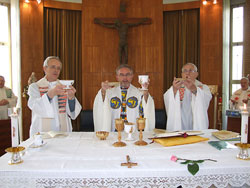 The overall governance of the Society of African Missions is the General Assembly.  It is made up of ex-officio members and elected members representative of the various units of the SMA.  The Assembly meets every six years. It last met in April / May 2019.
At that Assembly, the Society agreed a major restructuring which created the following units:    Provinces (15),               Districts (8),               Delegations (4).
The SMA General Council, based in Rome, is a four member elected body: Superior General, Vicar General and two General Councillors. It is elected by the General Assembly every 6 years to guide the overall administration of the Society. http://www.smainternational.info
Provinces
Lyons (France) – http://www.missions-africaines.org
Ireland – https://www.sma.ie/
Strasbourg (France)  http://strasbourg.missionsafricaines.org/
Netherlands – http://www.sma-nederland.nl
USA – http://www.smafathers.org/
Britain – http://www.sma-gb.org/ 
Italy – http://www.missioni-africane.org/ 
Spain – http://www.misionesafricanas.org
Benin-Niger
Nigeria –
Poland – http://www.misjeafrykanskie.opoka.net.pl
India – http://www.smaindia.org
Togo – 
Each Province is led by a Provincial Superior. He is assisted by a Council made up of a Vice-Provincial and a determined number of Councillors. The Provincial Superior and the Provincial Council are elected at the Provincial Assembly after consultation with all the members of the Province.
Provincial Assembly
A Provincial Assembly is held held every six years to review the work of the Province and determine its policy for the coming six years. Periodically during the intervening years the Provincial Superior convokes an Extraordinary Provincial Council made up of the Provincial Council and other authorities in the Province.
Districts
Canada                           [email protected]
Central Africa
DR Congo
Kenya
Liberia
Philippines
Tanzania
Zambia
Each District is under the authority of the District Superior. He is assisted by a Council made up of a Vice-Superior and a Councillor all of who are appointed by the Superior General after consultation with the members of the District.
Delegations
Angola – Egypt – Sierra Leone – South Africa.
Each Delegation is under the authority the Superior General who appoints a Delegation Superior and a Council after consultation with the members of the Delegation.
There are also SMA priests working in Morocco.