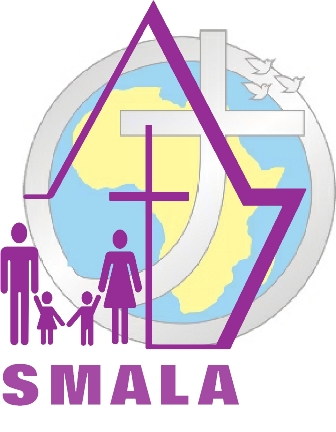 SMALA is a Lay Association of people with a shared interest in and commitment to the mission and work of SMA, making them an important part of the SMA Ireland family.  To deepen their awareness of the missionary call, SMALA members meet on a number of occasion through the year for reflection, discussion and action. They make an annual commitment to raise awareness of the mission of SMA and to support specific SMA projects. 
Being a member of SMALA involves
attendance at meetings.
answering the


Members of SMALA with Frs Eddie Deeney and Maurice Henry (back left)


call to be missionary in our daily lives.
an active interest in the future of SMA Ireland.
promoting and participating in the SMA mission at home and abroad.
SMALA is open to anyone with an existing association with SMA, including friends and supporters. Anyone with a commitment to their faith and an interest in the promotion of mission will also be welcome to join us.
WHAT DOES SMALA DO?
SMALA members demonstrate their commitment to mission and to the work of SMA in a number of ways:
– In accepting responsibility for their own faith development, SMALA members have the opportunity to encourage others to invest more in their own faith lives and journeys;
– By their involvement with SMA, they highlight the role of lay people as central to the life of the church;
– Through their active participation in the SMA mission, they offer a wider view of the universal call to reach out to our neighbour, to the stranger and those in need;
– By actively supporting SMA events and projects, members strengthen their connection with and participation in the work of SMA in Africa and Ireland.
WHY JOIN SMALA?
 Being part of SMA Ireland means belonging to a national community focused on mission, on the most abandoned and vulnerable in society. This reflects the call of the Gospel to "love God and love your neighbour", and of Pope Francis' challenge to be a "church for the poor". SMALA meetings provide an opportunity for members to deepen their relationship with God and their understanding of this call to be missionary. Together members can explore practical and meaningful ways of living out this call and of making a difference in the lives of others.