SMA House in Abuja officially opened
Saturday, 29 January 2011, saw the official opening and blessing of the new Headquarters for the SMA in Nigeria. The Archbishop of Abuja, Most Rev John Olorunfemi Onaiyekan, presided at the Mass to celebrate this further milestone in the SMA story in Nigeria. Last October the two Regions in Nigeria were united under the leadership of Fathers Maurice Henry (from Clara, Co Offaly, pictured above) and his Deputy, Fr Narcisse Seka-Ogou (from Ivory Coast) who is also the Parish Priest at the Holy Family Church in Abuja.
Prior to the opening the House has hosted a meeting of the SMA Regional Superiors who have gathered from all over Africa to assess the missionary work of the Society in the past and to plan for the coming years up to the 2013 General Assembly.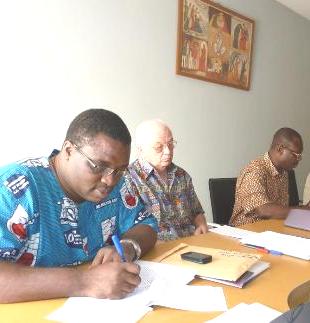 The SMA Superior General, Fr Jean-Marie Guillaume, presided at the meeting.
Our picture shows Fathers Basil Soyoye (from Nigeria, Superior of the Bight of Benin District-in-formation), Michel L'Hostis (France, Regional Superior for Benin / Niger) and Dennis Agbenyadzi (Ghana, Regional Superior for the Central African Republic) at one of plenary sessions.
Also present for the Opening are Fr Pat McGuire SMA (British Provincial Superior) and Fr Fachtna O'Driscoll who leads the Irish Province, based in Cork. Also present are Fathers Basil Soyoye (Nigeria), Nelson Adjei-Bediako (Ghana) and Thaddeus Ogato (Kenya) who lead the three SMA Districts-in-formation in Africa.
Fr Aodhán McCrystal (from Dromore, Co Tyrone) has been busy preparing the House for the meeting and the Official Opening.