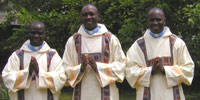 SMA Formation has as its point of departure the life and experience of the individual
– SMA Constitutions & Laws
At the heart of the SMA formation process is Jesus Christ.
Formation is a life-long process of conversion and growth, of attuning ourselves to the mind and heart of Jesus in our missionary commitment.
We seek
to respond to the Lord's call…
to be true witnesses of Jesus…
to be Apostles…
and to be guided by the Spirit of God to be zealous and effective instruments of the mission entrusted to us as individuals and communities.
This means that our formation process must be centred on Christ and his Kingdom and make us ready to give our lives and commit ourselves to the objectives of Jesus: he lived, died and rose again for the transformation of human existence and to reveal in himself the limitless love of God.
The formation to become a true apostle is primarily the responsiblitly of the individual, each student, member of the SMA.
The goal is "forming missionaries to be dedicated Apostles of Christ". This determines the shape of the entire formation process – personal and communitarian, spiritual, intellectual, and pastoral.
Diaconate is the final step before ordination to priesthood

If you want to know more about becoming part of our SMA missionary family and please contact  the SMA House nearest you:

or email the SMA Communications Director: 
communications @ sma.ie

He will forwardHThis e-mail address is being protected from spambots. You need JavaScript enabled to view it Please provide some basic information about yourself – name, address, age, education, religious denomination, work experience etc. so that you can be put in contact with the correct person.