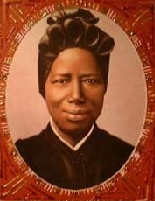 Below is the first in a series of articles that will be published in the lead up to the International Day of Prayer and Awareness Against Human Trafficking on the 8th of February which is also the Feast of St Bakhita who herself was sold into slavery.  
Pope John Paul II canonised St Bakhita on 1 October 2000.  During the ceremony he referred to her as an example of faith and forgiveness to us all and a source of hope for those who are in any form of slavery or who need to find peace, forgiveness and reconciliation in their lives.  
St Josephine Bakhita bore 144 physical scars throughout her life which were received after she was kidnapped at the age of nine and sold into slavery in El Obeid, Sudan.  Flogging and maltreatment were part of her daily life. She experienced the moral and physical humiliations associated with slavery. It was only in 1882 that her suffering was alleviated after she was bought for the Italian Consul. This event was to transform her life. In this family and, subsequently in a second Italian home, she received kindness, respect, peace and joy. 
A change in her owner's circumstances meant that she was entrusted to the Canossian Sisters of the Institute of the Catechumens in Venice. It was there that Bakhita came to know about God whom, 'she had experienced in her heart without knowing who He was' since she was a child. She was received into the Catholic Church in 1890, joining the sisters and making final profession in 1896. The next fifty years of her life were spent witnessing to God's love. She was a source of encouragement to those around her and her constant smile won people's hearts, as did her humility and simplicity.
As she grew older she experienced long, painful years of sickness, but she continued to persevere in hope, constantly choosing the good. When visited and asked how she was, she'd respond: 'As the Master desires'. During her last days she relived the painful days of her slavery and more than once begged: 'Please, loosen the chains… they are heavy!'. She died on 8 February 1947. (SOURCE: https://preghieracontrotratta.org/) 
One of the shocking realities of our age is the fact that today more people suffer the pain of slavery through human trafficking than during the entire 400 years of the transatlantic slave trade.  An article very similar to this one was published on this website for the feast of St Bakhita in 2013  – at that time the estimated total of people enslaved in the world was, according to the International Labour Organisation (ILO) twenty-seven million. Only seven years later this estimate has risen to over forty million.  Far from reducing, Human trafficking is a growing problem in our world, more and more people are enslaved and have their inherent human dignity denied.
The fourth article of the Universal Declaration of Human Rights, 1948, which states that; "No one shall be held in slavery or servitude; slavery and the slave trade shall be prohibited in all their forms," remains an unfulfilled aspiration. 
The next article in this series will give an overview Human Trafficking, those it affects, its causes and what sustains it.  It will be published on February 3rd.