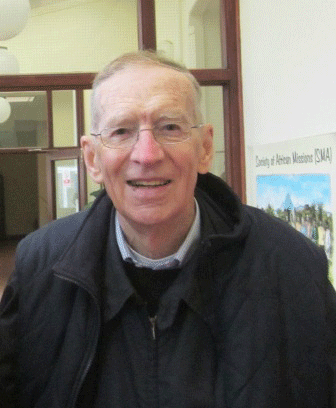 Fr Jim Kirstein SMA
It's never too late to start
Fr Jim Kirstein SMA comes from Cork City and was brought up very close to the SMA House at Blackrock Road. From a very early age he served Mass in St Joseph's SMA Church.
"After my secondary schooling I worked for 8 years but I always had it in my mind to join the SMA. The late Fr Jack Collins SMA invited me to come and see and to test my vocation… but even then I had not realised who or what SMA was… but they were the only priests I knew." He was 26 years old when he began his studies for the missionary priesthood.
Following his ordination he was assigned to the Diocese of Jos in Northern Nigeria. He spent eight years teaching on the staff of St Murumba's College, Jos. Then in 1977 he became directly involved in seminary formation of future priests. He has spent nearly 30 years in this ministry – in Nigeria, Ireland, Benin Republic and the Philippines.
He was Spiritual Director at St Augustine's Major Seminary, Jos until 1983. Later in that year he was recalled to Ireland to become Director of Students at SMA House of Studies in Maynooth. He was there until 1991 when he took a sabbatical break to study French.
Having achieved a fluency in French it was natural that, in 1992, he was assigned to the SMA International Spiritual Year (ISY) Programme at Calavi in the Benin Republic. The ISY caters for SMA seminarians from all over the world and they live and study through the mediums of both French and English. Six years later, Fr Jim was asked to move across the world to work with our Filipino seminarians at the SMA House of Studies, New Manila.
Fr Jim feels deeply committed to the work of mission. "I never once wanted to be or considered becoming a diocesan priest… I feel, as a member of SMA, that I should do whatever the Society wants me to do. I am very happy doing that… The missionary must be a person of intense faith… Zechariah in the Gospel was struck dumb because he did not believe. Unless we really have deep faith in our hearts we will not be able to preach the Good News. I am absolutely convinced of and believe in Jesus Chrsit and what he came to bring us."
In the SMA House of Studies in Quezon City, Metro Manila he was often the only member of the formation staff. This gave him much to do – in charge of the house, bursar, formator. He was also chaplain to a Christian Family Movement group and to a parents group. "And in case I get too idle I give some retreats and provide spiritual direction". When he handed over to Fr Roy Marana SMA in February 2006 he returned to Ireland and was appointed as the Main Office Manager at Blackrock Road. Despite some bouts of ill health Fr Jim continued in that post until 2010 when he officially retired. He now resides at the SMA Motherhouse in Cork. But he is not idle! He has published a book of Sunday homilies – often used on this website for busy priests who need some help with their Sunday sermon – and is available to celebrate Mass / lead Recollections for the SMA community and other groups who ask.
"I never regretted for a moment becoming an SMA. I am very happy being a missionary priest and I wouldn't want anything else", he says.
Interested in giving a hand?
Interested in getting involved in the work being done by Fr Jim?

Contact the SMA Vocations Director.
Profile:
1935: Born in Cork, Ireland
1961 – 1969: Studies with SMA at Clouhgballymore Co Galway, Wilton Cork & Dromantine Newry.
1968: Permanent member of SMA.
1968: Ordination
1969 – 1983: Jos Diocese, Nigeria – teaching in secondary school and spiritual director in Major Seminary
1983 – 1991: Director of Studies, SMA House Maynooth
1992 – 1998: Calavi, Benin – SMA International Spiritual Year
1999 – 2006: Philippines – SMA House of Studies
2006 – 2010: Main Office Manager, SMA Blackrock Road
2010 Retired in Blackrock Road
Contact:
Fr James Kirstein SMA
African Missions
Blackrock Road
Cork