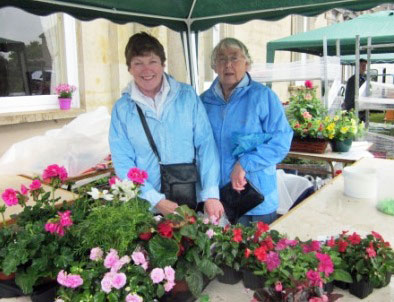 Dromantine Open Day 2011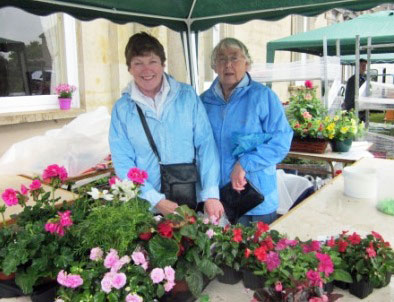 Maria McDonald and Mona Magennis, both from Lisburn, helped out at Bettie McGrane's Plant stall. At least there was no shortage of water for the plants this year!
Sunday, 12 June was the date set for the 2011 Dromantine Open Day. For several weeks beforehand many volunteers prepared for their particular part in what is one of the major events in the SMA calendar. Cake stall (who cares about the calories!), Bumping cars, Bouncing Castle, Vintage Tractors, Under 12's Football tournament, Mayobridge Marching Band, Plant stall, Tombola, 12 bands … the list goes on and on.
Right up to late on Saturday evening, as final preparations were put in place (putting up Tea Tent, marking out the 'car park…) one eye was kept towards the heavens – with a double purpose: watching the weather and imploring the Lord to keep it dry!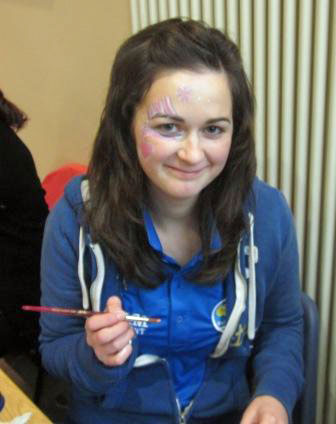 As soon as I hopped out of bed early on Sunday morning I looked out – praise God – a bright dry morning and so it remained.
Pictured right is Kelly-Anne who, along with her sister Paula, made lots of children happy with their different face-paintings. Lots for busy Mums to wash off later!
But 40 minutes into the afternoon a light drizzle began to fall and, sadly, it remained so for the rest of the day. But Dromantine 'people' are made of sterner stuff. A little drop of water wouldn't keep them away. From all over they came – Armagh, Ballycastle, Belfast, Bessbrook, Cork (ok, only one person!), Derry City, Donemana, Dublin, Lisburn, so many other parts. And of course so many of the local people in the parish and neighbouring parishes. It shows how extensive and supportive the wider SMA family is.
THANK YOU, one and all, who braved the elements to support Open Day and the work of the Society of African Missions.
A special word of praise must go to the Under 12 footballers who played their hearts out in terrible conditions. Drowned to their skins, players, mentors and supporters, stayed with it until St Patrick's, Mayobridge emerged victorious over Shane O'Neill's, Camlough after extra time. One watcher was overheard to say: If I come back, it'll be as a duck!
But we still enjoyed it nonetheless! Roll on Open Day 2012!!
Fr Eddie Deeney SMA thanked the many supporters who packed into the Assembly Hall to listen to the music and other acts which Conor McKay (the Singing Brickie) had lined up for the entertainment of all.