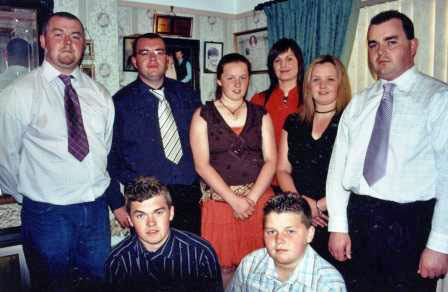 SMA celebrates with Tyrone…. but it's not the All-Ireland (yet)!
Saturday, 18 June 2011, was a glorious day for the people and parish of Donagheady, Dunamanagh, Co Tyrone when one of their sons, Kevin Conway, was ordained a priest by Bishop Patrick J Harrington SMA, bishop-emeritus of Lodwar, Kenya.
29 priests concelebrated the Ordination Mass in St Patrick's Church. Fr Peter O'Kane, a priest of the diocese studying in Rome acted as MC and the ceremony went off without a hitch.
Kevin, the son of Liam and Anne Conway (née Conwell), has four brothers and three sisters. Our picture shows Kevin, second from left, Gerard, Christine, Gemma, Marie, Stephen, Brian and Paul.
Kevin's primary education was in Glenmornan and Altishane Primary Schools and he did his secondary schooling in St Colman's, Strabane (now called Holy Trinity). After leaving school Kevin worked for some years in the garment trade.
In 2000 he decided to study for the priesthood for his home diocese of Derry. He entered St Patrick's College, Maynooth completing his Philosophy studies and gaining a Diploma in Pastoral Theology. However, having also had contact with many priests of the SMA (the late Fathers Tommie Blee and Michael McGlinchey were from the parish) Kevin felt a calling to missionary priesthood. After a long period of discernment he made the decision to leave Maynooth and applied to enter the SMA formation programme.
His first port of call was the International Spiritual Yeart programme at Silang, Philippines where Fr Gus O'Driscoll SMA, a brother of the Provincial Leader, was in charge. After completing his one-year programme he was assigned to Fr Ollie Noonan SMA in Lodwar, Kenya for a pastoral year. He then moved south to Kenya's capital city, Nairobi, where he joined other SMA seminarians – from several African countries as well as India and Poland – for theological studies.
He completed these studies in 2010 and earlier this year was appointed to minister as a Deacon in the SMA parish – Our Lady & St Patrick's, Walthamstow, London – in the diocese of Brentwood where he was under the guindance of Fr John Brown SMA (a fellow Tyrone man, from Carrickmore). Our picture shows a group of the parishioners who accompanied Fr Brown to the Ordination Mass and were warmly received by Kevin's family and the people of the parish.