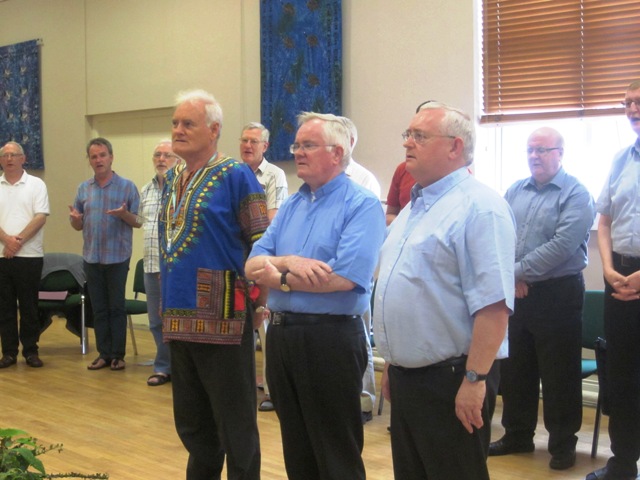 Friday, 12 July, 2013 saw the 16th Provincial Assembly achieve one of its principal tasks – the election of a Council to assist the new Provincial Leader, Fr Michael McCabe.
Fathers Maurice Henry (on left) and Malachy Flanagan (on right) stand with Fr Michael McCabe after their election to the Provincial Council and the Assembly invokes the blessing of God on them in their new ministry.
After a period of private and communal reflection the 27 delegates elected, in turn, two Councillors – Fr Malachy Flanagan and Fr Maurice Henry. Both were asked by Fr McCabe if they accepted election. On acceptance of same we proceeded to elect one of them as Vice Provincial. They then elected Fr Flanagan as the Vice Provincial. The Assembly then gathered around them to invoke the blessing of God on them as all sang the hymn: Spirit of the Living God, fall afresh on them.
Fr Malachy Flanagan was born in 1962 and ordained by Cardinal Tomás O'Fiaich in his home parish, Tullyallen, Co Louth in 1989. His first appointment was to Ilorin diocese (Nigeria) where he served in pastoral ministry for 17 years. Fr Malachy spent most of his missionary life in areas of Primary Evangelisation in the Borgu area of Ilorin Diocese and then in the Vicariate Apostolic of Kontagora which was under the pastoral care of Bishop Tim Carroll SMA. Fr Malachy worked at the frontline of the missionary apostolate, in areas where the Gospel was unknown, telling people for the first time about the love of Jesus Christ.
In 2006 he was recalled to be part of the staff in the Office of the Provincial Bursar, succeeding Fr Jarlath Walsh in that position after the 2007 Provincial Assembly.
Fr Maurice Henry, from Clara, Co Offaly, was born in 1946, son of the late Peter & Elizabeth (née O'Brien). He was educated at the Franciscan Brothers School, Clara and his secondary education at Sacred Heart College, Ballinafad, Co Mayo. He joined the SMA in 1963 and did his Novitiate at Cloughballymore, Co Galway. He was sent to the African Missions College in Wilton, Cork for degree studies at UCC and, in 1967, began his theology studies in Dromantine, Newry, Co Down. He was ordained a priest in Newry Cathedral on 16 December 1970.
Since then he has been a missionary in Nigeria – 15 years as teacher and Acting Principal of St Joseph's College, Vom (in the Archdiocese of Jos). He then became the Parish Priest of Vom and, for the next 14 years, served there as well as acting as the Social Development Coordinator for the Archdiocese and Jos Ecclesiastical Province. During that time he did a one year Diploma Course in Career Guidance and Counselling at UCD (1983 – 1984). He then returned to Nigeria and in 2001 Fr Maurice was elected as the Regional Superior in Nigeria, a post he held until his election today.
We wish the 'M team' – Fathers Michael, Malachy and Maurice – every blessing in their new ministry of leadership for the coming 6 years.