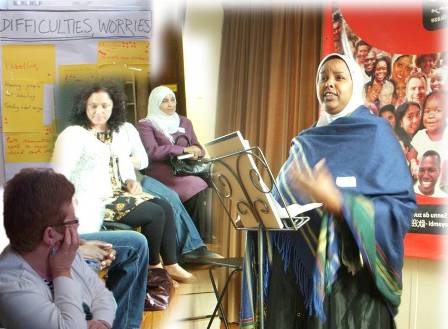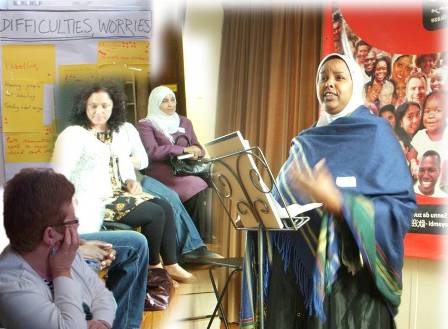 Muslim & Christian Women Meet
On Saturday 25th of Aug 2012 an event called "Muslim and Christian Women together" took place in Cois Tine. To the best of our knowledge, this is the first time such an event has taken place in Cork City. The occasion was an informal opportunity for women to discuss how they as people of different faiths can live together, be good neighbours to each other and work towards an inclusive community for all.
The brief opening addresses delivered by Sheikh Ihab Ahmed and Mr Gerry Forde focused on the need for mutual understanding, respect and cooperation between Muslims and Christians in Ireland.
This was followed by input from Ruth McLaughlin and Nura Hagi reflecting on their personal experiences and beliefs. This set the scene for the facilitated discussions that focused on the practical and everyday business of living together and getting to know one another.
Discussions were split into two sessions facilitated by Emer McCarthy, EIF Project Co-ordinator and Kathy O'Connor from the Integration Centre. During this short afternoon; in what was for many of the participants a new experience, Muslim and Christian women met, and discussed how our respective beliefs influence how we live in community. Participants commented that the need for dialogue is great, as many Muslims and Christians are unaware of the shared values and history that can provide opportunities for connection rather than division.
At the end of the afternoon, participants felt that the experience was worthwhile. We hope that they will also begin a process of engagement where the lessons of the day can be used to begin a meaningful interreligious and intercultural dialogue with their Muslim or Christian neighbours.
This event was part of a wider project co-financed by Cois Tine and the European commission under the European Integration fund and is supported by the Office for the Promotion of Migrant Intergration in the Department of Justice and Equality and Pobal.