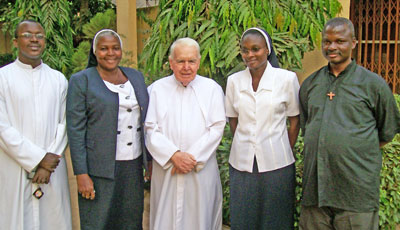 Fr James Higgins makes a new SMA Irish Province record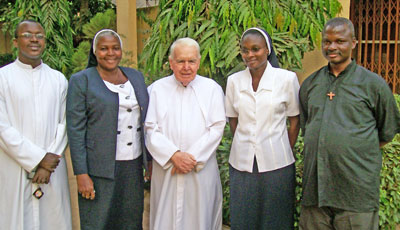 On 8 February 2010 Fr James Higgins became the oldest Irish SMA to be still in active ministry in Africa. Ad Multos Annos! He is pictured here with Fr Eric Yapi-Yapi SMA (Ivory Coast) and Fr Noel Musa SMA (Nigeria) and two St Louis Sisters who came to wish him a Happy 86th Birthday after a Thanksgiving Mass in St Patrick's SMA Church, Cable Point, Asaba
James Higgins was born in Collooney, Co Sligo, Ireland on 8 February 1924. His beloved mother died just six months after his birth. Jim was reared by a father whom he loved and admired and he credits him for his "placid, patient, kindly temperament". Jim also credits his loving 'Nanny', Miss Coggins, for all her kindness and upbringing.
After his studies with the Society of African Missions he was ordained a priest on 14 June 1949 in St Colman's Cathedral, Newry, Co Down.
After gaining his Higher Diploma in Education from the University College, Cork (UCC) he left Ireland on 25 November 1950. He was appointed to work in the diocese of Benin City, in the Mid Western Region of Nigeria. And there he has remained to date!
Jim Higgins' name will always be associated with the education apostolate of the late Bishop P J Kelly SMA who saw that education was the key to evangelization and to human development. Fr Higgins was Tutor at St Thomas's Teacher Training College, Ibusa which the SMA founded in 1928. For the next 30 years he taught in Assumption Teacher Training, Uzairue, St John Bosco Secondary School, Ubiaja and St Joseph's Teacher Training College, Ozoro.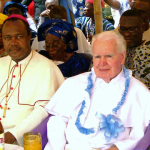 Bishop Elue of Issele-Uku diocese and Fr Higgins at his 60th Jubilee and 85th Birthday celebration in St Patrick's Parish, Cable Point
In December 1981 he moved into fulltime pastoral ministry when he was appointed the Parish Priest of Sapele. The SMA Regional Superior in Nigeria South, Fr Tim Cullinane reminded all during the 50th Golden Jubilee celebrations: "Fr Higgins did not confine himself to the church in Sapele itself. He had even time to venture with canoe and speedboat into the creeks and mosquito-infested mangrove swamps and find communities there eager to hear about Jesus Christ. At last, after 33 years he says, "I was becoming a real missionary", At SMA meetings today we often ask ourselves, what is the charism of the SMA? or to put it simply, what should the SMA be doing? Fr Higgins' answer is that we should be opening outstations which in time will become parishes and in line with this he told once that his favourite Bible text is "as long as you did it to one of the least of these brothers of mine you did it to me". "
After 13 years he moved to St Patrick's SMA Parish, Cable Point, Asaba. In 2000 he moved to the SMA House in Uromi, Edo State. After completing his assignment there, in 2004, he returned to Asaba and now forms part of the SMA team there, with the Parish Priest, Fr Joseph Chege SMA (Kenya) and Fr Noel Musa SMA (Nigeria).
Fr Higgins has two books to his credit: Fifty Years a-growing (2000) and The Pilgrim Soul in me (2004). The title of his first work is due to his belief that he feels "even after fifty years in Nigeria, that I am still only learning what it means to be a missionary in this beloved land." And now after ten more years in Nigeria to add to the first 50 there is no doubt that Fr Jim Higgins is still learning!
Copies of his work can be bought from the SMA Communications Department.