INTERFAITH EVENT ADDRESS
Text of address made by Fr Angelo Lafferty SMA at the Interfaith Even held in Cork City Hall on the
22nd of January 2010.
President McAleese, Dr. Martin McAleese, Deputy Lord Mayor, Councillor John Buttimer, members of the faith communities and to all of you, I wish to say formally Cead Mile Failte. As many of you will already be aware tonight's interfaith celebration and prayer, is part of the Cork Integration strategy launched in 2008.  Cois Tine, a pastoral care programme for immigrants was asked to spearhead this event to bring together in prayer the various faith communities here in Cork as part of this strategy.
Earlier in the year President McAleese agreed to honour us with her presence here as we continue on a process of inclusiveness, integration and a unity in diversity.
• Tonight the presence of many diverse groups in our community is recognized and respected.
• The key to understanding this diversity is Respect.
• We must therefore find the proper balance between honouring our own faith and respecting each others.
Our faith is what gives life and meaning to our existence. It is what will bring us through the most difficult of times and circumstances if it is strong and clear enough. But it must provide for the well-being of all and not just ourselves if it is to help create a world that works for everyone.   One of the constants that we all work with in society is that while change is inevitable, growth is optional.
This is because we don't always understand change, and therefore have a hard time accepting it. In our community of great diversity of race, culture and faith we, tonight, opt to grow.  To share what we have in common in our faiths. This helps us discover the unity that exists in our midst.  The Preamble to the Earth Charter summarises what we are about here this evening.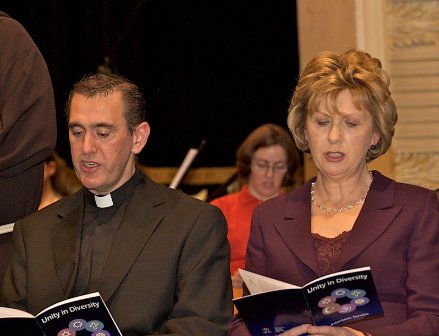 "To move forward we must recognize that in the midst of a magnificent diversity of cultures and life forms we are one human family and one Earth community with a common destiny. We must join together to bring forth a sustainable global society founded on respect for nature, universal human rights, economic justice, and a culture of peace.  Towards this end, it is imperative that we, the peoples of Earth, declare our responsibility to one another, to the greater community of life, and to future generations."
And so it is in this spirit that I invite President McAleese, President of our country to begin our Interfaith Prayer Service.