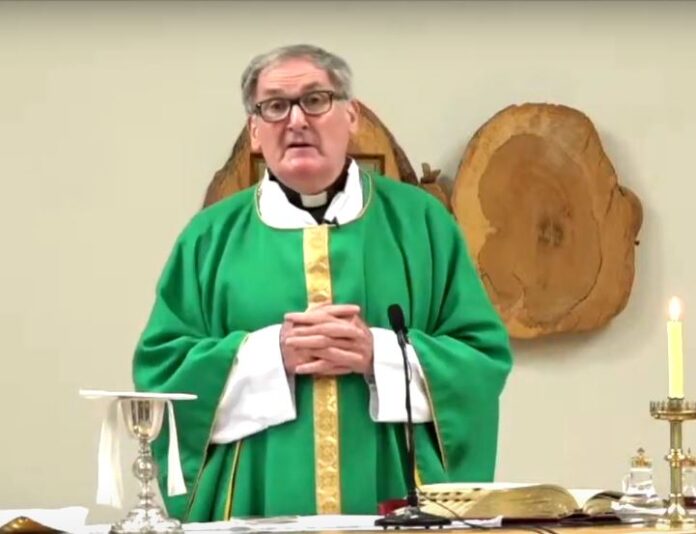 To mark the beginning of October, the month of Mission, we bring you a few paragraphs written by Fr Tom Casey and a link to this Sunday's Liturgy recorded by him.  Fr Tom has worked in Zambia for many years. He is engaged in a ministry of missionary outreach through the Media.  Working from the SMA Media Centre in Ndola he produces Radio and TV programmes broadcast in Zambia and other African countries.  During the Covid pandemic he began a new initiative – the broadcasting of Sunday Mass via the internet from the Media Centre, thus allowing the faithful in Zambia and also friends in Ireland and other countries the opportunity to join with him in the Sunday Liturgy.  Even at home on leave Fr Tom continues this missionary outreach to the people of Zambia through Mass recorded at the Oratory in Ringaskiddy county Cork.  Below he also reminds us that we can all be missionaries – wherever we are.  
Because of our Baptism we are all priests' prophets and Kings. Therefore, it is the responsibility of all baptized to spread the Gospel. If the Gospel is kept to ourselves, it dies. The Gospel is meant to be shared and passed on to the next generation, to those who have not heard it and to re-ignite it in those who are lapsed in their Faith in the Gospel.
Pope Francis asks all of us to be active in spreading the Gospel. He has said "I ask the whole Church to live an extraordinary time of missionary activity".  We are called to engage in the mission of the universal Church, through moments of sharing, prayer and  by missionary commitment.  In this way we can show the mercy and unconditional love of God for all people and for all of creation!  We can do this by:
Giving support to the people in Afghanistan who are currently suffering great trials.
You can help Catholic Missionaries support people with disabilities.
Pray for people who have still not heard the Gospel.
Through the example of our lives be silent witnesses to Gospel values.
"The Church," the Pope wrote, "needs men and women who, by virtue of their baptism, respond generously to the call – to leave behind home, family, country, language and local church, and to be sent forth to the nations, to a world not yet transformed by the sacraments of Jesus Christ and his holy church."  
To view Sunday Mass click on the play button below.
At present I am resting at home in Ireland for a little while after suffering a stroke. Having a rest from the demands of producing an on-line Holy mass every Sunday. Here I have found that the outreach can still on with the wonderful help of Paul and David O Flynn and their families, together with the help of my community back in Zambia.  It is a perfect example of everyone being a missionary.
Let us all be encouraged to be missionary in our minds and actions.
May God bless you
Tom Casey SMA