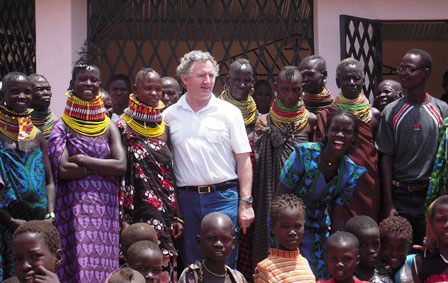 The Caring Institute (USA), led by Senators Bob Dole and Tom Daschle, promotes the values of caring, integrity and public service, believing that behind all our efforts, past, present and future, is the central belief that one person can make a difference. The annual Caring Awards, inspired by the work of Mother Teresa of Calcutta, recognize people who try to make such a difference to the world and set an example for others.
The 2013 International Award is being conferred on Fr Patrick (Padraig) Devine SMA.
From Co Roscommon, Fr Devine has worked for the last 25 years as a missionary in Tanzania and Kenya. He is the founder and Executive Director of the Shalom Centre for Conflict Resolution and Reconciliation (SCCRR) in Nairobi. The 2012 recipient was the Dalai Lama.
With Fr Oliver Noonan SMA, from Cork City, and a group of dedicated staff the Shalom team work with different groups in northern Kenya which has been seriously affected by generations of violence among pastoralist ethnic groups. This area is three times the size of Ireland and the conflicts stem from many sources such as the scarcity of grazing, water, cultural differences, state neglect, contested use of territory, and the proliferation of small arms. The work is financed by many groups, including the SMA, Misean Cara, Electric Aid and the Apostolic Work groups throughout Ireland. With this assistance Shalom are training people in conflict transformation, many of them coming from the groups involved in the conflict as well as government officials.
Fr Devine believes that Peace-building must address the roots causes of conflict and not just the symptoms of conflicts. "If we do this then we will help nations develop and flourish both economically and socially. Negative peace, which is the mere absence of violence, will never be transformed into positive peace, the experience of people reinforcing the wellbeing, harmony and development of each other. Missionaries and humanitarian workers have made tremendous sacrifices to this end."
The awards ceremony will take place on 31 October in Fort Washington, Maryland, USA. Other Caring Award winners this year include Congressman John Lewis for his Civil Rights work and J W "Bill" Marriott Jr. of the Marriot Corportation. Among the Young Adult Winners are Zachary Certner President, Co-founder, Special Needs Athletic Programs (SNAP) and Nicholas Cobb, Founder, Comfort and Joy.