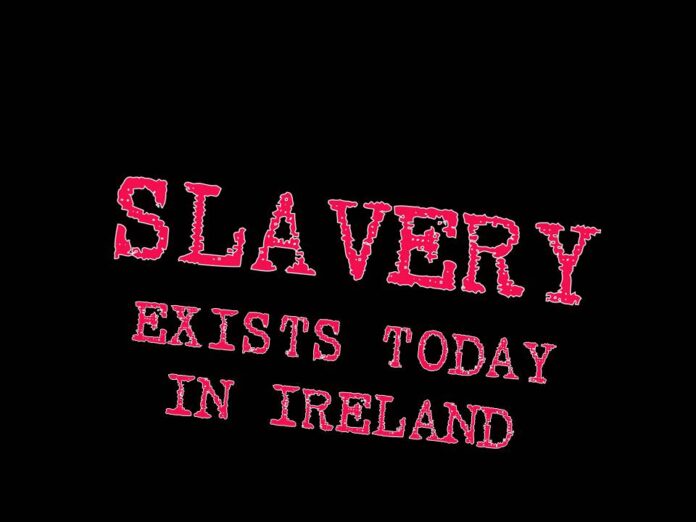 In 2019 forty-two victims of Human Trafficking were detected in Ireland. Thirty-three were adults and nine were children. Thirty-four were victims of sexual exploitation, 3 were victims of labour exploitation, 2 were victims of both sexual and labour exploitation and 3 were victims of forced criminality.  Numbers detected in each of the four previous years were sixty-four in 2018, seventy-five in 2017, seventy-five in 2016 and sixty-two in 2015.  A United Nations Office on Drugs and Crime (UNODC) research brief in 2019 concluded that the overall level of trafficking in Ireland was approximately 50% higher than what is currently being detected (Source: MECPATHS). Roughly 50% of victims come from Eastern Europe, 30% from Africa and the remainder mainly from Asia.
Among other sources of information regarding human trafficking in Ireland are:
a) The Global Slavery Index (GSI) 2018.  This is a global study of modern slavery published by the Minderoo Foundation's Walk Free initiative. To download the Index Click Here

b) The US State Department's Trafficking in Persons Report 2020  (TIP). This annual report is recognised globally as the most comprehensive source of information on Human Trafficking.  To download the Report Click Here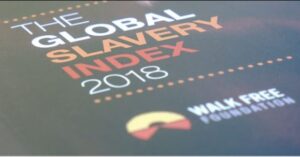 In the Global Slavery Index (GSI) Ireland is listed as a receiving country for victims of human trafficking. Its table on 'the prevalence of modern slavery' estimates that, in Ireland, there are 1.7 victims per 1,000 of the population, equating to 8,000 people in all.  This compares with Germany at 2 per thousand and the UK at 2.1 per thousand.  At 7.9 per thousand Greece is listed as the highest European Country. While the GSI figure of 8,000 is an estimate it is a documented fact that 471 victims of human trafficking have been identified in Ireland since 2013 (Trafficking in Persons Report 2020, p270). Given the secretive, controlling and coercive nature of human trafficking the actual figure is higher, as indicated in the introductory paragraph above.  
Looking at 'vulnerability to modern slavery' the Global Slavery Index lists 167 countries using criteria such as governance, lack of basic needs, inequality, disenfranchised groups and the effects of conflict.  Of the top twenty most vulnerable countries fourteen were in Africa. These were rated from 100 down to 69.2.  Ireland and Germany were rated 10.4 with Sweden the least vulnerable at 4.3.
In terms of 'government response to slavery' the Netherlands was ranked highest at 75.2 (out of 100) while Ireland is rated at 57.9. This rating means that the Irish government has introduced a response to modern slavery that includes short-term victim support services, a criminal justice framework that criminalises some forms of modern slavery, and that a body to coordinate the response and protection for those vulnerable to modern slavery exists. The 2020 Trafficking in Persons Report also reflects this analysis but with a caveat.   In this edition of the report Ireland is downgraded to "Tier 2 Watch List" [Countries meeting minimum standards are ranked Tier 1 while those not making any efforts to meet minimum standards are ranked Tier 3].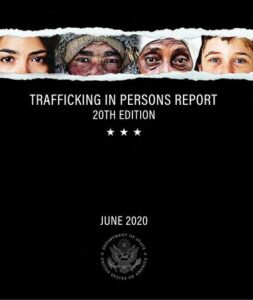 The reports says: "The Government of Ireland does not fully meet the minimum standards for the elimination of trafficking but is making significant efforts to do so. These efforts included increasing prosecutions and funding to NGOs for victim assistance. The government also increased the number of police and immigration officers that received anti-trafficking training and reorganized its antitrafficking coordination unit." [An answer to a question given in Dáil Éireann on 7.12.2020 stated that 22 Garda and civilian staff are attached to the Human Trafficking Investigation and Coordination Unit].
"However, the government did not demonstrate overall increasing efforts compared to the previous reporting period. The government has not obtained a trafficking conviction since the law was amended in 2013, which weakened deterrence, contributed to impunity for traffickers, and undermined efforts to support victims to testify. The government continued to have systematic deficiencies in victim identification, referral, and assistance. The government continued to lack specialized accommodation and adequate services for victims, and the amended working scheme for sea fishers increased their vulnerability to trafficking. Therefore, Ireland was downgraded to Tier 2 Watch List." (page 270) The TIP Report then goes on to made a series of fifteen Prioritized Recommendations needed to improve Ireland's response to Human Trafficking.  To read the full entry on Ireland in the Trafficking in Persons Report 2020 Click Here.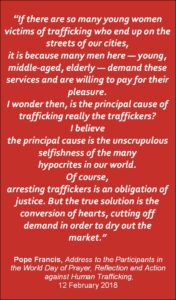 According to the organisation APT (Act to Prevent Trafficking) 76% of victims in Ireland are trafficked for sexual exploitation. They also report that "up to 97% of women in indoor prostitution in Ireland are migrant women (3-13% are Irish)" and that "there are at least 1,000 women (and girls) in indoor prostitution at any one time in Ireland."   Other reports, including the Trafficking in Human Beings in Ireland – an Annual Report of the Department of Justice and Equality, indicate the presence of victims of trafficking in situations of sexual exploitation, in fishing, farming, domestic servitude and car washes.
Human Trafficking is a reality in Ireland. There are people who perpetrate and profit from this crime and people who sustain it through their use of the services of trafficked human beings. The various reports cited above give us estimates, facts and information but behind them is the reality of suffering, injustice and the denial of human rights and dignity caused to the victims who are enslaved.
At the heart of Christianity is the call to love our neighbour – at core of Church Social Teaching is the principle of Human Dignity that we, as believers, are called on to promote and protect as part of living our faith.  How do we do this in relation to the injustice of Human Trafficking that is taking place around us in Ireland?  There are many organisations and groups in Ireland that work to support victims of Trafficking, APT, Ruhama, Mecpaths the Immigrant Council of Ireland, The Sexual Violence Centre, Cork and others.  All have websites, all provide information.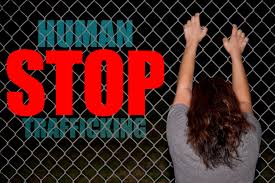 The APT website  www.aptireland.org  has a "What Can I do" section that advises us to keep ourselves informed – to be aware – to talk to others to make them aware and to do whatever we can to raise awareness of this issue in Ireland.  We can also become involved in Campaigns run by these organisations lobbying for better legislation, better services and supports for victims of trafficking.  We can report suspicions to the Gadai. To report anonymously, call The Garda Confidential Hotline 1800 666 111 or email [email protected]
The 8th of February is World Day of International Day of Prayer and Awareness Against Human Trafficking and also the Feast Day of St Bakhita who herself, was a victim of Human Trafficking.  On this day we can join in the Prayers of people around the world for victims of trafficking – To do so see the next article in this series which will be published on the 8th of February.
Resource: For a more in depth and detailed analysis of human trafficking in Ireland Click Here to access and article by Mr John McGeady the OLA Justice Officer.  This article was first published on this website in October 2020.