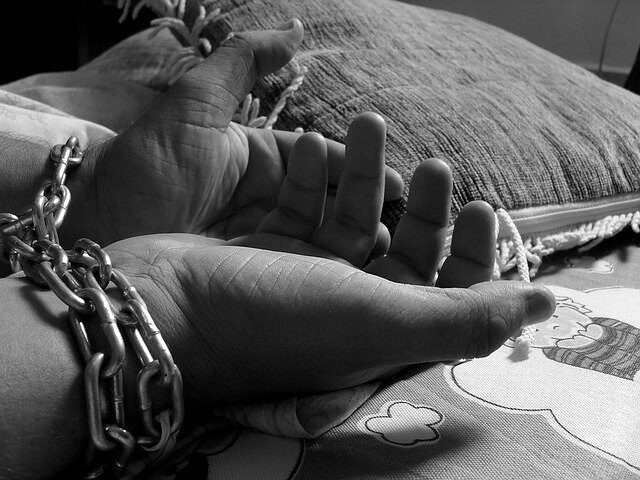 "Trafficking is not just being taken from one country to another country and then become a slave. Trafficking is when someone owns someone else's life and exploits it", said Jacqueline Fourie, foundress and president of Small Voice Human Trafficking, an NGO that fights against human trafficking in South Africa and Zambia, after the Mass celebrated at Saint Augustine's parish in Silverston (Pretoria) on the occasion of the anniversary of Saint Bakhita. This coincided with the annual World Day of Prayer and Reflection Against Trafficking in Persons, which was established by Pope Francis in 2015.
Jacqueline Fourie recalled that the biggest obstacle the organization faces is ignorance, because people deny that human trafficking exists in South Africa and that their children cannot be victims of it. Instead, the head of the NGO stressed that children and young people are trapped by traffickers through social media that are used to recruit and exploit them. "Human trafficking is the fastest growing crime, the second biggest after drugs", said Fourie.
In the course of his homily, Fr. Robert Ndung'u, referring to Ezekiel chapter 34 where God says: "Behold, I, myself will search for my sheep", said the victims of human trafficking are scattered all over the world because they are looking for pasture and justice. He noted that some are looking employment, running away from poverty, war and violence.
And in fact, a lot of people disappear going for job interviews, confirmed Sello Mashaba of Without Chains, another NGO committed against trafficking, recommending girls to pay attention to job advertisements published by some modelling agencies. "Many girls have disappeared due to these attractive career announcements", Mashaba said. There are various forms of human trafficking in South Africa, the victims of whom are both South African citizens, asylum seekers and African and Asian migrants.
The COVID-19 epidemic has exacerbated the problem. On May 31, May 30, 2021, the government of South Africa launched the Child Protection Week campaign with the theme: "Let us protect children during COVID-19 and beyond". According to the United Nations Office on Drugs and Crime 2020 report "Global Report on Trafficking in Persons", children account for over a third of the victims of human trafficking worldwide, with women and girls accounting for nearly 90% of victims of trafficking.
Trafficking in Ireland: Since the first victim of trafficking for sexual exploitation approached us in 2006, the Irish Immigrant Council has developed specific expertise on the trafficking of migrant women for sexual exploitation. This area remains a priority focus for the Immigrant Council, given that more than 90% of prostituted people are migrant women and girls.
The Council are working to end trafficking by providing support to migrant women (including members of the Trans community), as well as migrant men who find themselves victims of labour exploitation. They also campaign to end sexual exploitation by reducing the demand from consumers and monitor international developments to ensure we support victims in the best and most effective way possible.
The Irish Department of Foreign Affairs defines trafficking as follows:
Trafficking takes place when all of these three elements are present:
ACT – a person is recruited, transported, transferred, harboured or received
MEANS – a person is threatened, forced or coerced in some way, through abduction, fraud, deception, the abuse of power or of a position of vulnerability or through the giving or receiving of payments
EXPLOITATION – a person is exploited (ie sexual exploitation, labour exploitation, organ removal or exploited into criminal activities or forced begging)
– with thanks to Agenzia Fides, the Vatican News Agency, 10 February 2022.