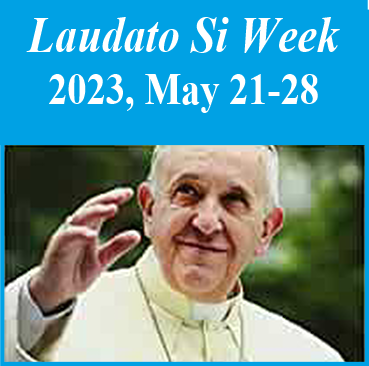 Laudato Si' Week 2023 will take place from May 21 to 28.  It marks the 
eighth anniversary of the publication of the encyclical.

The theme for this year's celebrations is

"Hope for the Earth. Hope for humanity".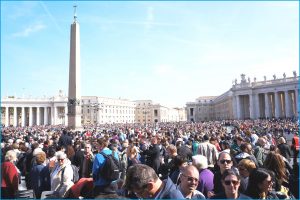 The SMA and OLA Justice and Communications Offices have jointly organised a series of publications and events to mark the occasion.
These include:
Written and video informational material that will be published via the SMA and OLA websites and social media platforms throughout the week.
A Prayer Service organised in collaboration with Wilton Justice Group will take place in the in the Community Garden at SMA House Wilton on Wednesday 24th of May at 7pm.  All are welcome.  
On the 25th an online discussion about the the Vatican's documentary film "THE LETTER – A Message for our Earth" will take place RESISTER HERE. Participants in this event are, by way of preparation, asked to view the film in advance –  to view now on YouTube click on this link:  The Letter Documentary Film
For those, living in the Cork area, who would prefer to view the film in a group setting, there will be a screening of "THE LETTER – A Message for our Earth" in Wilton Parish Centre on Wednesday 31st of May at 7pm. This film is a 2022 documentary telling the story of the Laudato Si' encyclical by Pope Francis. The film was produced by Oscar-winning Off The Fence Productions and directed by Nicolas Brown, in partnership with the Laudato Si' Movement. It tells the story of four people affected first-hand by the climate crisis who travel to Rome to meet Pope Francis.  This screening of this film, is organised by Wilton Justice Group and the SMA Justice Office. Admission is free.  
Laudato Si's Week was initiated as a way of marking the first anniversary of the Encyclical. It has since become an annual celebration for all Catholics to unite and rejoice in the progress we've made in bringing Laudato Si' to life and an opportunity to commit ourselves to further prayer and action for our common home.
We hope that during Laudato Si' week you will return to this website and to our Facebook page to view other material that will be published to mark this occasion. 
"Everyone's talents and involvement are needed to redress the damage caused by human abuse of God's creation. All of us can cooperate as instruments of God for the care of creation, each according to his or her own culture, experience, involvements and talents."  LS14
"What kind of world do we want to leave to those who come after us, to children who are now growing up? … Leaving an inhabitable planet to future generations is, first and foremost, up to us."  LS160
To read an SMA Justice Briefing about Laudato Si and the impact it is having Click here