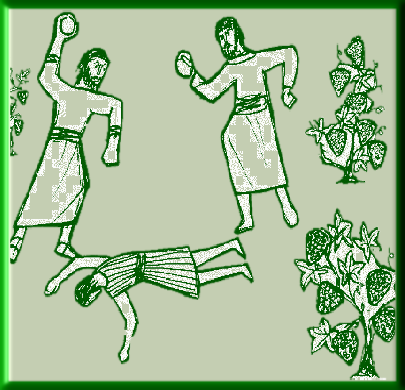 Readings: Isaiah 5:1-7; Philippians 4:6-9; Matthew 21:33-43
 Theme: Tenants in God's Vineyard
The images of vines and vineyards loom large in the Scriptures. They feature today in the first reading, the responsorial psalm, and the gospel.  Vineyards were as important for the people of Israel as dairy farms were, and indeed still are, for people in Ireland. The cultivation of vineyards and the production of wine was no less demanding than is the production of milk. A lot care and hard work went into the production of quality vines and vintage wine. Because vineyards and vines were so central to the everyday life of the Israelites, they are often used symbolically in Scripture to represent God's relationship to Israel and its people. A fruitful vine was a symbol of an Israel fidelity to God, while sour grapes were an indication of Israel's infidelity (cf. Jer 2:21).
Our first reading today, taken from the prophet Isaiah, illustrates God's attentive and loving care for the people of Israel, using the image of a vine-grower's who did everything possible to produce grapes of the highest quality. 'He dug the soil, cleared it of stones and planted choice vines in it. In the middle he built a tower and cut a wine-press as well. He expected it to yield a crop of good grapes, but sour grapes were all that it gave' (Is 5:2). What God expected from the people of Israel, after all the love and care he had shown them, was justice and integrity. Instead what he found was bloodshed and a cry of distress (cf. Is 5:7). Isaiah goes on to paint a sad picture of Israel as an abandoned vineyard, 'a wasteland, neither pruned nor cultivated, overgrown with briers and thorns' (Is 5:6).
 In our gospel reading, Jesus expands and develops the parable of the vineyard in light of his own experience of rejection. He is speaking 'to the chief priests and elders of the people' (Mt 21: 33), who refused to accept him as the Messiah. He tells them a story about a landowner who planted a vineyard, developed it, and leased it out to tenants.  Then, when harvest time drew near, he sent his servants to collect the grapes.  However, the tenants seized, thrashed, stoned and even killed these servants. And this happened not just once but several times. Jesus is here referring to the rejection of the prophets whom God sent to remind the Israelites of their calling to be a holy and faithful people, a model of truthfulness and upright behaviour for other nations. Finally, as Jesus develops the parable, the landowner sends his son, thinking that they will respect him at least. Instead, the kill him, too, in order to take possession of the vineyard themselves. This represents precisely what happened to Jesus himself, the beloved Son sent by the Father to the people of Israel, but rejected by the chief priest and elders of the people. Jesus was 'the stone rejected by the builders that became the keystone' (Mt 21:42).
Our readings today are not merely an account of Israel's ingratitude and infidelity, or of Jesus' rejection by the chief priests and elders of the people. They are addressed to us here today. They challenge us to ask ourselves what God expects of us, after all the love and care he has shown us? We are privileged, by baptism, to be called to work in the Lord's vineyard. Every Sunday we are invited to gather together to hear the Gospel message and to make it part of our lives. We are God's new people, called to be faithful and active members of the Body of Christ, the Church. We are those 'other tenants'  whom the Lord expects 'to deliver the produce to him when the season arrives' (Mt 21:41). What kind of grapes do we produce? Are they sweet and luscious, or dry and sour?  Have we lived up to the Lord's expectations of us as a community of his beloved disciples?  What kind of impact do we have on the world around us?  Can we honestly say that we are people of justice and integrity? Am I a person of justice and integrity? 
In today's Second Reading, St Paul offers us practical guidance on how to produce good fruit in our lives and live up to the Lord's expectations of us. 'Finally, brothers and sisters, fill your minds with everything that is true, everything that is noble, everything that is good and pure, everything that we love and honour, and everything that can be thought virtuous or worthy of praise' (Phil 4:8). If we follow Paul's instruction, we do not need to worry about the kind of fruit we will produce. 'That peace of God, which is so much greater than we can understand' will guard our hearts and our thoughts, in Christ Jesus' (Phil 4:8) and ensure that we produce the fruits of love.
I will end with a prayer based on today's readings from the pen of Flor McCarthy SDB, entitled Planted by God;
Lord you planted me on this earth.
You fenced me around with the love of family and friends.
Their care towered over me.
In the shelter of this tower I grew in safety and peace.
I put out early blossoms; I filled with leaves.
People had great hopes for me.
You had great hopes for me.
But now the year of my life is passing.
The harvest is approaching. 
What fruit have I to show?
What if, after all this care,
I had nothing to offer but sour grapes?
May you, Lord, have mercy on me,
and with your patient urging
help me to produce the fruits of love.
Michael McCabe SMA
To listen to an alternative Homily for this Sunday, from Fr Tom Casey of the SMA Media Centre, Ndola, Zambia please click on the play button below.