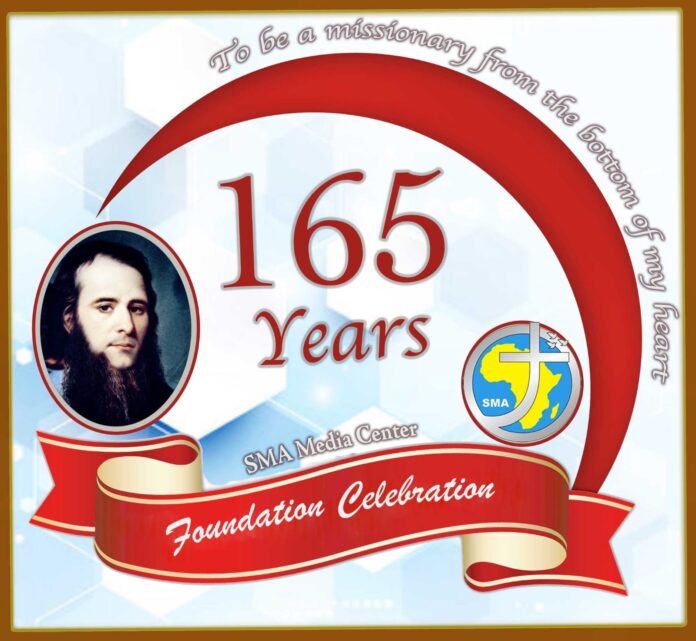 Today, 8th of December 2021 is the 165th Anniversary of the founding of the Society of African Missions.  Below is the text of the Homily preached today, by Bishop Patrick Harrington at a Mass to mark this occasion in the SMA Community in Wilton, Cork. 
Bishop Harrington is also the author of a new book published today about the SMA Founder, called "To Prepare His Ways – Tracing the Life of Melchior de Marion Brésillac."  This will be made available via this website in the near future.   
My brothers,
Today throughout the Catholic world, we honour Our Lady because she was conceived free from original sin. From the first moment of her existence, Mary was not contaminated by original sin. We believe Our Lady's Immaculate Conception was a special grace given to her in advance, because of her Son's dying and rising from the dead. The God who had planned that his Son would become flesh and blood and dwell among us, also planned that an Immaculate Mother would give birth to Jesus.
Although it was only on 8th December 1854 that Pope Pius IX solemnly declared that Our Lady was conceived free from original sin and made it a "Dogma of Faith", it had been the belief of the faithful for centuries before that. Indeed, Bishop Melchior de Marion Brésillac of Coimbatore made that point strongly in reply to a questionnaire sent to all Bishops in 1849. "We will believe as an article of faith what we already believe as a beloved truth". (Souvenirs: page 1098). When Our Lady appeared in Lourdes four years after the Solemn Declaration (1858), she said to Saint Bernadette "I am the Immaculate Conception". In this way, she confirmed the Pope's decision.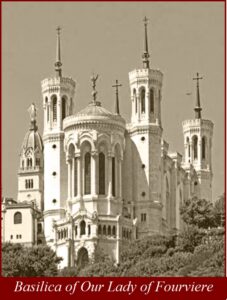 Today also in the Society of African Missions, we recall the official birth of our Society on 8th December 1856 at the  Shrine of Our Lady of Fourviére in Lyons, France. This church and shrine had been built upon the Old Forum of Trajan where many early Christians had been martyred. Its statue of Our Lady (which incidentally portrays her as a black woman) overlooks the entire city of Lyons. In its edition of 9th December 1856, the Gazette de Lyon carried the story: "In the midst of the compact crowd of clergy and faithful that hurried yesterday to the shrine of Notre-Dame de Fourviére, we spotted the members of the African Missions… Bishop de Marion Brésillac, founder of this institution, celebrated the Mass at 8 o'clock. His Lordship was assisted by two priests, three young clerics and a lay Brother who have joined him in the great enterprise which they are placing under the Virgin's protection. We are sure that such an interesting…work will be protected and blessed by Heaven". (De Marion Brésillac…page 408). The two priests mentioned were Fathers Planque and Reymond – both of whom were to play different but hugely important roles in the nascent Society.   
In his own writings, our Founder does not speak about the details of this ceremony. However, he did inform "Propaganda Fide" in a letter dated 13th December 1856 (four days later). "I think that it would be good to let you know that on the Feast of the Immaculate Conception, seven of us offered our enterprise to the Blessed Virgin, at the feet of the venerated image of Mary on the hill of Fourviére. There we made our resolution to devote ourselves entirely to the work of the African Missions. And we desire, if the Sacred Congregation so permits, to date the existence of our Society from 8th December 1856". In its customary, measured way, "Propaganda Fide" gave its permission after "a suitable" interval.
Earlier in 1856 (February), Bishop Melchior had marked out the foundations of a society of missionaries. He did this at the specific request of "Propaganda Fide" which was signalling possible permission for him to resume his missionary career – provided he set up a society of missionaries to implement his vision and provide continuity. This exercise sharpened Melchior's thinking. It also provided an outline of how a future Society would tell the Catholic world about the project, while giving "Propaganda Fide" a written statement of intent. In a small brochure of about four pages (which was paid for by the Sacred Congregation of "Propaganda Fide"), Melchior wrote as follows:
The first and main goal of this Society is to evangelise, under the authority and directionof the Sacred Congregation of 'Propaganda Fide', the countries of Africa where the light of Faith has not yet penetrated or that are most deprived of missionaries.
A number of clergy would be part of the Society. They would not take vows, but would make a solemn promise to persevere in the apostolic vocation and observe the statutes of the Society until the end of their lives.
It is foreseen from the beginning that some members would remain in Europe to correspond with the missions and provide for its needs.
The Mother House would be in France, but the Society would accept members from different countries that would agree to follow the statutes and prove to have a solid vocation to apostolic life.
The Society would be composed not only of priests, but also of brothers who should have a trade/profession.
Where several members happen to be together, they will lead a common life.
The new Society would rely on associated benefactors for financial support. They would be informed periodically about the Society's needs, life and activities in the missions.
The patronage of the Holy Family, honoured in the mystery of the flight into Egypt, would assure spiritual assistance; also those of Saints particularly related to Africa: Saint Augustine, Saint Cyprian, Saint Benedict of Philadelphia (so-called the Moor), Blessed (now Saint: 1888) Peter Claver 'the slave of the black people' and all the blessed persons who became holy through the exercise of apostolic ministry in the missions, especially in Africa".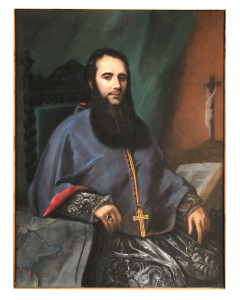 This is the type of Society that Bishop de Marion Brésillac founded and which has developed over the past 165 years. This is the one that each of us joined. This is the Society that, as of the 2nd of December 2021, numbered almost 800 permanent members and, at various levels of formation and commitment, the number is 422. This is the Society that Melchior de Marion Brésillac placed under the special protection of Mary, the virgin mother of Jesus Christ and Mother of the Church.
In Melchior's own spiritual experience, Mary had an important place. Devotion to Mary was part and parcel of his childhood in Castlenaudary. A lot of prayers, songs and spiritual texts nourished his mind and heart. The works of many artists in honour of Mary could be found in churches, frescos, statues and shrines. A number of sanctuaries had been specifically built in her honour throughout France. These became places of pilgrimage and, in their own way, served as a means of evangelisation.
During his twelve years in India, Melchior found that the small Christian minority there loved Mary, the Mother of Jesus. This deepened his own devotion and to his easy acceptance of various pilgrimages to shrines erected in her honour in India. Days of special significance to him took place on feast days in her honour. For example, he scheduled his own Ordination as a Bishop for the Feast of the Holy Rosary and returned there every year for its anniversary. In his sermons and Memoirs (where he mentions Mary 52 times) – but especially in his Retreats, Melchior called on his listeners to pray to God's Mother with a filial prayer of confidence. For example, in his Retreat to Missionaries (pages 254-255) he says: "In consolation as well as in trials, afflictions, work, temptations, in moments of interior calm and joy, let us have recourse to Mary. After Jesus, let Mary be our power and our support, our example and our model. She was the exact imitator of her Son's virtues; and it was in her school and under her direction that the apostles (whose queen she was) were trained… Let her be the continuous guardian of our soul; and let her preserve in us – as in a leak-proof reservoir – the treasures of virtues which Jesus Christ placed there with his hands"…
During the two years that Bishop de Marion Brésillac was on missionary animation work in between 150 and 200 centres throughout France (where he preached and took up collections for the African Missions and the establishment of the Society), he never failed to spend some time at the numerous Marian shrines such as La Salette, Vancluse, Rock, the Guard in Marseille, Port, Our Lady of Victories, Liesse – to pray for her help in this aspect of his work and to receive the strength to keep at it. And when he was officially appointed Apostolic Vicar of Sierra Leone, he decided "to take a picture of Mary to Sierra Leone where we will construct for her a chapel as soon as we can, under the title 'Mater Febricitantium' 'Mother of those who suffer from fevers'…"(De Marion Brésillac: Letter to Bishop Bonnand… No. O853.                        1st November 1858).
As for us, as we celebrate the 165th anniversary of the Foundation of our Society, we too look on Mary with admiration. She is the first believer in Jesus. She is the first Christian. We look to her as a model for all of us.
Each day as we perhaps struggle with health issues, temptations, events which in the past we regret or have hurt us, we can – and should – pray to Mary to help us on our own journey.  Even though she was Immaculate, she had to take up her cross – something that Simeon had predicted (Luke 2:35). Neither should we fail to thank her for the care which she has taken of us and of our Society; and for what it has achieved so far. We humbly ask her to continue to be a Mother to us all. We know that she is a Mother who listens – and wants what is best for all of us and for our Society.  AMEN.