Gulf of Guinea District-in-formation
The SMA was founded by Bishop de Brésillac on 8 December 1856 in Lyons, France. The Society had a central authority governing all parts of the Society and the mission fields in north, west and south Africa. From 1912 to 1992 the Society was divided into individual Provincial / District units. All these developments related to Europe and North America.
The 1983 SMA General Assembly, bringing together delegates from throughout the Society, decided to establish new SMA units in other parts of the world. Their decisions led to the creation of the African, Argentine, Asian and Polish Foundations.
Our picture shows Fr Alphonse Sekongo SMA, a member of the GGDF.
The 2001 SMA General Assembly formally erected four Districts-in-formation (DF): African, Indian, Philippines and Polish. Argentina remained a Foundation.
At a meeting in 2008 the Society leaders decided to erect three DFs in Africa, replacing the single one erected seven years earlier. And so the Bight of Benin DF, Gulf of Guinea DF and the Great Lakes DF came into being.
The Gulf of Guinea DF today
The original African DF had its headquarters in Lomé, Togo. When the Gulf of Guinea District-in-formation (GGDF) was erected it was given responsibility for Ivory Coast, Liberia, Ghana and Togo, with its headquarters in Lomé.
The DF administration is led by Fr Nelson Adjei-Bediako (from Ghana), assisted by Fr Fabien Sognon (Togo) as the Vice Superior. Fr Sognon is also the DF Bursar and Fr Ghislain Inai (Ivory Coast) serves as DF Secretary. There are four Councillors, who also serve as the SMA Superiors in their particular areas: Frs Cornel Mario Abi (from Nigeria, Superior in Liberia), Dario Dozio (Italy, Superior in Ivory Coast), Jean-Baptiste Musa-Bino (DR Congo, Superior in Togo) and James Owusu-Yeboah (from Ghana and present Superior there).
Statistics (as of 21 January 2013):
Priests: 57
Deacons: 10
Temporary members number 34 and there are 55 other seminarians in the DF.
Thirty GGDF priests are on mission in 10 African countries. A further twelve are at the direct service of the DF, e.g. are staff members in our Formation Houses, working as Vocations Directors, DF administration (listed above).
Fr Paul Saa-Dade Ennin SMA, a member of this DF, is the SMA Vicar General based in Rome, the first African-born SMA to serve on the General Council.
The remaining priests are serving with other units of the Society and several are on Further Studies with a view to returning to Africa to use their new skills for the service of the Society and its mission in Africa.
Formation in the GGDF:
SMA seminarians undertake their initial formation (Preparatory programme and Philosophy) in their countries of origin. They then attend an International Spiritual Year programme in either the Benin Republic or the Philippines. Those who are then admitted as temporary members of the Society are assigned for a Pastoral (Stage) Year with an experienced SMA priest who will introduce him to the life of an SMA missionary and some of the challenges he may face (e.g. learning a new language, seeking to understand a new culture etc). Theology studies are completed in one of three SMA Formation centres: Abidjan (Ivory Coast), Ibadan (Nigeria) or Nairobi (Kenya).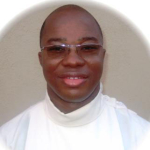 Fr Alphonse Sekongo SMA, from Ivory Coast, completed his theology studies at the SMA Formation House, Ibadan and attended lectures at the Ss Peter & Paul Major seminary.
He was ordained a priest in the SMA Community Chapel on 21 May 2011 by Rt Rev Kieran O'Reilly SMA, who served as SMA Superior General from 2001 until his appointment as Bishop of Killaloe in 2010.
Contact the Gulf of Guinea District-in-formation in Lomé, Togo
by phone: International Code for Togo and their number 2251288
or through Email: secretariatdfgg at gmail.com