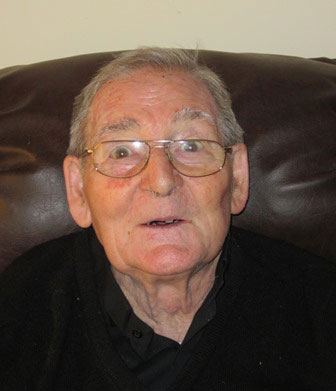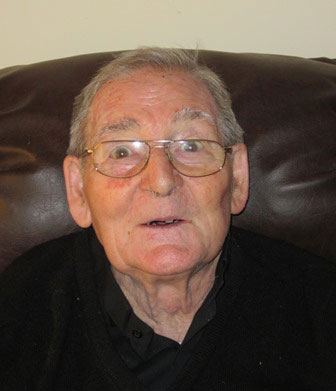 The members of the Society of African Missions are mourning the death of their confrere, Fr Tom Mullahy, which took place at 4.55am on Thursday, 5 December 2013. He died peacefully in the care of the nursing staff at the St Theresa's Care Centre at the African Missions, Blackrock Road, Cork.
Tom Mullahy, son of Patrick and Delia (née Bartley), was born on 28 July 1934 at Cornfield, in the parish of Kilcomman & Robeen (Hollymount) in the Archdiocese of Tuam. He was the youngest of five children.
After completing his primary education at Ballygarris National School he did his Leaving Certificate at the CBS, Ballinrobe. Having decided he wanted to be a missionary priest it was unsurprising that he chose to join the SMA as his mother's brother, Thomas Bartley, was also a member of the Society and had a long career serving in the mid-west of Nigeria. He entered the SMA College at Cloughballymore, Kilcolgan, Co Galway. Up to then students who went to Cloughballymore did a two-year Novitiate and Philosophy programme. But the September 1953 class, on which Tom was one, spent nine months there doing a Spiritual Year programme, becoming a member of the Society on 25 June 1954. The class were then sent to Wilton, Cork to undertake studies at UCC. Tom gained a BA in Latin and Geography. He did his theological studies at the African Missions, Dromantine, Newry, Co Down.
He was ordained a priest on 21 December 1960 by Bishop Eugene O'Doherty of Dromore diocese in St Colman's Cathedral, Newry. In 1961, after a 13 days ship voyage from Liverpool, he arrived in Lagos, in the south of Nigeria. He then had a 36 hours train journey from Lagos to Jos, in the north of Nigeria. He was to spend a total of 18 years ministering in different parts of Jos, particularly in the education apostolate.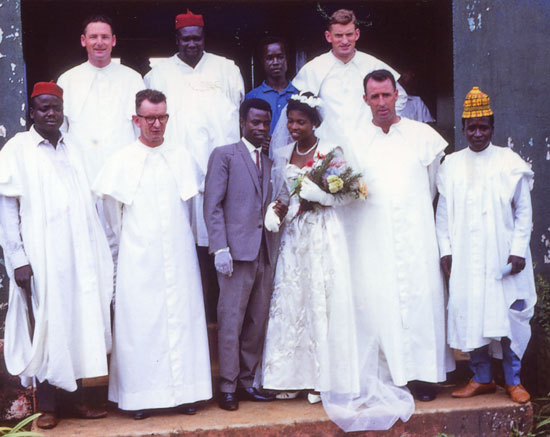 Fr Tom is pictured (back row, left) after a wedding in Jos with Frs Martin Nolan, Edward Harrington and James Murphy, all now deceased. RIP.
His first appointment was to the staff of Mary Immaculate Teacher Training College in Kafanchan where he taught English, Geography and Maths for two years. Recalled to Ireland to undertake a Higher Diploma in Education, he returned to Jos – and to the Minor seminary at Barakin Ladi where he taught for two years. He was then asked to join the teaching staff at St Murumba's College on the outskirts of Jos itself and he spent five years there, combining his teaching role with pastoral work in the Our Lady of Fatima parish. When the Teacher Training College needed a new Principal the Bishop, John Reddington SMA, turned to Fr Tom to take the reins. He happily returned to CMI but, within a year, a very serious illness forced his early resignation from that position. After a period of convalescence Fr Tom was asked to go to the south of the diocese, to Shendam parish, to the new Community School in Langtang which was to be his last assignment in Nigeria.

Bishop Gabriel Ganaka is pictured with the priests serving in Jos diocese on 13 July 1975. Twenty-six of them were SMA priests. Today, there are two SMA priests serving in the Archdiocese of Jos, which has given birth to several new dioceses in the intervening years.
Throughout his years in Nigeria, Fr Tom was deeply committed to primary evangelization. He firmly believed that the Church must go out of the towns and deep into the rural areas. As most adults where he worked were illiterate his ministry was one of 'presence'. In time, his work (and those of the other missionaries, ably assisted by local Catechists) bore fruit. Today Kafanchan and Shendam are two separate dioceses and Jos has become an Archdiocese. God has certainly given the harvest. Despite his commitment to the service of the Nigerian people Fr Tom never fully recovered full health and, in 1979, he was forced to return to Ireland.
Reflecting on his years in Nigeria, Fr Tom often spoke of his great satisfaction in meeting former students who had done well for themselves, particularly those who had got there from poor and difficult circumstances. He was also very taken by their great desire for education. One of his students in Kafanchan, David Maigida, was to become the Principal of the Langtang Community School and this was a source of justifiable pride for Fr Tom.
After a period at home regaining his physical strength, Fr Tom joined the SMA Promotion team based in Dublin. After five years 'on the road' Fr Tom returned to his great love: pastoral work. Limerick diocese, under the last Bishop Jeremiah Newman, had an agreement with the Society to receive some diocesan priests to work alongside SMA priests in Nigeria. In a form of 'reverse mission' Fr Tom went to work in Limerick diocese for sixteen years, where he served in three parishes: St Munchin's, Monaleen and Donoughmore. During his 12 years in St Munchin's he also served as Chaplain to St Camillus Hospital, a ministry which made huge demands on him. He then moved to Monaleen for two years before his transfer to Donoughmore from which a return of ill health forced a decision by Fr Tom and his SMA Superiors to recognize the inevitable, and so he retired to the SMA House in Claregalway, Co Galway.
Fr Tom is pictured (back row, 4th from left) at a ceremony to receive new OLA Postulants.
By happy coincidence the Parish Priest of Donoughmore, Fr Oliver Plunkett, served for four years in Nigeria so no doubt there was many stories to share about 'life on the missions'. Fr Tom's years in Limerick were very happy ones for him.
In 2007, it became necessary for Fr Tom to move from Claregalway to the Motherhouse in Cork and he spent his final years in peaceful retirement greatly cared for by the SMA and Nursing / Care staff in St Theresa's Care Centre where he died peacefully last Thursday.
His brother, Patrick and two sisters, Mary (Moran) and Nellie (Conway) predeceased him. He is deservedly mourned by his sister Kathleen Fahy, cousin Delia Bartley, nephews, nieces, other relatives, friends and confreres in the Society of African Missions.
May Tom's gentle soul rest in peace. Amen.
Funeral homily of Fr Michael McCabe SMA
Family Tribute of Mr Padraic Fahey