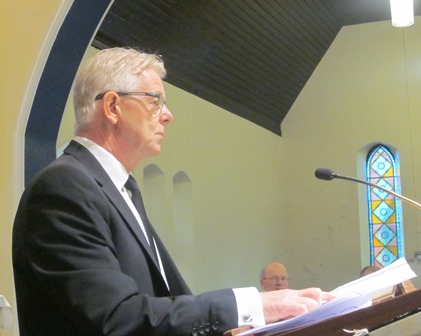 At the end of the Funeral Mass, a nephew of Fr Tom Mullahy, Padraic Fahey, spoke on behalf of the family about his uncle.
Very Reverend Fathers, brothers, ladies and gentlemen thank you for giving me this opportunity to speak on behalf of Fr. Tom's family.
Fr. Tom or Fr. Tommie as we affectionately knew him was born and grew up in Cornfield, Holly mount, Co. Mayo to a farming family. The path to the priesthood and the SMA order was paved for him by his uncle, Fr. Tom Bartley (died 1956), who served in the missions in Nigeria prior to Fr. Tommie.
As young children growing up we looked forward to Fr. Tommie coming home and there was something for everyone when he arrived. I always remember trying to be first to the sweets. Daily excursions followed with trips to places like Cinema, swimming and lots of sightseeing tours. We even got to try Yams or Sweet potatoes fresh from Nigeria before anyone local folks knew what they were, long before Aldi and Lidl came to town.
I had the pleasure of moving Fr. Tom from his parish in Limerick to the SMA House in Claregalway. I came prepared with Car and trailer and lots of boxes. Little did I know!
There was no need for a trailer or boxes as Fr. Tommie's had limited earthly belongings – a small amount of memorabilia and some daily essentials.
Pictured on left is Ms Del Bartley (niece of Fr Tom Bartley SMA), at his grave in Wilton cemetery.

I want to thank the SMA for taking such good care of Fr. Tommie, particularly the nurses and staff in St. Theresa's Nursing Centre. We always got such a great welcome when coming to visit Fr. Tommie. For us it was like Home Away from Home.
I want to finish off with a quote from Saint Francis of Assisi: "Where there is charity and wisdom, there is neither fear nor ignorance."
Wherever Fr. Tommie went he reduced the fear of ignorance by education and spreading the word of God.
May Fr. Tommie rest in peace – Ar dheis Dé go raibh a anam

Obituary of Fr Tom Mullahy SMA

Funeral homily of Fr Michael McCabe