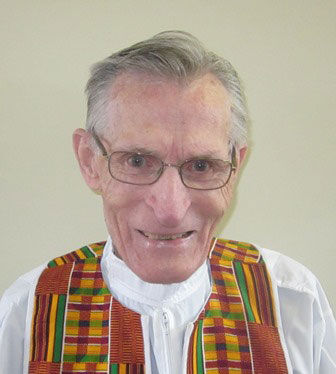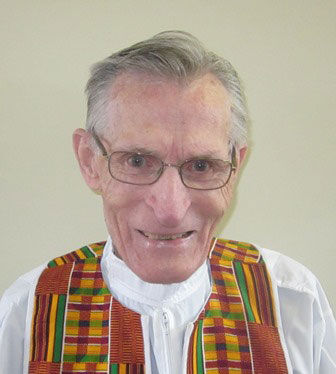 Fr Thomas Sexton Doran SMA died peacefully on Tuesday afternoon, 9 September 2014 at the St Theresa's Nursing Unit of the African Missions, Blackrock Road, Cork. Members of his family, SMA confreres and nursing staff were at his bedside when he died. He was 81 years of age.
Sexton was the sixth child born to John and Susan (née Cahill) Doran on 8 June 1933 of Tanaghmore Road, Ballynahinch, Co Down in the parish of Loughinisland [Down & Connor diocese]. He was baptised two days later in St Macartan's Church where he also made his Confirmation on 28 May 1942.
After completing his Primary education at the local National School he did his secondary schooling at St Patrick's high School, Downpatrick. Coming from a farming background Secky, as he was better known by most, wanted to study to be a Vet. But due to an exam results delay etc Secky began studying Pharmacy. However, not finding Pharmacy to his liking he returned, after two years, to work at home with his father on the farm. It was during these years that he considered the idea of missionary priesthood as his vocation in life.
Two of his uncles were priests – Canon Dennis Cahill of Down & Connor diocese and Fr Sexton Cahill SMA, after whom he was named. It was a happy coincidence that last Thursday, six days before his death, Fr Secky concelebrated Mass in the SMA community chapel in Blackrock Road for the 72nd anniversary of his uncle's death in Warri, Nigeria at the age of 35 years. Secky consulted a greatly-respected local priest, Dr Duff, who encouraged the young man to chat to Fr Dennis Cahill about it, not knowing that Sexton was a nephew of the same priest. No doubt he was also influenced by the fact that his three sisters had 'taken the veil': his sister Mary entered the Sisters of Charity of St Vincent dePaul and is presently stationed in Dublin; his two other sisters, Marie and Margaret, joined the Missionary Sisters of the Assumption, who had a convent in nearby Ballynahinch. Both are missionaries in South Africa.
And so in September 1957 the 24 year-old Sexton Doran entered the SMA Novitiate at Kilcolgan, Co Galway, becoming a temporary member of the Society on 25 June 1958, the ninety-ninth anniversary of the death of the SMA Founder, Bishop deBrésillac, in Freetown, Sierra Leone.
From September 1958 to June 1964 he completed his Philosophy and Theology studies at the Arican Missions Major seminary at Dromantine, Newry, Co Down. He became a Permanent SMA member on 12 June 1963 and was ordained to the priesthood in the Catheral of Saints Partrick and Colman by Bishop Eusebius Crawford OP on 18 December 1963, one of 10 ordained on that day. Bishop Crawford was a bishop in the Solomon Islands and was home on a break from the Second Vatican Council at the time. A cousin, Fr Sexton Cahill was also ordained for the SMA and followed Secky to Nigeria in 1966.
He was appointed to Benin City diocese, Nigeria [1964-1968], with two classmates – Frs Gerry Sweeney and Jim Tobin. During his Tyro [a period of learning about the local culture and its language] the three of them received a message from Bishop Patrick J Kelly instructing them to go to a particular place in Agbor and baptise a sick old lady the bishop had seen. The three young men set off and reached the place indicated by the bishop. However, they met not one, but six old and sick women. Wanting to have a positive report for the bishop they instructed and baptised all six!
After the Tyro Secky was appointed to assist Fr Hugh Conlon in Uzairue, a very large parish in the Afenmi area of the diocese, which had dozens of outstations. In his book, Kindling the fire, Fr James Higgins wrote: "Sexton got plenty of opportunities to exercise his obvious evangelising passion and received every encouragement from Hugh." [page 111]. In 1966 he was curate to Fr Bill Kennedy in Ubiaja where he was involved in the confirmation of 1,200 teenagers and adults from the parish, which had many outstations. He later transferred to Ekpoma where he endured some harrowing experiences during the Nigerian Civil War [1966-1970], especially when the Mission House came under direct fire from the Federal troops who were chasing the retreating rebel [Biafran] forces through the area. Thankfully all survived the event. He delayed his home leave as his sister, Sr Marie, was in the eastern part of Nigeria and he was unable to make contact with her due to the ongoing war.
In 1968 he received a letter from the Irish Provincial Superior, Fr Laurence Carr, recalling him to Ireland in 1968 "for a long overdue leave" and then "to take charge of Promotion work in Northern Ireland", based in Dromantine. Fr Secky took over as Vocations Director and recruited many for the Society. But Fr Secky's heart was always in Africa and, in 1972, he asked to return there. However, due to difficulties in getting Visas for missionaries following the Nigerian Civil War, he was instead appointed Superior in Dromantine. He served in that position for one year until he was asked to lead a group of seven priests in a new departure for the Irish SMA – to establish a missionary presence in Ndola diocese, Zambia.
With Fr Michael Igoe SMA, also a veteran of the Nigerian mission, they arrived in Zambia on 16 January 1973. The remaining five were to follow, once Work permits and Visas had been sorted out for them. The 'founding fathers' of the SMA presence in Zambia travelled to Francisdale Mission, on the outskirts of Ndola, to begin this new chapter in the life of the Irish Province. Fr Sexton was to remain for 37 years in Ndola diocese until his return to Ireland in 2010.
From 1973-1979 Fr Secky served in Francisdale [1973-1979] and then in Kansuswa parish, Mufulira [1979-1982]. In 1982, Bishop deJong asked him to live in the Cathedral House, from where he looked after Twapia and Dola Hill parish [1982-1990]. The following twelve years were spent in Luanshya [1990-2002]. In January 2003 he took up his last appointment at St Mary's, Kamuchanga in Mufulira.
Secky had many additional responsibilities during his years in Zambia – Team Leader for the first five years; established various chaplaincies to different schools and Colleges; one of a three-man team set up to help the establishment of a Zambian branch of the SMA; Vocations Director in Zambia; elected a Delegate to the 1978 SMA Provincial Assembly in Ireland.
On a diocesan level he was Chairman of the Priests Council and Vicar General to Bishop deJong [1980-1990]. He was noted for his care and attention of the diocesan clergy, particularly those who were ill or had other difficulties, often caring for some of them in his mission at Luanshya. Also during his years in Luanshya, convinced of the need for proper education, he was Chaplain to several Third-level Colleges, seeing it as a means to ensure that the students received a proper grounding in their faith.
In December 2009, Fr Sexton and Fr Gustave Mukosha were the victims of an armed robbery during which both were injured. After some time recovering in Zambia Fr Sexton was forced to return to Ireland, his long illustrious missionary in Africa at an end. But his heart remained there and during his four years in Blackrock Road he kept in touch with happenings in Zambia and the different SMA's – Irish and Zambian – who still toiled there.
The people and clergy of Ndola diocese will gather on Saturday, 13 September, at the Cathedral in Ndola to celebrate a Mass for a beloved priest, missionary and friend. May his gentle soul rest in peace.