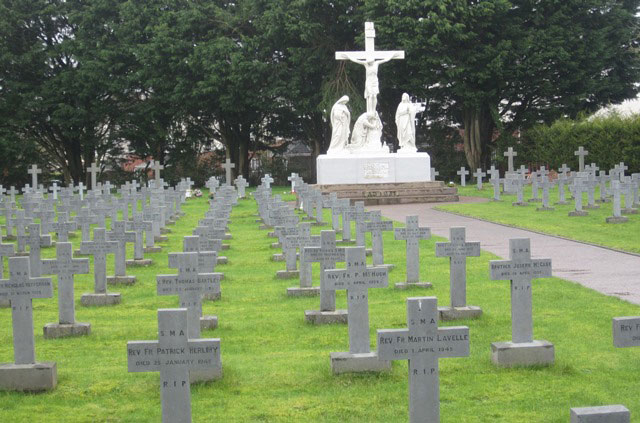 The death took place of Fr Sean Ryan SMA at St Theresa's Care Centre, African Missions, Blackrock Road, Cork. He died peacefully at 3.30am on Saturday, 22 February 2014. He was buried in the SMA community cemetery, adjoining St Joseph's SMA Church, Wilton, Cork on Monday, 24 February.

Fr Sean Ryan had been a missionary in the MidWest of Nigeria for 42 years, 31 of which were spent in the riverine area of WArri diocese, among the western Ijaw people. Read Obituary here.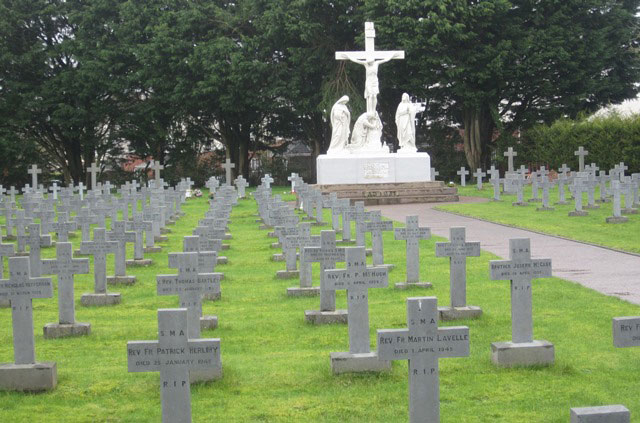 Fr Sean's remains returned to the African Missions, Blackrock Road at 5.30pm on Saturday, 22 February. The community and some of Fr Sean's relatives were there to welcome him. Fr Colum O'Shea, the community Leader, received the remains, after which Evening Prayer for the Dead was recited. At 7pm, a classmate of Fr Sean, Fr John Flynn SMA, led the Rosary.

SMA community cemetery, Wilton, Cork

On Sunday, 23 February, we had Evening Prayer at 5.30pm. At 7pm, Fr O'Shea led the Prayers for the Dead after which Fr Sean's remains were removed to St Joseph's SMA Church, Wilton, where they were received by Fr Tom Kearney SMA, an other classmate of Fr Sean's.
His remains were carried into the Church by Patrick Malone [nephew], Paul and Martin McKevitt and Stephen Traynor [grand-nephews], Arthur McKevitt and Owen Traynor. Christian symbols – the Book of the Gospels and the Crucifix – and the sign of priesthood – a Stole – were placed on the coffin by Fr John O'Keeffe SMA, Wilton Community Leader. His relatives who had travelled from Louth and Armagh listened to Readings from 2 Corinthians 5:1-8 and Matthew 25, reminding us that our true home is in heaven.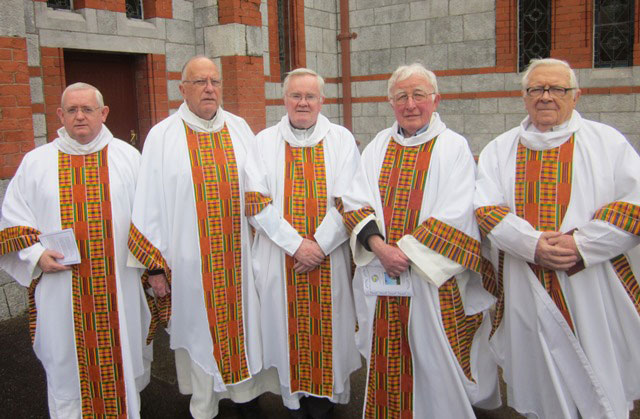 They were joined by Rt Rev Monsignor James Carroll VF (PP, St Peter's, Drogheda), V Rev Sean Quinn (PP, Immaculate Conception, Louth Village) and V Rev Tommie McGeough and Drogheda parishioners who had travelled to pay their respects to a priest who had spent 12 happy years working alongside them in the Archdiocese of Armagh. After the ceremony all were invited to join the SMA Wilton community for light refreshments in the dining room. Monsignor Carroll and his parishioners had to return to Drogheda. The fact that they travelled down for the Removal was greatly appreciated by the family and the SMA.

Fr Michael McCabe, SMA Provincial Leader, led the concelebrated Mass at 12 noon on Monday, 24 February. The Principal concelebrants were (from left) Fr Malachy Flanagan [SMA Vice Provincial], Fr Tom Kearney SMA [a classmate of Fr Sean], Fr Michael McCabe [SMA Provincial Leader], Fr Sean Quinn [PP, Louth parish] and a second classmate of Fr Sean, Fr John Flynn SMA.
Also concelebrating were Fr Tommie McGeough (Ardee, Co Louth), Fr Sean McArdle SM and more than 50 SMA priests, from the Blackrock Road, Claregalway, Dromantine and Wilton communities. Fr John O'Keeffe was MC.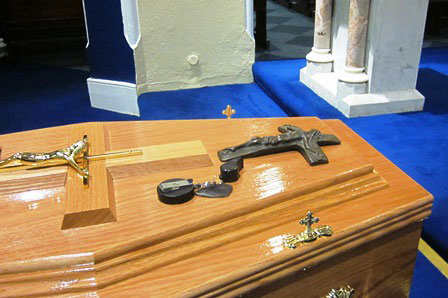 The Readings for the Mass were read by Fr Sean's great-grandniece, Kathryn Kennelly [Isaiah 25:6-9] and grand-niece Janet Traynor [Romans 14:7-15]. After reading from John 11:18-27, Fr Michael McCabe delivered his homily.

The Prayers of the Faithful were read by John Michael Kennelly, Ciara McWilliams and Paul McKevitt after which the Offertory Procession took place. As well as the Bread and Wine for the Mass, symbols were brought to the Altar, symbolic of the life of Fr Sean: his Breviary (Daily Prayer Book), an African carving and Fr Sean's Referee's whistle and stopwatch. Those who took part in the Procession were Patsy Malone (nephew), Bernie McKevitt (niece), Maura Traynor (niece) and two great grand-nephews, Ben and Ryan McKevitt.

Before the final prayer of the Mass, Karen McKevitt spoke in Appreciation of Fr Sean which was heartfelt and appreciated by not just the family, but also Fr Sean's SMA confreres. It concludes with a beautiful poem written more than 20 years ago by a grandnephew of Fr Sean.

The Funeral Mass concluded with the Prayers of Commendation and Fr Sean's relatives carried his mortal remains to his earthly resting place in the adjoining community cemetery. After Fr Sean was laid to rest next to Fr Tom Mullahy, a decade of the Rosary was led by Fr Quinn after which the ceremony concluded with the singing of the Salve Regina (Hail Holy Queen) as the rain began to fall. No doubt this would have brought a wry smile to Fr Sean!

Lunch was then served for all in the SMA community Dining room.

A Thanksgiving Mass for the life of Fr Sean is scheduled to take place in the Immaculate Conception Church, Louth Village, Co Louth at 8pm on Friday, 28 February 2014.