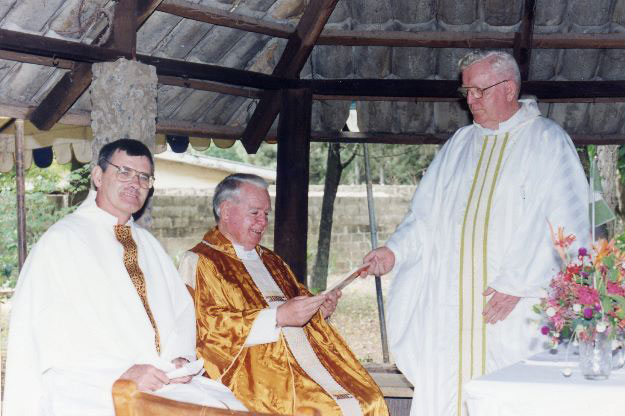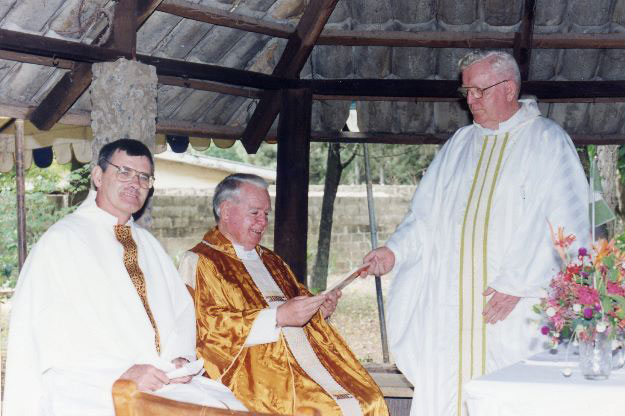 At the end of the funeral Mass for Fr Sean Ryan his grandniece, Karen McKevitt, spoke on behalf of his relatives and friends about the man they knew as 'Uncle Seán'. Karen concluded with a brief poem penned by a grandnephew of Fr Seán written several years about this missionary priest.
Our picture shows Fr Martin O'Farrell watching as Fr Sean hands a booklet to Fr Jim Higgins, who was celebrating his 50th Ordination anniversary at the SMA House in Ibadan, Nigeria (1999).
'Uncle Seán' as he was known to all our family, was not what you might expect. You may think that a priest should be serious and serene, but not our Uncle Seán – he liked to laugh, joke and as you probably all know – he liked to speak his mind!
Uncle Seán was an integral part of the most important moments of our lives – he celebrated most weddings and christenings, right down to his great grand nephews and nieces – and all in his own unique style!
The spirit of kindness, compassion and playfulness of the Ryan family will live on in all of us. Uncle Seán did not let the modern world pass him by – he had a keen interest in Technology and Gadgets. He liked to listen to LMFM on his WIFI radio and his Breviary was downloaded onto his Ipad.
Uncle Seán's last few months of life were difficult and cruel, yet he bore them with grace and dignity.
Many people contributed to making this time as best as it could be. We would like to thank Sister Margaret and the staff and nurses in Saint Teresa's who cared for Seán through his final weeks. Thanks to all of his SMA confreres in Dromantine. Both Dromantine and the people there had a special place in his heart. Thanks also to the priest and parishioners of the parishes he served in – Louth, Tallanstown and Drogheda. We appreciate that so many friends of Seán's have travelled to be here for him.
We would especially like to thank the SMA Fathers in Wilton and Blackrock Road who Seán called his family and with whom he wanted to spend his final days. We thank you for making this time comfortable. We thank you for your compassion to Seán and your companionship to him.
At nine years of age one of Seán's grandnephews, Martin McKevitt, was given homework from school. He was asked to write a poem about an inspirational person in his life. This is short, very simple, but I think very appropriate, as it sums up Seán's vocation very well.
I have a granduncle, his name is Seán,
He became a missionary, and then went on,
To work in Africa, so far away,
To help those people, from day to day,
God had inspired him when he was a boy,
So that he would spread Gods gift of love and joy.