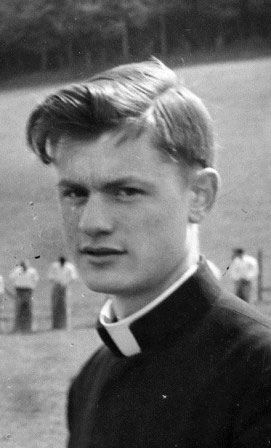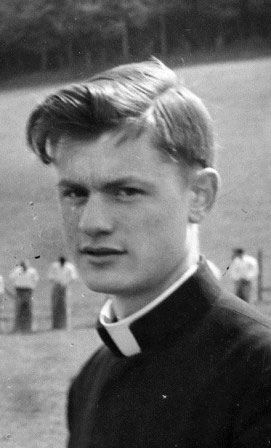 The SMA is mourning the death of Fr Seán Hayes which occurred at Marymount Hospice, Cork on Tuesday evening, 15 July 2014, aged 78 years.
Seán was born in Kilfinnan, Co Limerick on 23 July 1935, to Patrick J and Josephine Hayes (née Bradfield). He was the eldest of four sons. He completed his Secondary education in the CBS Limerick [1947 – 1952]. His desire to be a missionary priest saw him enter the formation programme at the African Missions House in Cloughballymore, Kilcolgan, Co Galway where he undertook his Spiritual Year studies and Philosophy. He took his first oath of membership in the Society of African Missions on 14 June 1954.
He then transferred to the African Missions Major Seminary at Dromantine, near Newry, Co Down where he completed his Philosophy and Theology studies, becoming a permanent member of the Society on 12 June 1957. A little over a year later, on 18 June 1958, he was ordained a priest by Bishop Eugene O'Doherty at the Cathedral of Saints Patrick & Colman, Newry, one of twelve ordained on that day.
Fr Seán is pictured second left, back row, with the rest of the 1958 Ordination Class outside the Main House in Dromantine.

He was appointed to Kaduna diocese in Northern Nigeria where Bishop John McCarthy SMA led a committed band of missionaries pushing out into the rural areas proclaiming the Gospel, particularly through the medium of education. The newly-ordained Fr Seán served in many parishes [including Zuru, Mabushi and Kubacha and in later years in Idon, Rahama, Danladi, Samaru (Zaria), Christ the King Parish, Zaria and Our Lady of Fatima, Kano].
For many years Church authorities in Rome wanted to see part of the original Kaduna diocese given to another missionary group in order to advance the work. And so in 1962 the decision was made to give care of the Niger Province to the Kiltegan Missionaries [St Patrick's Society]. "James Noonan was the first SPS priest to take over a mission [Zuru] from the SMA on 1st March 1963 and Seán Hayes was the last SMA to work in Niger Province, leaving in September 1963."[ From the Niger to the Sahara, the story of the Archdiocese of Kaduna, Edward O'Connor SMA, SMA Fathers Abuja, 2009, page 119]
He worked closely with the late Fr Malachy Gately who was deeply interested in the evangelisation of the Maguzawa people of Kano State. Though many considered this to be a Muslim area Fr. Gately saw the opportunities in working with these people who refused to accept Islam. Fr Gately worked from Zaria province through catechists. Today much of this area is Christian, and most of them are Catholics.
Fr Hayes had a different approach to this work and became the first Catholic priest to live among the Maguzawa [indigenous Hausa people of the Kano / Zaria area] and was directly responsible for opening the first two parishes – Nassarawa Kuki and Refawa. In the book already quoted Fr O'Connor writes of this work: "Seán Hayes worked closely from Dunladi with their catechists who now lived in Maguzawa villages… I believe the evangelization of the Maguzawa people in different parts of the North was one of the most important steps taken since the coming of the first missionaries to Shendam in 1907." [page 140]
After ten years he spent a year in Wilton, involved in promotion work [Mission boxes] and assisting in the SMA Church at Wilton which served the local community, though not at that time a parish in its own right. He then returned to Kaduna and was assigned to Idon.
Where there was just one diocese – Kaduna – when Fr Seán landed in Nigeria today there are six! Surely a sign of God's blessing on the work of so many committed priests, sisters, brothers, catechists and Nigerian faithful. The Lord certainly gave a plentiful harvest to the seed sown! Shortly after his arrival in Nigeria, Kaduna was raised to the status of an Archdiocese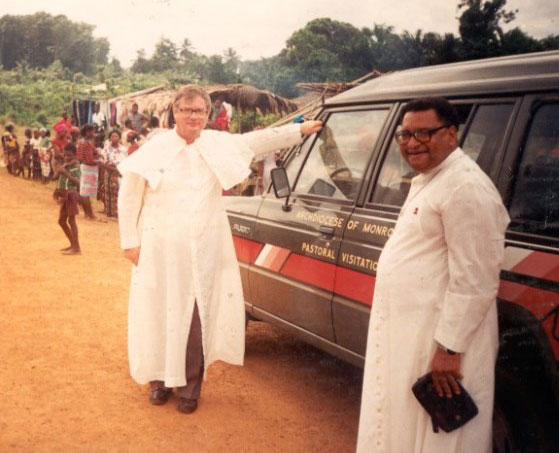 Fr. Seán left Nigeria in 1987 and, after holidays, headed for the Irish Province's oldest mission country: Liberia. It was a time of civil war in that country but, having already endured the terrible violence of the Nigerian Civil War [1966-1970] the situation held no fear for Fr Seán.
He is pictured right with Archbishop Michael Francis of Monrovia at the River Cess parish.

The period 1990 – 1991 saw him involved in several tasks: assisting in the SMA Parish at Neilstown, Dublin; promoting the SMA Magazine in primary schools and helping the Editor, Fr Peter McCawille, in his work; assisting at Knock Shrine and parish work in Roscommon. Speaking of their time together, Fr Peter remembers: "… he used write loads of letters for insertion in Link [the Irish Province magazine for SMA members]. He felt happy communicating with a pen".
In late 1991 he was appointed as Director of the Family Vocations Crusade [FVC] in Leinster and afterwards in Dublin. He spent 21 years in this work and travelled the length and breadth of Leinster / Dublin and beyond to seek support for the training of our seminarians. However, he did not confine himself to the FVC but constantly sought new ways of soliciting support for the Missions. If Fr Seán was asked to attend a gathering of any kind he'd often reply: "what's in it for me?" [i.e. for the SMA]. And if his presence was required he'd take up a collection for the work of the SMA. He was never 'behind the door' at asking for support, from all and sundry, be it at a Bridge Convention [a game at which he excelled] or Trabolgan Holiday Centre where he spent a week every year or any other event to which he was invited.
Seán Hayes was a mighty worker, single-minded and 100% committed to all aspects of mission. Whatever work he was assigned to he was unstinting in his efforts to do it as best as possible. At times that made him challenging to live with. Seán expected the same commitment etc. of everyone else as he did of himself. He was extremely caring of the Head Sponsors and groups he worked with. It was far more than collecting money to pay for the education of students for the priesthood. More importantly his work was a pastoral ministry – Fr Seán was noted for his hospital visitation and to the sick in their homes, no matter where they were. Right up to recent weeks, despite his own increasing suffering, he was 'out and about' visiting people who asked his prayers or wanted to see him.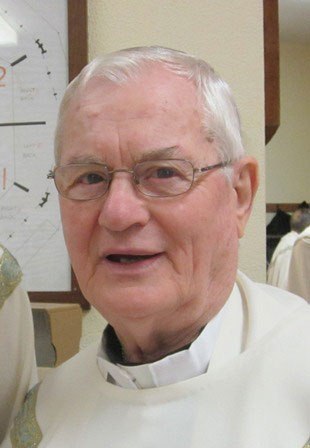 Eight years ago Fr Seán was diagnosed with cancer but he continued to do his work as well as undergoing regular treatment for his illness. In 2012 the decision was made that he would step aside from his work in Dublin and 'retire' to the African Missions House on Blackrock Road, Cork. It was the end of 54 active years in the service of the Society – 33 years in Africa [Nigeria and Liberia] and 21 years as FVC Director in the Leinster and Dublin areas. In his message to our supporters at that time he wrote: "You all have been wonderful, loyal and generous with me and the work. I will continue to remember you in my Masses. May God bless you and keep you well." No doubt Seán will continue to pray for them from his place with God.
In latter years he took up painting and many people were gifted with them, be it an Icon, a miniature painting or a large pastoral scene, beautifully framed. Arriving in Cork in early 2013 Fr Seán lived with his illness, resigned to his inevitable death but not lying down before it. One of Fr Seán's greatest pastimes was playing Bridge and he was an accomplished player, well-known throughout the country. One of his Bridge partners remarked "Fr Seán was very competitive." Up to recently he was still playing regularly as well as continuing his own pastoral activities.
Three weeks before his death Fr Seán went to Marymount Hospice for some assistance with pain management, intending to be there for just a week or so. However, the Lord had other plans and at 9.15 pm on Tuesday, 15 July, he gave up his soul to God, returning to the House of the Father. He will be buried, after Requiem Mass at the St Joseph's SMA Church, Wilton on 18th July 2014.
Sean's three brothers, Michael, Patrick and Eugene survive him as well as his sisters-in-law, Collette and Anne. They mourn his passing as do his nephews, nieces, other relatives, friends and confreres in the Society of African Missions.
Ar dheis Dé go raibh a anam dílís.
Read homily of Fr John Horgan at the Funeral Mass