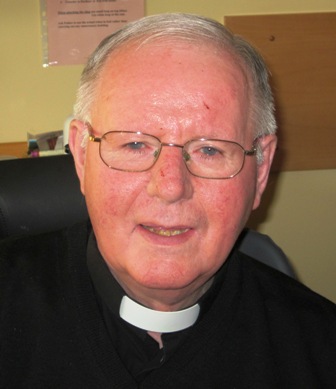 The Society of African Missions in Ireland is mourning the death of Fr Michael McEgan, at the age of 80 years. Fr Michael died peacefully on Wednesday, 18 June 2014, in St Theresa's Nursing Centre at the African Missions, Blackrock Road, Cork with the Community Leader, Fr Colum O'Shea and Fr Frank Meehan, his sister Bea. Also present was Fr Michael's devoted carer, Margaret O'Regan and two members of the Nursing staff, Siobhan Humphreys and Alice Good.
Michael McEgan was fourth in a family of seven children born to Michael and Mary Ann (née O'Connor) in Ballyheigue, diocese of Kerry on 1 April 1934. He was baptised in St Mary's, Ballyheigue on 4 April 1934 and confirmed in the same church on 6 June 1946. His primary and secondary schooling took place at Bouleenshee National School and St Patrick's College, Causeway.
The McEgans were a solid Catholic family, with Michael having three aunts and a sister in Religious Life. It was no surprise then that, following his Leaving Certificate, he entered the SMA formation programme at Cloughballymore, Kilcolgan, Co Galway where he took his First Oath in the Society on 26 June 1954.
The class which started in Cloughballymore in 1953, of which Michael was later merged with part of the 1954 class. As a result Fr Michael's 1960 Ordination class was one of the biggest ever as it composed members of the 1953 and some of the 1954 class.
Having the necessary qualifications he was sent to study in UCC, gaining a BA in Latin and Philosophy in 1957.
Along with his classmates he studied Theology at the African Missions, Dromantine, Newry from 1957 – 1961. He became a permanent member of the Society on 14 June 1960 and, along with 23 classmates, was ordained a priest in the Cathedral of Saints Patrick and Colman on 21 December 1960 by Bishop Eugene O'Doherty.
After completing his theological studies Fr Michael was appointed to Ondo diocese where he served from 1961 until ill health forced his final return to Ireland in 1988. His first appointment was to the teaching staff of Annunciation College, Ikere-Ekiti where Fr Sean MacCarthy was the founding Principal. Despite his academic qualifications Fr Michael was soon to leave teaching behind (1965) and spend the rest of his active life in parish ministry, in Ondo and Cork & Ross dioceses.
He served in St Matthew's Parish and St Patrick's parish, both in Ondo Town. He also served in St Patrick's Oka, St Francis, Owo and St Gregory's, Ikare-Akoko as well the Sacred Heart Church, Sobe. He spent a brief period caring for St Stephen's, Owo when it was vacant).
During his period in Sobe (1984 – 1988) he was noted for his care and concern for all but it was said of him that he was "very helpful and truly our solace during the 'Ghana must go' mass repatriation of immigrants from Nigeria."
Fr Paul Ennin SMA was an Altar server in Sobe and he acknowledges the influence of Fr Michael in his decision to be a missionary priest in 1989. Fr Ennin was the first African elected to serve on the SMA General Council in Rome. Four of Fr Michael's Altar servers are now priests. Surely a testament to the quiet gentle witness of a dedicated priest.
On hearing of Fr Michael's death, Fr Ennin wrote of him, "he was very devoted to the Blessed Virgin and the Rosary; he loved to visit families and parishioners, especially the sick! We will continue to pray for him."
Increasing ill health forced Fr Michael to say a final 'adieu' to Sobe and Nigeria in 1988. He returned to Ireland and, after a period for recuperation Fr Michael was appointed to Ballyroe parish, in the diocese of Cork & Ross, living in Courtmacsherry. During his time there (October '88 – June '91) he endeared himself to the people, young and old, by his gentle and holy manner. Following his transfer to St Joseph's SMA parish in Blackrock Road, a parishioner in Ballyroe wrote to the Irish Provincial Superior, Fr John Quinlan, stating that Fr Michael McEgan was "dedicated to his priestly duties, humble and sincere and his parishioners always came first." Fr Michael was a great believer in 'visitation' – constantly visiting parishioners in their homes and those who were hospitalised or in Nursing Homes.
From 1991 until 2007 Fr Michael served in St Joseph's SMA parish, Blackrock Road, first as Curate and, with ill health beginning to limit more and more his physical abilities, as Parish Assistant. He officially 'left' the parish in early 2007 and retired in Blackrock Road where he died peacefully. During his years of retirement Fr Michael was cared for by the staff in St Theresa's and a great friend of his and the SMA, Miss Margaret O'Regan.
Fr Michael is deeply mourned by his sisters Anna O'Connor (USA), Kathleen Coyle (Canada), Mary Dineen (Ballyheigue), Bridie Davern (Midleton) and Sr Esther McEgan (RSM, USA), his brother Patrick (Ballyheigue), brother-in-law Tom Davern, nephews and nieces and Margaret O'Regan.
A gentle soul and a gentleman has gone home to God. May he rest in peace.