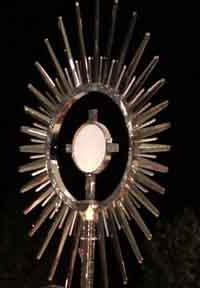 Reflection for Feast of Corpus Christi…
The Body & Blood of Christ
22 June 2014
Deuteronomy 8:2-3,14-16 Psalm 147
1 Corinthians 10:16-17
John 6:51-58
Christ embraces everyone…
Some years ago, I was driving through the streets of Ibadan, Nigeria, on a Sunday evening as dusk was approaching. The streets were teeming with people. Radiant coloured cloth of every hue against the black skin was a thing of beauty for the senses. It was a mixture of play and noise and laughter and, yes, chaos. It was 'Corpus Christi' – not the feast of Corpus Christi, it was 'Corpus Christi'. Humanity's happiest people celebrating life.
In Jesus' "priestly prayer" towards the end of St John's gospel we read: "Father, glorify your Son … and, through the power over all mankind that you have given him, let him give eternal life to all those you have entrusted to him". All are included. No one is excluded. All of humanity and all of creation are included: Catholic, Protestant, Buddhist, Hindu, Muslim, non-believer – all are included. Corpus Christi
Jesus left us his own Body and Blood in sacramental form. "The bread that I shall give is my flesh, for the life of the world". The Eucharist is the 'source and summit of the Christian life' [CCC 1324]. We worship, we praise, we receive, we eat, we become one with Our Lord.
To what end? To feel comfortable? To be 'settled' in a cosy relationship with Jesus? To avoid or escape from the problems of living? That's the temptation and it's an attractive one. But it is not the Gospel.
To recognise 'Corpus Christi' in the sacred species but to deny it in the teeming masses of an Ibadan street or any street is incorrect and invalid.
May we truly worship the sacred Host, the true Presence, the Body of Christ – Corpus Christi – so as to be better able to recognise and appreciate His presence in our sisters and brothers everywhere in the world.
May we truly become the Body of Christ.
Fr Fachtna O'Driscoll SMA Generalate, Rome, Italy