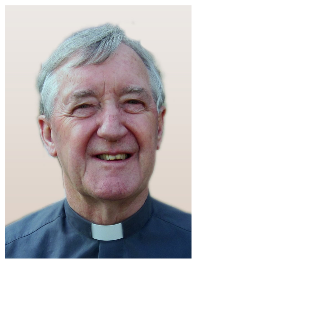 Fr Maurice Kelleher, SMA, passed away peacefully in the St Theresa's Nursing Unit, SMA House Blackrock Road, Cork on Wednesday, 10 August 2022. His sister Carmel, his brother-in-law Fred and some SMA confreres were with him in his final hours.
Known to most as Fr Mossie, he was the eldest of eight children born to Tim and Rita [née Manning] of Dunmanway, Co Cork. Mossie was born in London and, due to the Second World War, his father sent his wife and young son home to Dunmanway. In time, he also returned to Ireland. Mossie made his First Holy Communion and Confirmation in Dunmanway. Mossie attended St Patrick's Primary School (1945-1950) and St Ronan's Secondary School, Dunmanway (1951-1956).
A friend of his uncle was the late Fr Denis O'Donovan SMA, also from Dunmanway, and meeting him influenced the young secondary school student to join the African Missions in Cork. As he replied to a question posed to him on the occasion of his Golden Jubilee: "from an early age I had an interest in priesthood – I knew some inspiring local priests. But from reading the African Missionary (the SMA magazine) and knowing Fr O'Donovan I saw Africa as a challenging place and I had a sense of adventure!" And how Mossie loved challenges and opportunities to do new things and go to new places. And so, in September 1956, he entered the SMA Spiritual Year programme at the SMA Novitiate, Cloughballymore, Co Galway and became a member of the Society on 25 June 1957. With his academic qualification, he was then sent to study at UCC, living in the SMA House, Wilton, Cork. After gaining an Honours BA from UCC in 1960, he transferred to the SMA Major seminary in Dromantine, Newry, Co Down. Along with nine classmates (including fellow Corkmen, Fr Denis Collins and the late Fr Owen 'Fra' Sweeney) he was ordained a priest in the Cathedral of St Colman and St Patrick, Newry, on 18 December 1963 by Bishop Eusibius Crawford OP, a native of Warrenpoint, and recently ordained a bishop in the Solomon Islands, in the Pacific Ocean.
The young enthusiastic missionary was appointed to western Nigeria, setting sail from Liverpool on the MS Apapa to the sounds of the Beatles songs – She loves you, yeah, yeah, yeah – belting out from a radio at the quayside. The swinging sixties were being left behind for the tropical heat of West Africa. After the initial six-months Tyrocinium programme (learning about the local customs and Yoruba language etc.), Mossie was appointed as the Editor of the weekly Catholic Independent which, at that time, was the national Catholic paper in Nigeria. He was also a member of the Loyola College teaching staff and this began what was to be a recurring theme in his missionary life: working with youth and the formation of the laity, both in Nigeria and Ireland. Mossie endured bouts of ill health which interrupted his missionary life and the first of these saw him returning to Ireland in June 1973. During his convalescence, he was appointed for one year as the Director of the SMA Sacred Heart College, Ballinafad, Co Mayo.
From 1974 to 1980, Fr Mossie was the Dean of the SMA Formation House in Maynooth, Co Kildare. Recognizing how important it was for the SMA seminarians to be able to properly prepare and deliver homilies / talks, Mossie began what became known as the SMA Student Retreat team, bringing students to help him with his schools Retreat ministry. Mossie was very good at interacting with young people, girls and boys. Many invitations to give school retreats had to be turned down as both Mossie and the seminarians had to concentrate on their own responsibilities, preparing for missionary priesthood. In 1981, Mossie returned to Ibadan as Director of the Diocesan Lay Apostolate Centre, the only one of its kind in the entire country.
The Centre ran courses for 25 different groups in the diocese. Fr Mossie organised courses for youth leaders (those between 14 and 25 years of age) over a six months period. During each course (with 25 attendees from both urban and rural parts of the diocese), self-improvement, basic knowledge and leadership skills were dealt with, all with the aim of developing skill sets in the participants which they, in turn, could impart in their own parishes. A Youth Congress with the theme Youth are the Hope of the Church,  attracted over 400 participants: "Every aspect of the congress was organised by the youth leaders. I could not possibly have attempted it on my own", Fr Mossie admitted. This included finding accommodation and feeding all the participants. When, in 1987, Fr Mossie was recalled to Ireland, there were 27 Youth groups scattered throughout the diocese. These groups help train young people for the jobs market as well as organizing drama and cultural events. When leaving Ibadan, Fr Mossie paid tribute to the Irish lay volunteers who helped organize the Centre courses etc. His greatest joy was to be succeeded by a Nigerian fulltime lay organiser. He returned to Ireland to be part of the SMA Vocations team, based in Wilton, Cork.
Fr Mossie kept up to date theologically, pastorally and with the changing face of the Church. He undertook a Sabbatical break in 1991 / 1992 – part of it a period of prayer and reflection with the Benedictine Community in Glenstal and a renewal programme in Jerusalem.
After his Sabbatical, he was appointed Parish Priest of St Joseph's SMA Parish, Wilton, succeeding his classmate, Fr James O'Kane SMA. Fr Mossie had a heart attack during his time as PP but, by the grace of God, he was saved due to the immediate intervention of a number of CUH staff who were in the Hall under the Parish House doing a Coronary Care refresher course. In 1998, he moved to Dromantine as Director of Retreats and Laity Formation. For the next seventeen years, he served in different capacities in Dromantine, some of his roles overlapping with others: Vice Superior, Founder and Coordinator of the SMA Lay Association (SMALA), Conference Centre Team member.
In 2015, Fr Mossie had his final appointment, as Resource Person to the Wilton and Blackrock Road SMA communities and Parishes. He continued to lead some Retreats and Recollections for different groups in the country. Over the years, he also gave Retreats in South Africa, Uganda as well as visiting our missionaries in Zambia, accompanied by 5 SMALA members.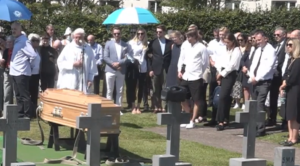 Mossie was catholic in all his sporting interests – cricket, hurling (he won a medal with his beloved Doheny GAA club, Dunmanway), Gaelic football, athletics, soccer – initially a West Ham supporter he, in recent years, transferred his loyalties to Liverpool because his nephew Caoimhín Kelleher plays as a goal-keeper for the famous Reds! But, most of all, Mossie loved golf! And was no mean player right up to the curtailment brought about by the Coronavirus pandemic. Once things opened up again, Mossie's health was beginning to decline and so he was unable to return to the fairways of Cork and beyond!
Asked what gave him the greatest joy after 50 years of priesthood he wrote: "the joy I got from a diversity of ministries – as teacher, formator, parish work, retreat work and the joy of working with lay people, both in Africa and Ireland…" 
Preaching at a Mass for the happy repose of Mossie's soul, his very good friend and classmate, Fr Denis Collins, reminded us that a great feature of the man was that he could laugh at himself and things that happened to him and even blunders he made in all innocence. More often than not, Mossie would himself tell us of them! And share in the laughter afterwards.
I want to conclude with the words of a song Mossie had in his Golden Jubilee booklet, which echo the man and priest so many of us knew:
Thank You for Your faithfulness, Your strength, and Your love,
For gifts of special places, and for friends.
Thank You for drawing me ever closer to You.
Be with me on the road that lies ahead.
You and I, Lord, we share life.
Together we have been, and we will be.
My life is Yours, Lord.
I am open to the mysteries and wonders of Your love.
Fr Mossie, may you share eternal with the God you served so faithfully and well.
Níl sa bhás ach múchadh an choiníl roimh gile na gréine ag éirí – Death is but the snuffing of the candle before the brightness of the rising sun.
To read the Homily of Fr Noel O'Leary, Leader of the Wilton SMA Community, at Fr Mossie's Funeral Mass click here.