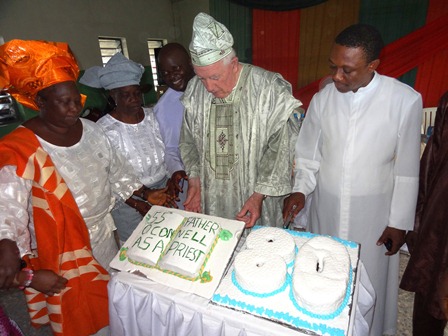 On a joyously warm and agreeable tropical Saturday morning, 3rd November 2012, at St. Thérèse of the Child Jesus parish, Akure, Ondo State, Nigeria Fr. Mattie O'Connell, SMA, the Parish Priest, celebrated 80 years of life and 55 years of priesthood.
Fr. Mattie, a native of Tobberpatrick, Dromard, Co. Sligo in the West of Ireland was born on 7th September, 1932 to Owen (a National School teacher and a native of Collooney, Co. Sligo as is Fr. James Higgins, SMA) and Belinda Clare O'Connell (nee O'Brien). Mattie is the 8th child in a family of 10 boys and 5 girls. Ten members of the family survive. Among those who have passed away is his brother, Fr. Peter J., SMA who was ordained in 1962 and died in America in 1984. Another brother, Fr. Willie, spent most of his priestly life in America and is now retired.
Fr. Mattie was ordained on 18th December, 1956 and his first appointment was to Ubiaja, where he ministered until 1965 under the direction of the legendary 'Pere' Greene. While home on leave the SMA Irish Provincial, Fr. John Creaven, met him and persuaded him to take up an appointment at the SMA parish in Fremantle, Western Australia. He was accompanied on the trip in 1965 by Fr. Timothy Cullinane, SMA (whose uncle Fr. Dick Fitzgerald was already there) and Fr. Paddy Harrington (former SMA Superior General and now retired Bishop of Lodwar, Kenya). While on a visit home in 1968 to see his sick mother (who died in May, 1968) the Provincial persuaded him to return to Nigeria. In September 1968 he returned to Ubiaja where he spent a further 4 years. In 1972 he was appointed to Holy Cross, Benin and he stayed there until 1974 when Bishop Patrick Ekpu appointed him to Eme-Ora parish. An abiding memory from those days was the occasion in 1973 when he accompanied Bishop P. J. Kelly to Apapa on his departure from Nigeria for the last time, having spent 33 years as Bishop of Benin City.
In 1976 Mattie was transferred to Uzairue where he spent two years before going home for a Sabbatical year. At the end of the Sabbatical in 1979 he was appointed to St. Peter's parish, Neilstown, a huge developing urban sprawl on the west side of Dublin. Mattie spent the next twelve years there though on several occasions he expressed a wish to return to Nigeria. The Provincial, Fr. Con Murphy, was having difficulty finding a replacement. Eventually Mattie on leaving Neilstown went on another Sabbatical at the Liturgical Institute in Carlow. Subsequently, he worked in his native Elphin Diocese, in Manchester and in the United States, the while beseeching the then Provincial, Fr. John Quinlan, to re-appoint him to Nigeria. In 1993 he got his wish and took up residence in the parish of Irrua where he stayed until he was appointed in 2000 to Cable Point, Asaba, taking over from Fr. Sean Ryan. Mattie spent five years in Asaba, before taking up his present appointment in 2005 at St. Thérèse of the Child Jesus parish in Akure.
Mattie is a big man blessed with a generous heart, a passionate commitment to fairness and justice. A lifelong sports aficionado (numbering gaelic football, hurling, tennis, badminton among his pursuits) his time spent in Neilstown afforded him an opportunity to nourish his other sporting passion, soccer, and he was a regular spectator at Lansdowne Road, Dublin to watch the Irish soccer team. We extend to him our congratulations reaching another milestone in his priestly life, having ministered on several Continents in responding to Christ's mandate to bring the Good News to all creation.
Fr. Mattie was the Principal celebrant at the Mass in St. Thérèse of the Child Jesus parish, Akure on Saturday, 3rd November, 2012. The present Bishop of Ondo, Bishop Jude Arogundade and the Bishop Emeritus, Bishop Francis F. Alonge presided and a large number of SMA and Diocesan colleagues joined in the concelebrated Mass. After the Mass there was a reception during which tributes were paid to Fr. Mattie's commitment to priesthood, to his priestly duties in the parish and his availability to all at all times.
Special mention was made of his passionate devotion to justice and his advocacy on behalf of the poor and the marginalised.
In his closing remarks Fr. Mattie thanked his catechist, Sylvester Omolola, and all the parishioners for their hard work in organizing the event and in their generous gift donations.
With thanks to Fr Peter McCawille SMA, St. Andrew's Church, Ugbighoko, Benin City, Nigeria for the above report.