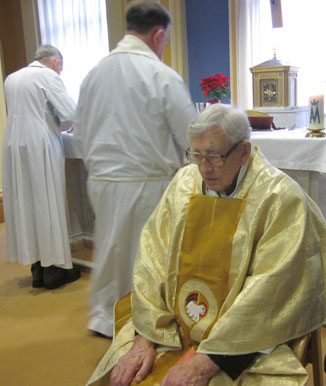 Fr Liam O'Callaghan SMA celebrates 70 years of Priesthood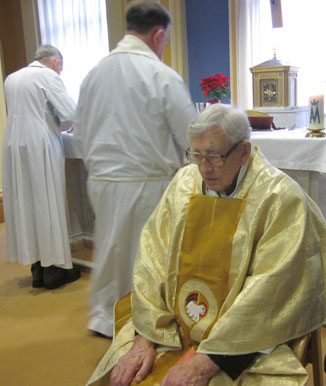 Fr Liam O'Callaghan was born in Upton, Co Cork on 20 December 1918. In childhood, his family moved to the Bishopstown area of Cork and then to a house in the nearby grounds of the African Missions College at Wilton, Cork. His older brother Denis joined the SMA but was tragically drowned in an accident, saving a fellow seminarian from a similar fate. He is buried in Wilton cemetery. Liam also decided to be a missionary, becoming a permanent member of the Society in 1941. He was ordained a priest on 14 December of that same year.
Our picture shows Fr Liam in quiet prayer after Holy Communion whilst other concelebrants receive.
Fr Liam and his classmates were unable to travel (by boat from Liverpool) to Nigeria until 1943. After completing their studies in Dromantine (June 1942) they were sent home to their families until a ship was available to take the new priests to their mission fields. On the 155th Anniversary of the foundation of the Society of African Missions by Bishop Melchior de Marion Brésillac, the Irish Province celebrated with Fr Liam the 70th anniversary of his ordination. The Provincial Leader, Fr Fachtna O'Driscoll, was the Principal Celebrant at the Mass in the SMA Oratory in Blackrock Road. More than 60 priests concelebrated with him, with Fr Liam as the Principal concelebrant.
Fr Eddie O'Connor SMA preached at the Mass. Read his homily here.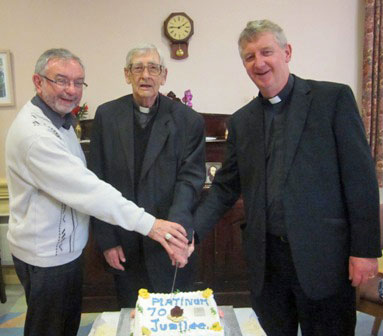 After the Mass, the community and other guests enjoyed a fine lunch and many stories were shared by Fr Liam and others who knew him during his long service in Nigeria. SMA members from the Wilton community joined with visiting SMA from throughout the country to celebrate this historic occasion. Fr Liam is only the 2nd Irish SMA to celebrate 70 years as a priest. The first was the late Bishop Patrick J Kelly, first bishop of Benin City, Nigeria.
Pictured left are Bishop Kieran O'Reilly SMA of Killaloe diocese, Fr Liam and Fr Fachtna O'Driscoll SMA, Provincial Leader.
As he approaches his 93rd birthday, Fr Liam is still an active member of the Wilton community where he now lives. His 'green fingers' can be seen in the flower beds and beautiful shrubbery in Wilton. To Fr Liam we wish: Ad Multos Annos.