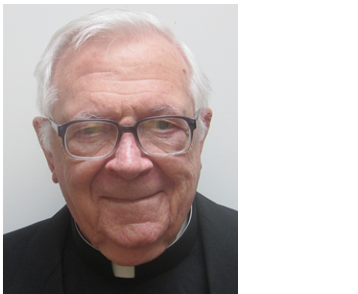 Funeral Mass for the late Father John Flynn, SMA – click here to view the Mass which begins at 1pm on Friday, 24 June 2022.
Fr John Flynn died on 22 June 2022 last. His family and SMA confreres are mourning his death which took place peacefully in the St Theresa's Nursing Unit, African Missions, Blackrock Road, Cork. John would have celebrated his 92nd birthday on 10 August 2022.
A native of Newtowncashel, Co Longford, at 17 years of age John left home to go to the SMA Sacred Heart College, Ballinafad, Co Mayo for his secondary education before going on to the SMA Novitiate in Cloughballymore, Kilcolgan, Co Galway. Vocations to the Religious life were strong in John's family. Two of his sisters were members of the congregation, the Daughters of Mary and Joseph [DMJ]. John completed his Philosophy and Theology Studies at the African Missions Major Seminary at Dromantine, Newry, Co Down. He was ordained a priest on 18 June 1958 in the Cathedral of St Colman and St Patrick, Newry.
His first 28 years as an SMA priest were spent in Benin City Archdiocese [Nigeria] and Sunyani diocese [Ghana]. Serving in Asaba parish during the Nigerian Civil War, John was to witness terrible violence and the deaths of countless innocent people in the area. But he remained at his post serving the people to the best of his ability. During his years in Ghana, he was elected as the Society Superior by his Irish confreres.
In 1981, John undertook Further Studies in Rome gaining a Masters in Sacred Theology, magna cum laude. He returned to Ghana but, in 1986, the SMA Superior General, Fr Patrick J Harrington SMA, appointed John as his Anglophone Secretary at the SMA Generalate in Rome.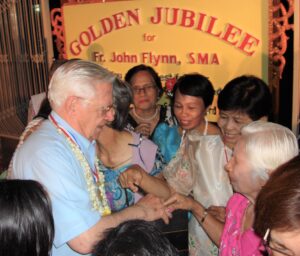 In 1991, after completing his mandate, Fr John took on the challenge of assisting the fledgling Philippines branch of the SMA. He spent the next 20 years ministering in the large urban Good Shepherd Parish, Las Pinas, Manila. Going there to "help out" for as long as he could he was a greatly-loved and respected pastor until ill health forced his return to Ireland in 2011. Our photo shows Fr John and a number of parishioners on the occasion of his 50th Golden Jubilee as a priest.
After recovering his health, John came to live in the SMA House, Blackrock Road where he was a gentle presence until the Lord called him home.
Fr John was the son of the late James and Kathleen [née Hussey] and is predeceased by his sisters, Sister Kathleen DMJ, Sister Lucy DMJ and Annie Mai [Casserly]. He is deeply regretted by his sister Liza [Crotty] and his brothers Mike and Seamus, nieces and nephews, relatives and friends as well as the people in Nigeria, Ghana and the Philippines where he endeared himself to one and all by his gentleness and graciousness.
Gratitude is the key to the Christian life. It is the key to happiness at every stage of our lives. Unhappy people are never grateful people but grateful people are happy people. In his letters Fr John always expressed gratitude to God for everything. As Fr Tim Cullinane SMA put it in his homily on the occasion of Fr John's Diamond Anniversary, quoting the poet George Herbert: "O God, You that have given so much to me, give one thing more, a grateful heart."
Fr John's Funeral Mass will take place at 1pm on Friday, 24 June, in St Joseph's SMA Church, Wilton, Cork, followed by burial in the adjacent community cemetery. You can follow the Funeral Mass by clicking on the Wilton Parish website link. 
Rest in Peace Fr John.