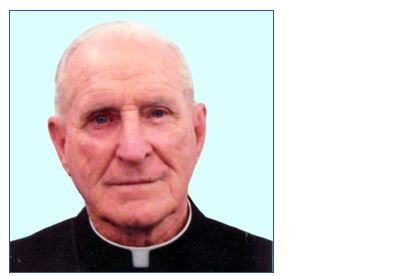 Fr James [Jim] Hickey SMA will be laid to rest on Friday, 11 September 2020, alongside his parents and other family members in Glasnevin cemetery, Dublin.
Fr Jim died peacefully on 7 September, in the Nazareth House Nursing Home, Malahide Road, Dublin. He would have celebrated his 97th birthday on 24 October next. Since his retirement to Dublin some years ago, Fr Jim assisted in his home parish in Whitehall [Church of the Holy Child]. Fr Jim wanted was committed to remaining in his home for as long as possible, and it was through the massive support and care he received from his extended family, neighbours and good friends that he was able to do so. However, late last month he agreed to move into the Nazareth House Nursing Home.
Jim Hickey was one of a family of five born to John and Mary [née Litchfield from Dunlavin, Co Wicklow]. He was ordained a priest on 15 June 1946 in Newry Cathedral and, with three other SMA priests, was asked to found the American Province Major seminary at Dedham, Boston, USA, where he spent the 14 years as Philosophy Professor and 3 years as Principal of Pius X High School, Savannah, Georgia.
In 1964, Fr Jim was assigned to the Cape Palmas Vicariate, Liberia, but was recalled to the USA to take charge of our SMA community in Doylestown, PA. A year later, he returned to Liberia where he was to spend the next 20 years until his expulsion from the country because of his work for justice and defence of the poor against the kleptocracy and violence of the Liberian leader, Master Sergeant Samuel K Doe who had overthrown the legitimate Liberian government, assassinating the then President, William Tolbert in April 1980.
Until his retirement [in 2002], Fr Jim held several important posts in both the USA and Liberia. He was a passionate defender of the poor and outspoken critic of corruption and injustice. He spent a total of 23 years in Liberia and was expelled by the Liberian dictator, later turned civilian President, Samuel Doe. The catalyst for his expulsion were the protests against the imprisonment of Dr Amos Sawyer, whom Doe had arrested because Dr Sawyer intended to oppose him in Presidential elections. An article in the British Catholic Herald [August 1987] described, in an interview with Fr Hickey, what happened at that time, Doe "ordered the army to clear the campus of protesters. The army then attacked the campus, killing students, raping girls, stripping many students naked and abusing faculty members. Fr Hickey himself had only left the campus ten minutes previous to the attack. It was following this incident that Fr Hickey felt he could not keep quiet about such activity." Following that, Fr Hickey became a very large thorn in the side of the Liberian government. In October, Samuel Doe was elected President of Liberia in what was roundly condemned by all as a rigged election. And on 10 April 1987, the President's patience with Fr Hickey ran out and he had him expelled from the country as an "undesirable alien."
At the time of his expulsion, he was Professor of Philosophy at the University of Liberia.
On his return to the USA, Fr Jim served the Special Concerns Office in Washington DC where he highlighted the injustices going on in Liberia. In December 1989, a terrible civil war ripped Liberia apart and on 9 September 1990, President Doe was brutally tortured and murdered by Prince Johnson, an ally of Charles Taylor. The following year Fr Jim returned to Liberia, as Parish Priest of St. Anthony's parish, Gardnersville, Monrovia. Five years later, he was again forced to leave the country he loved due to the civil war which had broken out. From 1996 until 2002, he was involved in Promotion work for the American Province and, from 1998 – 2002, he was the Provincial Bursar.
He eventually retired to the city of his birth and lived there peacefully until his death last Monday night. Requiescat in Pace.
Fr Jim is fondly remembered by his sister-in-law Clare, his nieces Anne, Deirdre and Marian, nephews Eoin, Damien and Neil, grand-nieces and grand-nephews, great grand-nephews, other relatives, friends, clergy and parishioners of the Holy Child parish as well as his confreres in the Society of African Missions [SMA].
Due to government / church restrictions, Fr Jim's funeral Mass can be viewed at 11am on http://www.whitehall.dublindiocese.ie/live-services/
Check RIP.IE for further information.
The day thou gavest, Lord, has ended.