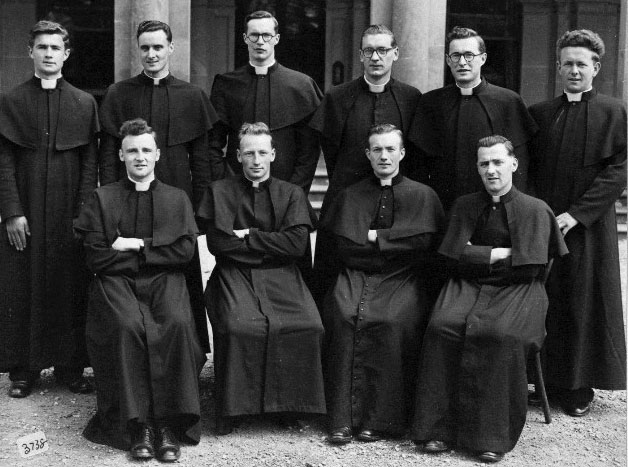 Known within the SMA as Fr Bill he was born on 17 June 1926 in High Street, Sligo, son of William and Patricia [née Downes] Kennedy. Both parents were from Dublin but work necessitated their living in Sligo for some years. He was the second born of six children. A younger brother, Frank, died in childhood. Fr Bill is survived by his sisters Angela and Patricia [Spillane] and two brothers Des and John. An uncle, Fr John Kennedy, was an SMA priest who ministered in Liberia and died, aged 48 years, in 1950. When Bill told his uncle he was thinking of being a missionary his uncle took him to lunch with Bishop Collins of Liberia at the famous Barry's Hotel in Dublin!
He was baptised and confirmed in the Cathedral of the Immaculate Conception, Sligo. Bill attended the Mercy Sisters Line School [1930-1933] and the Marist Brothers [1933-1938] for his primary education. In 1938 the family moved from Sligo to live on Skreen Road, Dublin, where he completed secondary education [1939-1945] at St Vincent's CBS, Glasnevin. Spaking of his years in CBS he said that a Mr McBrearty "gave me a love for good literature."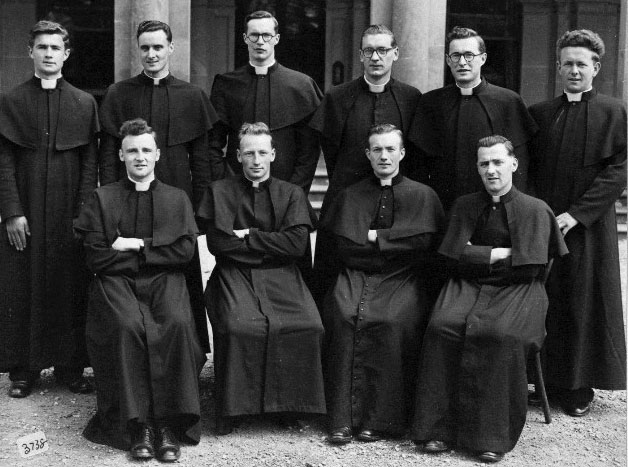 The year after completing his Leaving Certificate exams, Bill began his Novitiate and Philosophy studies with the SMA in Cloughballymore, Kilcolgan, Co Galway. He took his First oath of membership in the Society in on 29 June 1948 and then transferred to the African Missions Major seminary at Dromantine, Newry, Co Down where he completed his theological studies in 1952.
1952 Ordination class with Fr Bill seated, second from the left.
After taking his oath of SMA Permanent membership [11 June 1951] he was ordained a priest in the Cathedral of St Patrick and St Colman,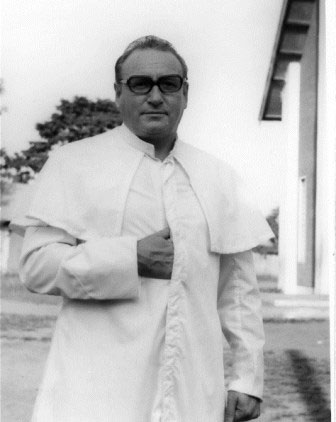 Newry by Bishop Eugene O'Doherty on 18 June 1952, one of a class of ten ordained that day. He celebrated his First Mass on 19 June 1952 in the Church of Our Lady, Help of Christians, Navan Road, Dublin.
Along with a classmate, Fr Eugene Casey [RIP], he was appointed to the then diocese of Benin City, Nigeria. He served there for 21 years. His first two years were spent on the staff of St Paul's Major seminary in Benin City before moving to fulltime parish work in Sapele. In 1959 he was transferred to Asaba and, among other things, built a primary school in Oko-Anala, an almost inaccessible station on the banks of the Niger River. During his years in Nigeria he built three schools in different places where he ministered.
During part of the Nigerian Civil War [1967 – 1970] Fr Bill was Parish Priest in Ubiaja and acted with considerable courage during those difficult years. In his book, Kindling the Fire [2003], Fr James Higgins SMA recalls different incidents which demonstrated this. One such event happened right at the end of this terrible chapter in Nigeria's history. Fr Higgins was living with Fr Bill at the time. A totally innocent man had been discovered by the Federal soldiers hiding in the Church compound. They decided he should be executed as an enemy combatant. Fr Bill intervened asking mercy for him. Unable to get the soldiers to release this totally innocent man, Fr Bill insisted on giving him conditional absolution. This annoyed the soldiers so much that they put both Fr Bill and Fr Higgins under 'compound arrest' for some days and only released them from it when they evacuated the area.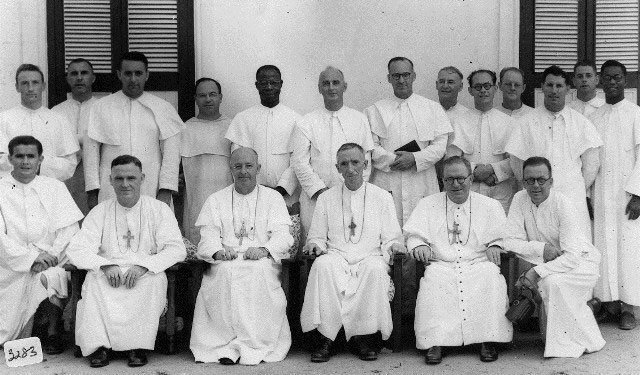 Photo of the Marian Year Committee meeting, held in Benin City in 1954.
Front row: Fr Eugene Casey SMA, Bishops Owen McCoy, MAfr. [Oyo diocese], John Reddington SMA [Jos], Patrick J Kelly SMA [Benin City], Msgr Richard Finn SMA [Ibadan] and Fr Edward Coleman.
Back row: Fathers Bill Kennedy SMA, Robert O'Regan SMA, Michael Foley SMA, Nadeau OP, Msgr Joseph Erameh, Matthew Welsh, William Field [later Bishop of Ondo], John Lynott, Cornelius O'Driscoll, William Power, James Healy, William Breslin and Patrick Ekpu [later to succeed Bishop Kelly as Bishop, and later Archbishop, of Benin City].
In December 1961 he was asked to help train the newly-ordained SMA priests who had arrived from Ireland. He also served as Parish Priest of Uromi [August 1963 – December 1964] and in Ewatto as the first resident priest there.
After twenty years in Benin City Fr Bill transferred to help with the development of the recently-created diocese of Issele-Uku under the leadership of Bishop Anthony Gbuji. He served in the Cathedral parish in Issele-Uku, in Ibusa [1976-1982] and then in Agbor-Obi before ill health made it increasingly clear his health was failing. However, before leaving for the last time Fr Bill spent some months in 1984 ministering in St Theresa's parish, Ifako, Lagos before leaving Nigeria definitively.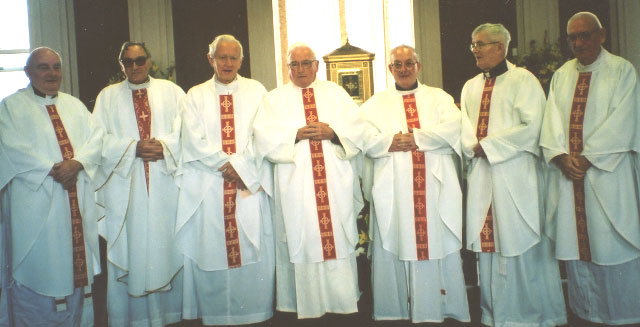 Speaking of his years in Nigeria he said that the greatest joy he had was, during the Civil War period, "I was able to bring both material [food] and spiritual help to people. A frightening time but fruitful in being needed and able to really help."
Seven of the original ten celebrated their Silver Jubilee in Blackrock Road in 1977. Two remain of the 1952 class – Fathers Leo Silke and Jim O'Hea, 1st and 3rd from left in our photo. Fr Bill is in the centre.
On his return to Ireland in 1985 Fr Bill served as Curate in the Parish of the Annunciation, Finglas West in the Archdiocese of Dublin. In 1993, increasing deafness caused him to leave fulltime parish ministry and he took on the role of Assistant priest in St Joseph's SMA Parish, Wilton, Cork for four years. As it proved more and more difficult for Fr Bill to work in fulltime ministry he retired to the SMA community in Wilton where he lived in active retirement until this February when increasing frailty caused him to move across the city to the SMA House on Blackrock Road where he died peacefully this morning.
Fr Bill is deeply regretted by his sisters and brothers, his sister-in-law Rosemary, nephews and nieces, other relatives, friends and his confreres in the Society of African Missions. May he rest in peace.
Homily at the funeral Mass Funeral rites for Fr Kennedy Fr Kennedy goes to his eternal rest