Fr Basil Soyoye : the life of an SMA priest today
– Basil Babatunde Soyoye was born on 6 June 1964 to Benedict and Felicia (née Adelakan) Soyoye. His parents hail from Abeokuta, Ogun State in Nigeria. He was the third born of seven children (4 girls and 3 boys). Basil's middle name – Babatunde – indicates that one of his grandfathers had died shortly before his birth and in his memory he was given that name which means 'the father has returned'. Thank God, both of Basil's parents are still hale and hearty in Lagos, Nigeria.
Though raised in Lagos, the commercial capital, Basil still has many family ties with Abeokuta. Basil completed his WAEC studies in 1984 at St. Angus Secondary School (Igbobi College), Onipanu, Lagos. His parish – Saints Mulumba & David, Lawanson – was founded by Fr Gerry Coakley SMA. It was later under the pastoral care of Monsignor Shomide and, at the time when Basil was Altar server, Fr Eddie Deeney SMA was in charge. Fr Deeney lived in St Joseph's Teacher Training College, Ilasa Maja, and travelled to the temporary church each day for services.
When Fr John Burke SMA transferred from Ibadan to Lagos he was appointed to Ss Mulumba & David and immediately built a Mission House, later followed by the fine Church that still exists on the site. Fr Basil remembers Fr Burke for his untiring work to expand the parish. From the moment he arrived, Fr Burke – along with a dedicated group of parishioners – sought land all over the Surulere, Itire, Ikate, Isolo, Festac, Mile Two, Satellite Town area and built several churches, all of which are now parishes in their own right. Among them are Holy Family, Festac Town; St. Mary's Isolo; Ss Michael, Raphael & Gabriel, Archangels Satellite Town (Head Quarters of the Redemptorist Congregation). All of this development was done with the unremitting support of the former Archbishop of Lagos, His Eminence Anthony Cardinal Okogie. But Fr Burke, and the Archbishop, were not only concerned with churches – they also built schools, clinics and mission houses wherever there was need and space. Fr Basil remembers that Fr Burke was nicknamed in Lawanson: 'Apostle of block and cement and the neglected communities'.
There is no doubt that the strong Church which exists in the Archdiocese of Lagos today owes its existence to the leadership of Cardinal Okogie, who supported each and every effort of his priests, diocesan and missionary, to spread the Church to the furthest corners of the Archdiocese.
Under the influence of Fr Deeney and encouraged by the pastoral commitments other SMA's who served the parish until 1985, Basil decided to join the SMA and was in the first group on Nigerians accepted by the Society for training. Up to then, the SMA had always sent young men to the diocesan priesthood. For the SMA, it was more important that the Nigerian church had its own priests and it was our Founder's wish that we train the local clergy rather than accept them into the SMA. In 1982 it was agreed that, with the growth in diocesan and other vocations, the time was right for the SMA to accept Africans who wanted to be African missionaries. Six young men joined in October 1986 and five of them were ordained SMA priests. Four of them, including Fr Basil, are now serving in different African countries.
From October 1986 to September 1987 the SMA seminarians lived in the Ss Peter & Paul Major seminary in Ibadan, with Fr Kieran O'Reilly (later SMA Superior General and now Bishop of Killaloe) responsible for them. In September 1987 the seminarians moved to a 'temporary' Formation House at Oshotokun Avenue with Irish SMA Fathers Des Corrigan, Colum O'Shea and Seamus Nohilly as the Formation team. By 1990, Fr Corrigan had completed the building of the SMA House of Studies at Bodija, Ibadan.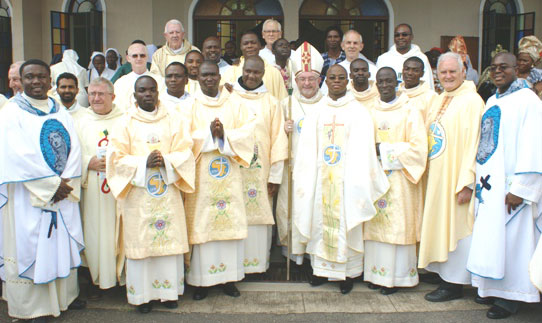 Bishop Kieran O'Reilly SMA after Priestly & Diaconate Ordinations in Bodija
May 2011
Fr Basil gained a B.A. in Philosophy from the University of Ibadan in 1992 and then transferred to the SMA International Spiritual Year Centre at Calavi, Benin Republic. In June 1993 he became a Temporary member of the Society and was sent to Egypt for his Pastoral Year (Stage) programme. Little did he know that Egypt was going to be the principal focus of his missionary life as a priest. After completing his Stage programme Fr Basil was sent to the SMA Formation House at Ebimpé, near Abidjan in the Ivory Coast, to study Theology. The present Superior General, Fr Jean-Marie Guillaume, was the Superior of the Foyer Méraud which is one of the ten Formation Houses the Society has in Africa.
After his ordination by Archbishop Felix Alaba Job on 5th July 1997 in the Church of Assumption, Bodija, Ibadan, the fledgling missionary was appointed to Egypt. Over the following seven years, Fr Basil was responsible for the Basilica of St Marc in Choubra (Cairo, 1905), Stage Director, Zone and Regional Superior. Among his pastoral responsibilities was the care of prisoners from sub-saharan Africa who were in prisons in the Cairo area.
During that period, he also served on the African Foundation Council, firstly with Fr. John Dunne SMA as Foundation Superior (until 2001) and then with his successor, Fr Michael Adrie SMA.
In 2004 Fr Basil was appointed as the Superior of the SMA House of Studies in Ibadan, returning to the house where he had undertaken his Philosophical studies, the first Nigerian Superior of that House. In 2008, he was succeeded by Fr Paul Amegashie (from Togo). The present Superior is Fr Edward Muge, the 2nd Nigerian to hold the position.
In 2008, following the creation of three Districts-in-formation in Africa, Fr Basil was appointed as Superior of the Bight of Benin District-in-formation (BBDF). As Superior, he was responsible for Benin, Niger, Nigeria and the Central African Republic. He was assisted by Fr Francis Barka-Nado (from the Central African Republic) and a DF Council composed of the Regional Superiors for the countries concerned. The first Council was Fr Basil, Fr Francis, Fr Dennis Agbenyadzi (Regional Superior for the Central African Republic), Fr Tim Cullinane (RS for Nigeria South), Fr Maurice Henry (RS for Nigeria North) and Fr Michel L'Hostis (RS for Benin & Niger). The DF and Council Secretary was Fr Martin Kavanagh.
The DF Headquarters was at the SMA House, Challenge in Ibadan. It had served as the Regional House for Nigeria South for many years, having been built by Fr Michael McLoughlin SMA (RIP). Basil remembers that his first contact with the SMA House Challenge was in 1985 when together with the other candidates to be admitted to the SMA were there for the first interviews for recruitment into the SMA. The interviewing panel was made of Frs. Eddie Deeney SMA, Fintan Daly SMA, Kieran O'Reilly SMA and Joseph Hardy SMA (Lyons Province, France). FR Hardy was, at that time, the newly-appointed Superior of the African Project which, in turn, became the African Foundation and is now three separate units: BBDF, Gulf of Guinea DF and Great Lakes DF.
After completing his three-year mandate, Fr Basil was granted a well-earned Sabbatical year. Fr Basil was succeeded, as DF Superior, by another Nigerian, Fr Reginald Nwachukwu SMA. Fr Reginald was ordained in 2000 and served as a missionary in Zambia and Kenya.
Fr Basil has now returned to the Formation ministry and is the Superior of the SMA International Spiritual Year Centre (Centre Brésillac) at Calavi, Benin Republic. On the staff with him is Fr James Shimbala (from Tanzania), Wilfried Kouijzer (Netherlands) and Pierre Garreau (Lyons).
Through these years, Fr. Basil has developed deep respect and admiration for Irish SMAs, OLAs and other missionaries who according to him, have not only shaped the his local Church in Nigeria, but have also inspired and encouraged his missionary vocation. Every opportunity to visit Ireland, especially the graves in Wilton, SMA and OLA Houses, to attend the SMA pilgrimage in Knock, is both a pilgrimage and a renewal experience for him. It is so inspiring to hear the retired missionaries (SMA and OLA) talk with passion about Nigeria and other places where some gave more than 50 years of their life. It is just amazing how much one learns about Nigerian history over a cup of tea or just having a chat at the corridor!
If you would like to know more about life as an SMA missionary contact one of the following addresses:
Fr Nelson Adjei-Bediako (enquiries from Ghana, Ivory Coast, Liberia and Togo):
Fr Thaddeus Ogato (Kenya, R D Congo, South Africa, Tanzania and Zambia):
Fr Reginald Nwachukwu (Benin, Central African Republic, Niger and Nigeria):This e-mail address is being protected from spambots. You need JavaScript enabled to view it
For enquiries from Ireland please contact the nearest SMA House – Blackrock Road, Wilton, Claregalway, Dromantine or Dublin.