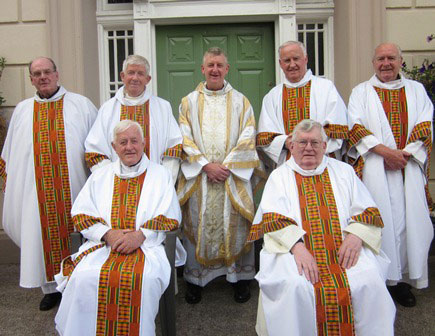 The Irish Province celebrated the 50th anniversary of the Priestly Ordination of the 1962 Class at a Thanksgiving Mass at the African Missions, Blackrock Road, Cork on Wednesday, 26 September 2012.
Fourteen priests were ordained on 21 December 1962 in St Colman's Cathedral, Newry by Bishop Eugene O'Doherty. Four of the class have gone to their eternal reward – Frs Paddy Flatley, James O'Connell, Peter J O'Connell and John O'Mahony.
Fr Fachtna O'Driscoll, SMA Provincial Leader, was the Principal Celebrant assisted by the Jubilarians (pictured below), Back row, left to right: Frs Peter Thompson, Gerard Murray, Fachtna O'Driscoll (Provincial Leader), James O'Kane and John Dunleavy. Seated: Frs Brendan Murphy and Sean Lynch. More than 50 confreres, from around the country and some home from their parishes in Africa, also participated in the celebration. Fr Edmund Hogan led the singing during the Mass.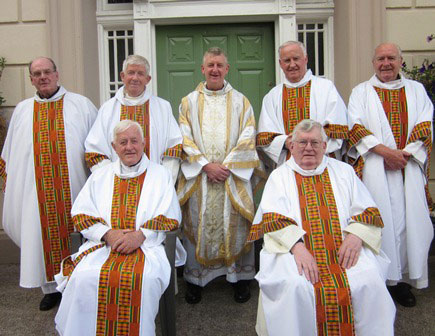 Fr John Quinlan, former Provincial Superior, preached the homily. He based his reflection on the following readings:
Jeremiah 1:4-9; 1 Corinthians 11:23-26 and Matthew 28:16-20.
An edited version of Fr Quinlan's homily follows:
Blessed John Henry Newman, in a Meditation entitled Some Definite Purpose, indicated that he considered himself a cog in a plan that was far bigger than himself.
"I am a link in a chain
a bond of connection between persons
God has not created me for naught
I shall do good – I shall do His work
I shall be an angel of peace
a preacher of truth in my own place while not
intending it if I do but keep His commandments."
It's the same for these Golden Jubilarians. As we look at the links in the chain of Faith that are evident in their lives and work it makes for "a remarkable and hope-filled landscape". All of us are called to praise God in gratitude for the great things He has done through them.
The reading from Jeremiah, called to be a prophet to the nations, reminds us that his call was deeply personal and even painful. But he is told to 'have no fear' for God has put His words in the young man's mouth. And Jeremiah survived many crises in carrying out his mission.
In St Matthew's Gospel the Risen Lord reveals to his disciples that He has received Kingship over the entire world. And now, He commissions them and sends them on their mission to make disciples of all nations.
To become a disciple of Jesus is to become an evangelist with a mission:
"that should reflect the Person and work of God,
that should fulfil the purpose of God,
that should characterise the People of God."
St Paul, in his Letter to the Corinthians, corrects them for their self-serving behaviour which betrays Christ's self-sacrificing love. Paul reminds them of the Tradition relating to the founding communal meal of the Lord's Supper. For him, the coming together to share the bread and cup is to remember the death of Christ, and to allow the reality and meaning of that death to take on shape and form in their own lives. What matters to St Paul is that the Corinthians live as a saved community rooted in the self-sacrificing love of Christ and promoting the reality effected through his death.
Called, commissioned, sent to the nations – our Jubilarians spoke the Word of God in ways and places far beyond the dreams of Newman. Their words and works gathered in and healed; their mission made and makes peace.
Today we can give thanks to God for His fidelity to us and for His love in Christ that first delighted us when we heard the call and started on our journey.
St Peter said to Jesus: "We have left everything and followed you." In light of that, our Jubilarians could put this question to the Lord: So what about us? Stay for the answer! And stay around for a while and keep a open ear for an unexpected question from Jesus: "Simon, son of John, do you love me more than these others?" A question Jesus asked three times!
In concluding Fr Quinlan shared with us two quotations:
"O God can a man find you
when he lies with his face downwards
and his nose in the rubble
that was his achievement?" (Patrick Kavanagh)
Yes!
And from Timothy Radcliffe OP:
"The learned man said
to the almond tree
speak to me of God.
And the almond tree blossomed."
And turning to the six Jubilarians, Fr Quinlan finished with the word: Blossom!
After Mass, the community participated in an enjoyable Lunch during which tributes were paid to all six Jubilarians. And as one of the Jubilarians remarked: "and not a walking stick or any other walking aid to be seen." Surely a further reason to give thanks to the Lord at a Golden Jubilee celebration.