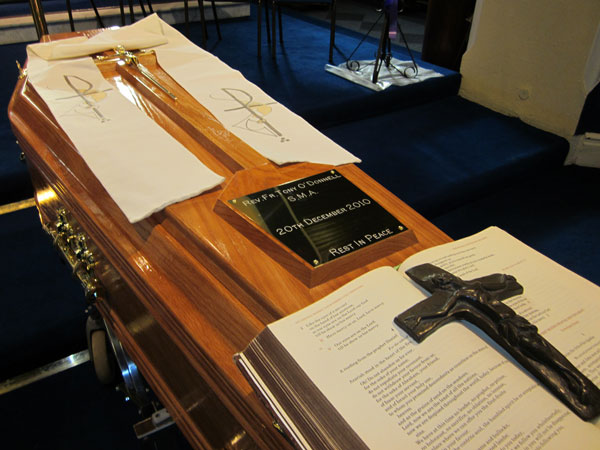 Fr Anthony O'Donnell SMA
Homily preached by Fr Fachtna O'Driscoll, SMA Provincial Leader at the concelebrated Funeral Mass on Wednesday, 22nd December 2010 at 2pm in St Joseph's SMA Parish Church, Wilton, Cork.
Readings
Isaiah 25: 6-9 – Romans 6: 3-9 – Matthew 7: 21, 24-27
Advent is waiting time. A time of preparation for the re-enactment of the coming into this world of Jesus the Son of God, the Second Person of the Blessed Trinity. Jesus came in the quiet of Christmas night. His being among us changed the character of all relationships: all people in His Kingdom have equal dignity. His continuing presence among us through His Spirit is the guarantee that His Kingdom is among us and will reach its fullness in God's own time. How appropriate, then, that Tony [or Anthony as he was better known in his family and home neighbourhood] should conclude his long waiting during this season. His waiting was particularly acute during these past days; but we can honestly say that he has been waiting to return to the Lord for the past months and even years. It was waiting time too for the SMA community at Blackrock Road and his close friends who sat in accompaniment by his bedside from hour to hour as he journeyed home.
Advent is the great season of expectation and hope. Hope for the Christian is a special concept. People speak of hoping that they will win the lottery. They know that their chances of doing so are statistically something like 14million to 1. This kind of hope is as far removed from Christian hope as it is possible to be. Christian hope is a confident hope; it is more akin to the hope of a little child on Christmas morning that Santa will surely come. The child has not yet seen Santa but the possibility of Santa not coming is beyond the child's capacity to imagine. We carry this kind of hope in our hearts throughout our lives
But this hope has to be reality tested, and such a reality test is provided in the gospel passage today. This is the real Advent challenge. It is not enough just to use the words; we must also do the deeds. In contemporary jargon this might be put as "there is no point in talking the talk if you cannot walk the walk".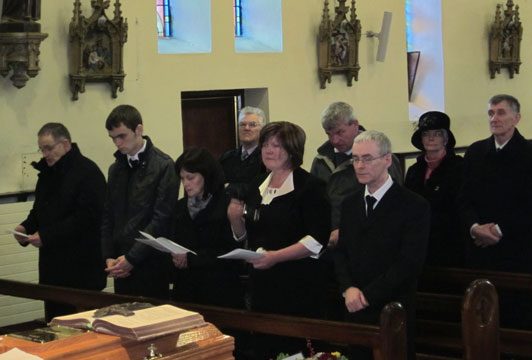 Some of Fr Tony's great friends who were able to make it from Donegal, Cavan and Cork for the funeral Mass.
This passage of Matthew's gospel comes at the end of the Sermon on the Mount. It is almost as if Jesus himself did a review of what he had said in that sermon and somehow thought it lacked some bite. The sermon is high on idealism; this passage is high on realism.
Most people procrastinate about one thing or the other: We can cut the grass tomorrow, write that letter next week, get the check-up next month….. Procrastination is not really a very serious failing – but it can have serious consequences.
Most of us procrastinate about our spirituality. We don't pray very often; we don't read the bible enough; we don't work continually at making Christ's teachings and vision a part of our day-to-day lives. We tell ourselves there is no hurry. We're not going to die today, so why prepare to meet our Maker? We can reform – later.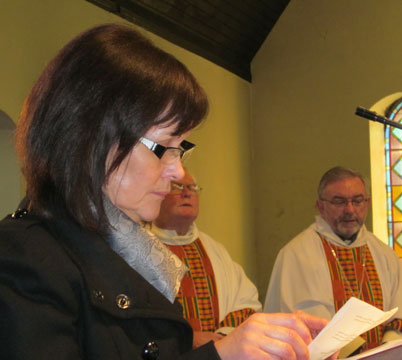 Mary Leahy reads some of the Prayers of the Faithful.
Today's gospel points to the folly of such procrastination. Christ urges his listeners to a state of preparedness. He shows that the house built on a rock is impregnable. Those who shun the rock – those who, out of laziness, put God on the back burner – are swept away by catastrophic rains. When we don't make Christ's teachings the bedrock of our lives we're likely to fall in the face of life's troubles. We see that the bedrock of faith does begin to crumble around the edges when our focus is on ourselves. If we allow the TV or any other diversion to rob us consistently of the time and energy we might devote to others, or allow ourselves to go on talking about praying, peacemaking and promoting justice without actually doing these deeds, we are building on sand rather than on a rock. We are talking the talk, but not walking the walk.
Death is a great reminder that Christianity cannot be put off and put on the long finger. We must live it every day as best we can, giving our time and energy to the poor and lonely, our patience and compassion to our friends and enemies, our anger and indignation to those who perpetuate injustice. We must pray and study Christ's life and try to understand what is asked of us. We must build our lives upon God so that, when the storms come, we can face them with courage.
My sense is that Tony O'Donnell lived his life according to such values. Tony was basically a quiet man. One can easily imagine his responding to the Lord's welcome home by saying "sure I did no more than my duty." He did not amass great honours in his day. But dignity does not consist in possessing honours but in deserving them. And Tony was a man of dignity.
He grew up around Kincasslagh and Dungloe in Co Donegal, an area made somewhat famous by his namesake, Daniel. Tony too could carry a lovely tune and, until relatively recently even as some of his faculties had abandoned him, he liked nothing better than to sing verses of Donegal songs he had learned as a child. Tony did his secondary studies in St Eunan's College, Letterkenny and then moved into the SMA formation system.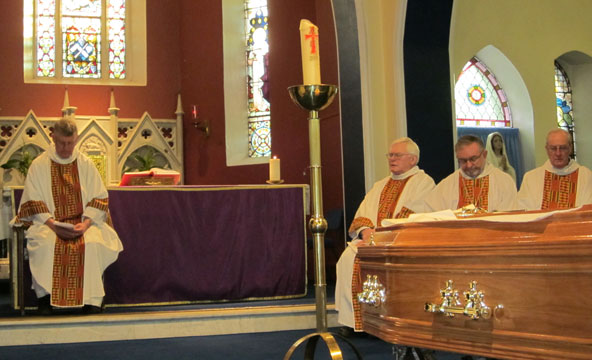 Assisting Fr O'Driscoll (left) were (from right) Fr Hugh Harkin SMA, Bishop Kieran O'Reilly SMA and Fr Oscar Welsh SMA as well as more thyan 30 other priests from the SMA and St Patrick's Missionary Society.
After ordination in June 1953 Tony was appointed to the Prefecture of Ibadan, Nigeria. This was later, through the good work of Tony and colleagues, female as well as male, lay as well as religious, to become a Diocese and subsequently an Archdiocese. Tony worked in Ibadan, in both rural and urban parishes, for forty years. He established several new parishes himself and developed several more. Places such as Oke-Padi, Ikire, Iwo, Odo-Ona, Oke-Offa and Mokola can all be associated with his name.
As I mentioned earlier, Tony did not go in for the spectacular but was rather a solid, dependable, resilient type. His gentleness was often commented on and his pastoral style was never threatening. As a consulter to the Bishop he exercised great pastoral sensitivity and compassion. Just yesterday as I was preparing this homily I received a phone call of condolence from Pat the Cope Gallagher MEP, a neighbour of Tony's, who described him as a supreme gentleman.
One flurry into uniqueness for Tony was his establishment of a marching band of tin-whistle players, trumpeters, drum players and other instruments. These musical instruments were shipped out from Europe. Sometimes his sister Bridgy was caught to pay the extra weight at London. Love of music in is the DNA of folks around Dungloe. I had the pleasure of attending Tony's Golden Jubilee Mass and celebration there seven years ago and it was lovely to see him led from the church to the hall by the local brass band.
Sickness was to visit Tony reasonably early so he had to regretfully bid farewell to his beloved Nigeria. He then spent almost ten years in happy retirement in his family home in Dungloe. At the risk of seriously embarrassing the man I do want here to pay a warm tribute to his loyal friend, John Coll – and, indeed, all John's family – for the wonderful care he devoted to Tony throughout his life. I know that Tony, and I can assure you that we in the SMA, appreciate this very much.
Tony has now gone from this earthly dwelling. Though happy that his time of waiting is ended there is nevertheless sadness at his parting. But we are people of faith and it is our faith that sustains us at these times. This faith is expressed in our first two readings. Our first reading from the prophet Isaiah projects a time when God will lift the veil that obscures human vision and a new age will dawn. "He will remove the mourning veil covering all peoples, and the shroud enwrapping all nations." In God's plan, then, there is no reason to go on living with a mourning veil because God has destroyed death for ever. This passage is really a prayer of thanksgiving that Israel's hope in God has not been frustrated or in vain. And that conviction is based on the knowledge that the God in whom they hope is now in their very midst.
This theme is taken up again in that lovely passage from St Paul to the Romans. "When we were baptised in Christ Jesus we were baptised into his death…. so that as Christ was raised from the dead by the Father's glory, we too might live a new life." We believe that having died with Christ we shall return to life with him, as Paul puts it so beautifully "we shall imitate him in his resurrection". Death has no power over us any more. Our faith is that death has no longer power over Tony because he has moved from life to life.
Ar dheis lamh De go raibh a anam dilis.