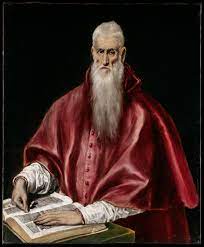 Today we celebrate the Memorial of Saint Jerome – associated with the Bible, long advertised by The Jerome Biblical Commentary – now in its third edition. The opening prayer of the mass announces that he had 'a living and tender love for Sacred Scripture'.
The readings for the Memorial bring out the vital role of the Bible in the life of the church. Paul reminds Timothy that he has 'known the holy scriptures since childhood', encouraging him 'to learn the wisdom that leads to salvation through faith in Christ Jesus'. Wisdom occupies a large and last part in the Old Testament – for Paul and the evangelists, especially John, the incarnation of heavenly wisdom in Christ leads them to a realization that the Wisdom of God's word is revealed in Jesus.
The well-known biblical scholar Henry Wansbrough tells of meeting an English bishop during the first session of Vatican II – 'Oh, you are a student of the Bible. I suppose that means you don't believe in it'. Thankfully there is a via media between naivety and cynicism – and we can occupy and own that space thanks to the wonderful work of many like Wansbrough who have critically communicated the Bible so that in Paul's wonderful words it 'can profitably be used for teaching, for refuting error, for guiding people's lives and teaching them to be holy'. In these four marks we find a brilliant basis for Bible study and prayer.
Matthew's preferred image of Jesus is that of teacher. We see this in the final line of the Gospel – the 'householder who brings out from his storeroom things both new and old'. Scripture is the church's storeroom and we have seen how since Pope Pius XII – with his groundbreaking green light given to biblical studies – announced while the Second World War was raging – the Popes have drawn richly from the Bible in encyclicals and exhortations, messages, letters and addresses.
Indeed in 2000 Pope Francis issued an Apostolic Letter to celebrate the sixteen hundredth anniversary of Saint Jerome. He describes him as a 'servant of the word of God, in love, as it were, with the "flesh of scripture" who 'saw his studies not as a pleasant pastime and an end unto itself, but rather as a spiritual exercise and a means of drawing closer to God'.
Fr Kevin O'Gorman, SMA