My passion for drumming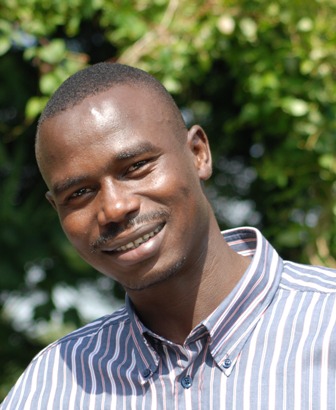 Greetings, my name is Yasir Younis and I come from the Sudan. I didn't specifically decide to come to Ireland but my destiny brought me here. Back home in the Sudan we have a ongoing war and its very dangerous for everyone there. I wanted to get away from this. I ended up coming to Ireland and applying for refugee status here. Luckily my application was granted. Shortly after I moved from Dublin to Cork. It was in Cork that I came to Cois Tine and in time decided to start a drumming circle there. Cois Tine provided me with all the support and encouragement that I needed to get the drumming circle off the ground.
For me the drumming is relief taking you to another level where you can communicate with other drummers in a more spiritual way. It allows you to find and connect with other people, its healing and relaxing. It really allows the connection between mind, body and spirit to grow and flourish. It's something really amazing. I was happy to take part in the RTE Programme I Witness as it gave me.a short opportunity to explain what Drumming means to me. See video link on the left.
Interfaith Event 2010
As part of the 2010 interfaith event held in Cork City Hall the Cois Tine drumming circle had the opportunity to play to around 600 people. The audience consisted of people from many backgrounds both ethnically and culturally. Apart from getting to play in front of so many wonderful people, we also had the pleasure of playing for the Irish President Mary McA leese and her husband Dr Martin McAleese. A short snippet of our drumming can be seen here.
The beat of the drum
In March 2008 an Interfaith Drumming Circle was established in Cois Tine involving people from Nigeria, Sudan, Ireland, Cameroon, Ivory Coast, and Germany under the direction of Yasir Younis and Fr. Kevin Kiernan OFM. Cap. For centuries, drumming has been a central part of many indigenous cultures worldwide. It has been commonplace at wedding ceremonies, births, deaths, harvests and rites of passage. In recent years there is an ever-increasing body of anecdotal and scientific evidence which points to the drum's ability to promote well-being. Drumming has the capacity to unite all ………………………………………………………..individuals who choose to experience it together. Despite race, religion, colour, creed, background, or ideology, all are joined together. The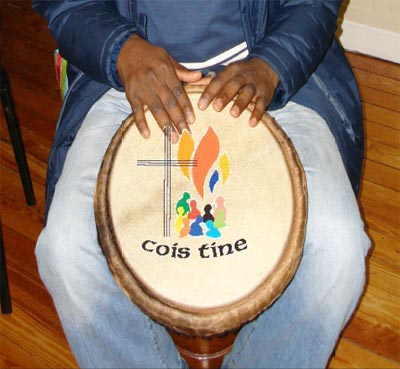 drum is a vehicle of integration, carrying all who utilise it, across all boundaries, to an experience of wholeness and community.
So what happens at Cois Tine drumming circle? At Cois Tine drumming is used to promote a model for wellness and unity as well as celebrate cultural diversity. Through a series of simple exercises, lessons, and rituals, the basic Ndjembe methods of drumming are taught. The focus is on creating sacred space and journeying together. Hand drum techniques, understanding rhythm, playing multi-part rhythms in a group, improvisation, as well as finding rhythms to play on one's own and meditative drumming are all part of the experience. Whether one is an accomplished percussionist or a total beginner, the power of drumming is harnessed and provides the knowledge and confidence to play the drum individually for relaxation and meditation or with a group at a drum circle event (where the focus is on 'music-in-the moment' rather than playing culturally specific rhythms) The overall experience at Cois Tine has demonstrated that drumming can have a profound effect on one's emotional and spiritual well-being. It has numerous associated benefits including empowerment, better communication, increased confidence, community and team building, improved psychological and spiritual well-being, physical well-being. Enhanced social relationships, self-esteem, self-confidence and personal development are further benefits. There is also a strong sense of group identity and a feeling of belonging to an extended family.
As one member of the Drumming Circle commented "It's a time for me to forget all about my troubles, to relax and stop worrying about tomorrow or yesterday, and have fun and laugh with my new brothers and sisters. When I play the drum I feel connected to my family back home and feel safe, and for a short time feel normal again"
If you would like to learn more about Cois Tine Drumming Circle or to get involved please contact Cois Tine at 021 4557760.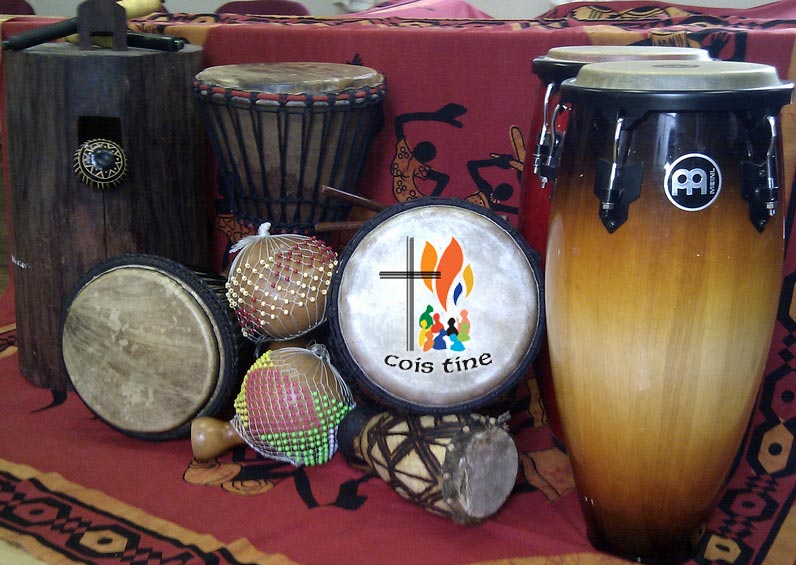 Pictured above are a selection of traditional drums that we use here in Cois Tine.