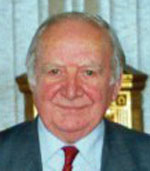 Dr Christopher (Christy) O'Sullivan
MB, BCh, BOA, LM, LIGCP
On the day of his admission as an Honorary member of the Society of African Missions
Christopher O'Sullivan was born in 'Glenmalure', Blackrock Road, Cork on 28 August 1919.
After qualifying as a Doctor from UCC he had practices in the Grand Parade in the city centre and in Glanmire. It has often been said of him that he was available at all times to his patients and had a wonderful gift for diagnosis. Dr Christy was the official Doctor for Cork Airport.
For nearly 40 years Dr Christy was the GP for the SMA priests and brothers in Cork, attending our sick members on a weekly basis. One SMA described him as "a faith-filled man". His kindness and dedication was recognized by the Irish Province when he was admitted as an Honorary member of the Society in 1990 by the Superior General, Fr Patrick Harrington SMA. The conferring, in the SMA Community Chapel, Blackrock Road, was presided over by the Irish Provincial Superior, Fr John Quinlan SMA.
Dr O'Sullivan was for many years associated with the Medical team that accompanied the annual Cork & Ross Diocesan Pilgrimage to Lourdes. He also visited Rome on occasions and was a welcome visitor, along with his wife Mary, at the SMA Generalate there.
In recent years, due to ill health, Dr Christy came to live with many of the SMA he had cared for during those 40 years. He was a welcome resident of St Theresa's Nursing Unit, SMA Blackrock Road where he died peacefully, with his family and some of the SMA community around him, on 1 February 2010.
He is survived by his wife Mary, their daughter Elizabeth and her husband Sean and their two children, Jack and Grace. His sisters Breda and Eileen survive him. He was predeceased by his brothers, Fr Patrick, a priest in the diocese of Cork & Ross and Fr Seamus who ministered in the USA.
His remains were removed to the St Joseph's SMA Parish Church, Blackrock Road at 7pm on Tuesday, 2nd February from O'Connor's Funeral Home, Temple Hill. His funeral Mass will take place at 2.30pm on Wednesday after which his remains will be brought to the SMA Wilton cemetery for burial.
May St Luke, the Physician, be among those to welcome him to his eternal rest. Homily here