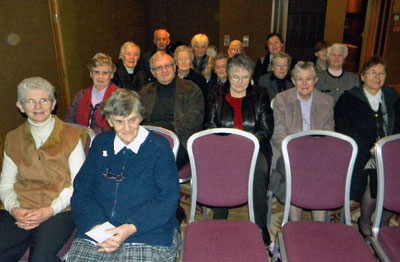 Memorial Masses for the late
Bishop Christopher Shaman Abba, Bishop of Yola, Nigeria
Bishop Christopher Shaman Abba was born in Mabushi, Kaduna State in 1938.
Between 1946 and 1954, he attended the following Primary Schools: Catholic Primary School Mazuga, St. Thomas Primary School Kano, St. Peter Claver Primary School Kafanchan and St. Theresa's Primary School Guni – Minna.
He attended St. Theresa's Minor Seminary, Oke-Are, Ibadan where he completed his Secondary School education in 1959. The following year he entered the Ss. Peter & Paul Major Seminary, Bodija, Ibadan for his philosophical and Theological Studies which he completed in 1966.
On 18 December 1966 he was ordained at his hometown Mabushi Kataf by the first Archbishop of Kaduna, Most Rev John McCarthy SMA. He was the first indigene of Kaduna State to be ordained for the Archdiocese of Kaduna.
From 1967 – 1972 he was appointed to St. Joseph's Minor Seminary Zaria, Kaduna State. As well as Archdiocesan Vocations' Director he also served as Chaplain to the Advanced Teacher's College and the Kongo Campus of Ahmadu Bello University in Zaria.
In 1972 he went to the USA for Further Studies. The then Fr Christopher was still studying in Maryland when he was appointed to head the newly-erected Diocese of Minna. He was installed as the first Bishop of Minna on 30 Decem­ber 1973. From a start of eight parishes in the new diocese Bishop Abba left behind 23 parishes on his translation to Yola diocese in 1996.
As the third bishop of Yola (replacing Bishop Sheehan OSA) he carried a cross of ill health but continued to serve to the best of his ability until his death.
Two Memorial Masses were arrangede by the Society of African Missions (SMA) to celebrate his life and to pray for the eternal rest of his soul. They were celebrated in Dublin and Cork.
The following is a brief report of the Mass in Dublin.
You couldn't but like Christopher Abba.
He was Bishop of Minna for twenty three years and Bishop of Yola for fourteen years. He never lost his simplicity, and Christopher was always Christopher. Hew died in his sleep, but had not been well for some years. He was 73 years old, too young to die.
28 January 2010
Bishop Abba's funeral took place in Yola on the 28th and on that day, and at the same time, Fr Sean Hayes SMA (who knew Christopher since 1958, in Mabushi, when the latter was a seminarian) arranged a Memorial Mass in Dublin.
There was a nice representative turn out in Dublin, and a shared homily gave several an opportunity to share their memories of the Christopher Abba they knew.
Sr Nuala SSL who knew Christopher longer than anyone else came from Dundalk and shared. She had baptised Christopher's father before he died (he had sent for the Sister). She had also baptised Christopher's mother who died of a snake bite, having reached the Louis Hospital in Zonkwa too late to be saved.
When Christopher was diagnosed with TB he spent eight months in Zonkwa Hospital and the Sisters made sure he got good and well, with plenty of food and TLC.
The African priests (diocesan and SMA) brought the Nigerial flavour to the celebration, singing the Our Father and the Lamb of God in Hausa as well as some hymns after Holy Communion.
Bishop Abba was fondly remembered. May he enjoy his eternal reward. He was 73 years old, too young to die.
Bishop Christopher Abba was laid to rest in Yola. May his gentle soul rest in peace.
Those who attended the Mass in Dublin included:
Sisters Josephine Henry, Nora Hurley, Maura Blair, Hannah Boylan, Bernadette Smyth, Sheila Finnegan, Maura Flynn, Marie Byrne and Mary Clerkin (all from the St Louis Sisters). The OLA Sisters were represented by Sister Eileen Cummins (former Superior General) and Julie Doran.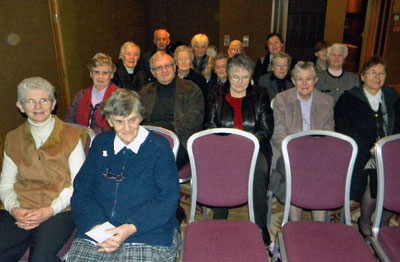 Fathers William Greene, Billy Fulton and Dennis O'Rourke attended from the Kiltegan Missionaries, all three having worked with Bishop Abba in Minna.
Among the Nigerian priests in attendance were Fr Paul Gokok (who was preparing to leave Ireland after the funeral of the late Bishop John Moore SMA), Fr Andrew Batare, Fr Basil Kassam, Fr Stephen Dami and Fr Joseph Apust.
Also present were Jim & Susan McHugh, former missionaries in Minna, as well as Helen Doyle, a staff member at the SMA House in Dublin. Apologies were received from many others who could not attend.
The SMA was represented by Fathers Eddie O'Connor, Fionbarra O'Cuilleanain, Edward Muge, Sean Hayes, John Haverty and John Dunne (Vice Provincial).
Memorial Mass in Cork
On Saturday, 30 January, a Mass was celebrated in the African Missions, Blackrock Road for the late Bishop. It was attended by more than 30 SMA priests, many of whom had worked with Bishop Abba when he was a priest in Kaduna Archdiocese. The Principal Celebrant was Bishop Tim Carroll, Vicar Apostolic of Kontagora. The homily was given by Fr Eddie O'Connor, who knew Bishop Abba for nearly 40 years and who served as the Parish Priest of Bishop Abba's home town, Mabushi, for nearly ten years. In his homily Fr Eddie reminded us that Bishop Abba always emphasised his closeness to the SMA and his enduring gratitude to its priests. He had a great loyalty to the Society for what it had done for him personally and as co-workers with him.
Fr O'Connor recently published a History of the Archdiocese of Kaduna. An earlier work of Fr O'Connors recounts the lives of SMA Missionaries in Northern Nigeria (1907-1934).