"In Liberia we are in the middle of the rainy season and our people are engaged in rural work. During this period, malaria makes itself felt like every year and affects everyone, men, women, and especially children. Then this year, as everywhere in the world, we have to deal with the Coronavirus", writes Fr Walter Maccalli SMA, from the parish of St John Vianney, in Foya. "Over the past few days, about ten cases of infected people have been registered here, including the principal pastor of the Pentecostal church (the largest religious group in the city)." The central hospital in Boma is practically closed and some doctors and nurses, who have had contact with those who tested positive, have been placed in quarantine.
Fr Walter sent his report to FIDES, the news agency for the Vatican Congregation for the Evangelization of Peoples.
"We have been authorized to resume celebrations in our churches. In reality this is the moment of maximum danger for Covid-19 and we all try to respect the indications so as not to create further outbreaks. Next Sunday we will have the first meeting with the parochial pastoral Council and then we will start again to visit the Christian communities in the villages and the secondary stations."
Fr Walter says that the SMA and other missionaries are already back working with the grassroots communities in the main parish centre, in Foya City. "Thanks to a contribution and the generosity of our people, next week we will be able to distribute 150 bags of rice to as many needy families. It is the first duty of every Christian community to be aware of who is making the most effort and to recognize in him/her the face of the risen Christ."
"Despite the many years of mission", he adds, "I still cannot help being moved by human suffering and what we have discovered in recent days. We are talking about a semi-paralyzed young man who is cared for by his grandmother who, however, cannot feed him more than once a day; a sick girl imprisoned in a mud room for years; elderly people abandoned by their children and forced to beg, young mentally ill people who wander around Foya without anyone taking care of them. I believe that this must be the engine that drives us to pray and act for the most abandoned: the restlessness, the compassion of Jesus for his dispersed people."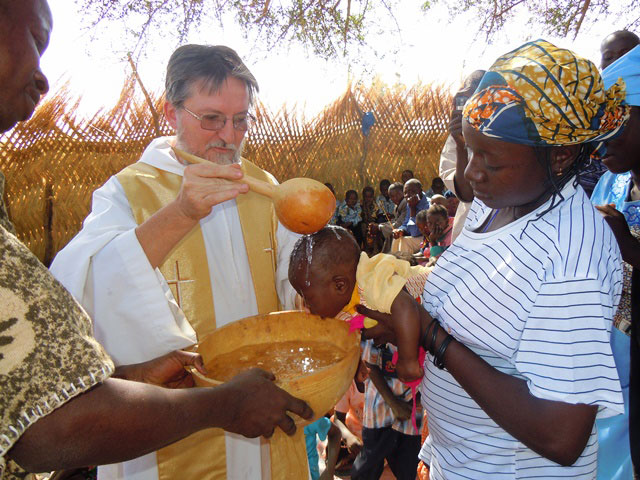 Fr Walter, a brother of Fr Pierluigi [Gigi] Maccalli who was kidnapped from his Bomoanga parish in Niger Republic on 17 September 2018, thanked everyone for their prayers for the release of Fr Gigi. Before his appointment to Liberia, Fr Walter worked in the Ivory Coast and Angola.
Please continue to pray that Fr Gigi, along with others who have been kidnapped in the area, may be released soon.
FIDES reported, on 6 April last, that a brief video had been released proving that Fr Gigi is still alive, along with a second Italian hostage.